Burnaby/Edmonton/Fraser Valley – On June 28 2019, Trans Mountain submitted a Request to commence construction at certain facility sites by August 5, 2019. Specifically, Trans Mountain's Request for relief would:
Allow construction to commence on 5 August 2019 at the following sites:
• Westridge Marine Terminal (WMT);
• Burnaby Mountain Tunnel Portal located in the WMT (Westridge Tunnel Portal);
• Burnaby Terminal; and
• Edmonton Terminal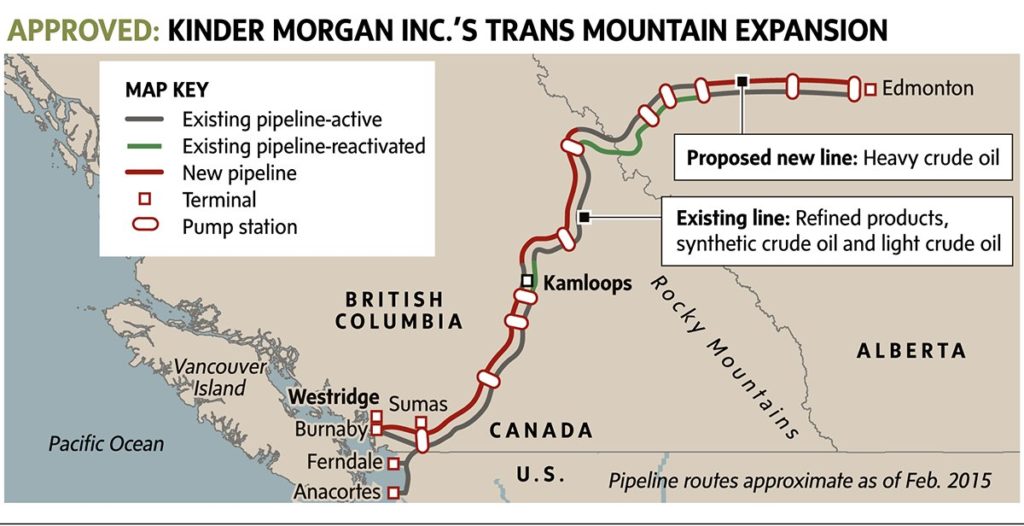 As the Board had provided clearance on all applicable pre-construction conditions for the WMT and the Burnaby Terminal, construction may commence with respect to these phases of the Project. With respect to the Westridge Tunnel Portal site, the Board had issued two relief decisions with regard to this work2. As such, this work can re-commence construction.
However, Trans Mountain does not, at this time, have an authorization to commence construction at the Edmonton Terminal as the variance requested by Trans Mountain is still being processed by the Board, as well as associated applicable pre-construction conditions.
The Board is of the view that Trans Mountain does not require timing relief from the amended Conditions 6, 98, and 100 in order to re-commence construction at the Westridge Marine Terminal, the Westridge Tunnel Portal, and the Burnaby Terminal. The prior to construction timing window of those conditions has expired. Note that any updated filings with respect to Conditions 6, 98, and 100 are subject to the procedures set out in the Board's 19 July 2019 Process decision. Further, the Process decision announced the Board's intention to review its condition compliance decisions with respect to Conditions 6, 91, 98, and 100.
You can read the full letter here: https://publish.twitter.com/?query=https%3A%2F%2Ftwitter.com%2FNEBCanada%2Fstatus%2F1157054973340987392&widget=Tweet