Chilliwack – A good friend of FVN Fraser Valley News has passed away and staff will miss "Sam" as he always referred to us as a "newspaper". We loved Big Sam to bits and would never correct him as FVN is "social media" and not a "newspaper".
Big Sam was an avid fan of golfing and fishing and FVN's News Director/Editor Don Lehn said: "I spent many a day watching golf and other sports on that great big TV of his. Many a great salmon, halibut, steak and lamb dinners were held at his place. We had many great talks and loved his insight on business and politics."
Professionally, Sam was well known nationally and internationally in the chemical engineering field, working for a number of high profile companies including CIL.
Sam was also a farmer and rancher, and long time owner of the Circle 6 cattle ranch and farm, at Cultus Lake.
An avid fisherman, he would often spend hours in telling (tall) fishing tales about his trips to Hakai, and his adventures with other fishing buddies. It is believed that some, if not all his ashes will be spread there. That's how much he loved the place.
RIP Big Sam. Here is the official obituary from the family: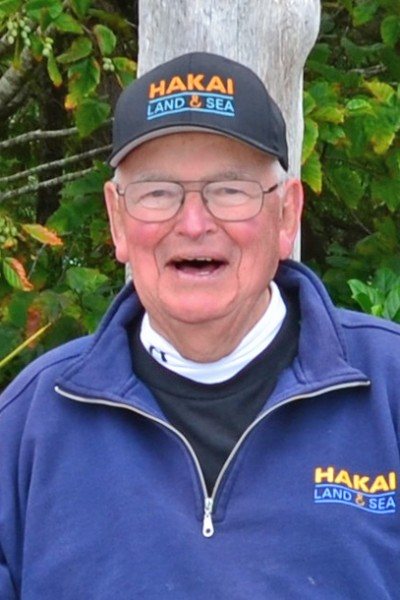 It is with great sadness that the family announces the loss of D.K. (Sam) Soutar.
Sam is survived by his son, W.H. Soutar (Debora), daughters D'Arcy (Brad) Henderson, and Ann Soutar. As well, 9 grandchildren, David (Kelly) Henderson, D'Arcy (Carla) Soutar, Dereck (Stephanie) Henderson, Jeremy (Kara) Henderson, Shea (Greg) Irving, Sam Britton, Robbie Soutar, Ian (Rafael) Soutar and Lindsay Britton.
Sam also leaves behind 10 great-grandchildren, Brady and Rachel Henderson, Kamron and Wade Henderson, Rory, Bronwyn and Malcolm Soutar, Odin Soutar and Natalie and Nathan Henderson. Also left are many nieces, nephews and their children.
Sam was predeceased by his wife of 63 years, Marion (Baldwin), parents, W.H. (Bill) and Mabel Soutar, brother Ian Alexander Soutar, brother in law James Edward (Jim) Baldwin, nephew Jim Baldwin, sister in law Uldene (Dene) Baldwin, and nephew in law Mike Cardell.
A celebration of life will be held at 2:00 pm, Friday, May 18 at Henderson's Funeral Home, 45901 Victoria Ave, Chilliwack, with a tea to follow at the Coast Hotel, 45920 First Ave., Chilliwack.
In lieu of flowers, donations may be made to BC Childrens' Hospital, or the Marion Soutar Leadership Bursary (University of the Fraser Valley), or a charity of your choice.