Surrey  – Surrey City Council adopted the Surrey Affordable Housing Strategy at this past Monday's Regular Council meeting. Surrey has had a history of providing affordable housing options for both renter and owner households.  The new Strategy focuses on rental housing and provides a series of initiatives to increase and strengthen rental housing in the City.
"The need for affordable rental housing in Surrey is a critical component for creating a thriving and inclusive city" said Mayor Linda Hepner. "Our new Affordable Housing Strategy aligns with the planning of the Surrey Light Rail and improved Frequent Transit Network by ensuring that as urban areas develop they will include secure rental housing with better protection for renters."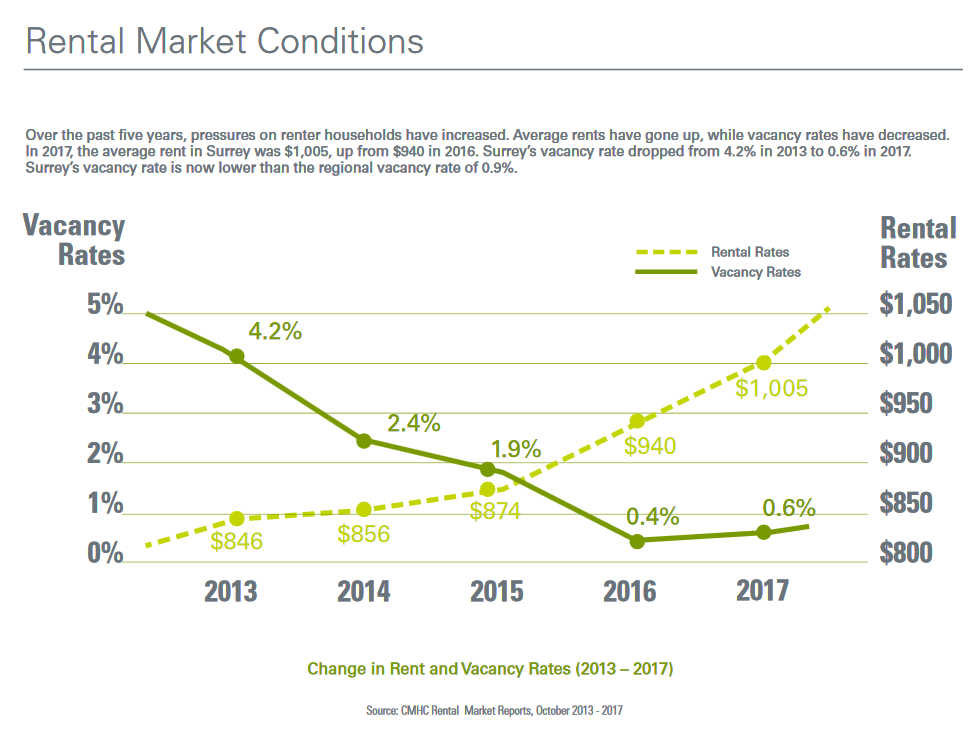 The Surrey Affordable Housing Strategy focuses on purpose-built market and non-market/social rental housing and includes recommendations to:
Prevent the Loss of Purpose-Built Rental 
Adopt a one-for-one rental replacement policy for purpose-built rental housing units that are lost due to redevelopment.
Strengthen Protection for Tenants
Develop a tenant protection and relocation policy to protect tenants who may be at risk of losing their housing through redevelopment.
Encourage the Development of New Purpose-Built Rental Housing
Continue to fast-track the development approvals process and, in locations close to transit, reduce parking requirements.
Explore potential partnership opportunities or alignment with federal and provincial government transit investments.
Encourage the development of new purpose-built rental housing through partnerships with the federal and provincial governments and other funders.
Foster relationships with companies that specialize in the development of long-term purpose-built market rental housing.
Advocate for changes to federal tax policy to stimulate new rental housing construction as well as reinvestment in the existing rental housing stock.
Increase the Supply of Housing Affordable to Renter Households with Low to Moderate Incomes
Continue to support the implementation of the priorities and actions set out in the City's Master Plan for Housing the Homeless in Surrey.
Continue to work in partnership with BC Housing, CMHC, non-profit housing providers and others to increase the supply of purpose-built non-market rental housing.
Introduce the requirement that new residential developments contribute $1,000 per unit to support the development of new affordable housing.
The Surrey Affordable Housing Strategy can be viewed in its entirety here.