Women's Rugby 7's: Cascades earn first win as first-time hosts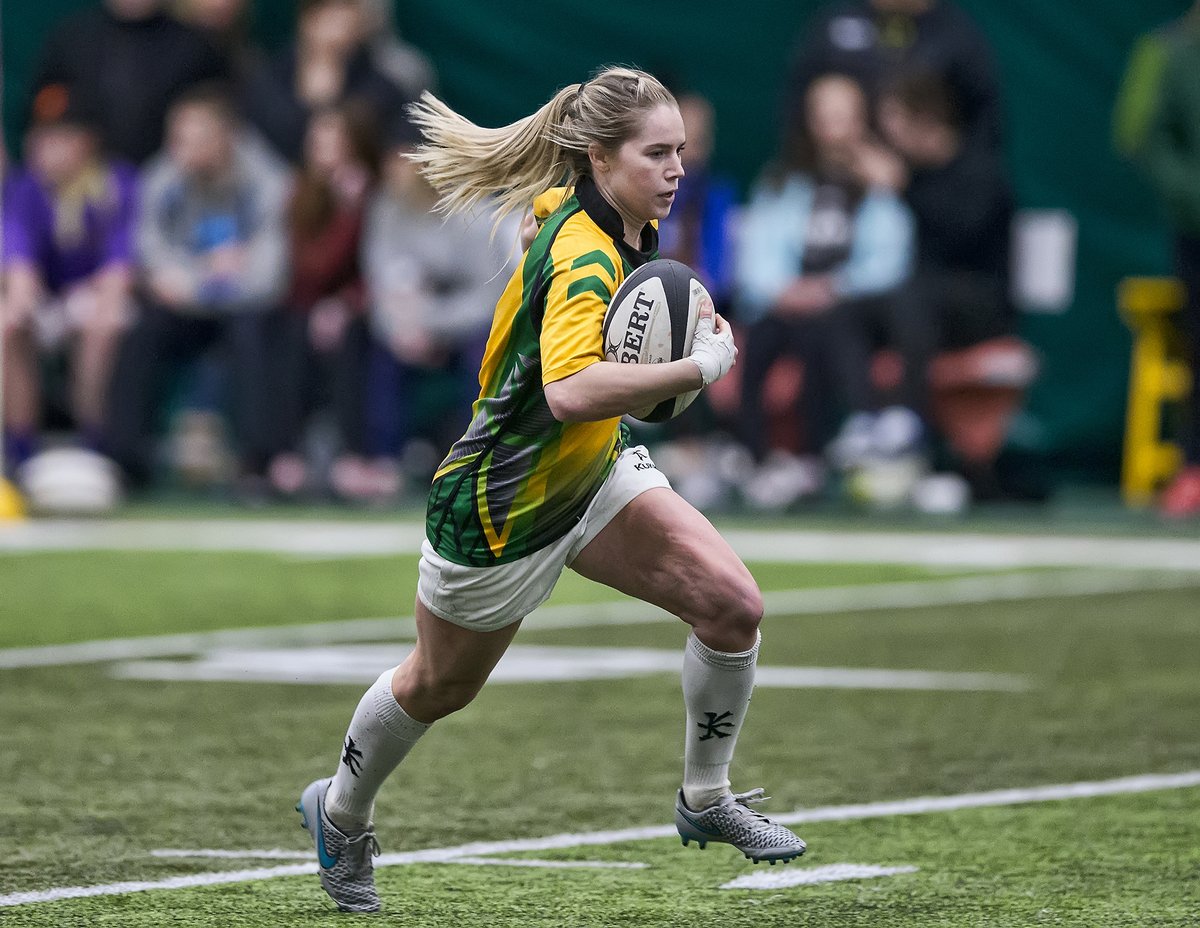 The University of the Fraser Valley Cascades' first hosting opportunity in the Canada West Women's Rugby Sevens Series was highlighted by the team's first-ever win.
The second of three tournaments in the series was held Saturday and Sunday at Abbotsford's MRC Sports Complex, and the Cascades picked up a 27-15 win over Canada West rugby newcomer Thompson Rivers WolfPack in their opening game. Mackenzie Fowler led the way with a pair of tries and a convert, and Shalaya Valenzuela, Mackenzie Braun and Meghan Wellis each added one try apiece in the victory.
The Cascades would go on to finish with a 1-5 record, with losses to the Lethbridge Pronghorns (24-7), Alberta Pandas (44-0), Calgary Dinos (56-0), Victoria Vikes (57-0) and UBC Thunderbirds (53-0). Alex Motoc registered UFV's try vs. Lethbridge, with Fowler booting the convert.
Afterward, UFV head coach Jen Ross said that hosting a Canada West tourney is a big step for her program as it continues to grow in its second year of competition.
"It's something we've been looking forward to since it started last year – to be able to put ourselves out in front of the UFV community, bring the local rugby supporters in and let them see why we're so excited about having rugby at UFV," she said. "From my perspective, it just makes us hungrier to build the program and expand it, and get more of our youth involved and show them all the benefits of playing at a university level.
"The win is great – it's a reward for all the hard work we're putting in. But it also keeps them hungry, because one win is never enough."
The Victoria Vikes, who won the season-opening tourney in Edmonton last month, were victorious once again, posting a perfect 6-0 record en route to the title. Finishing second through seventh, respectively, were Calgary (4-2), Alberta (4-2), Lethbridge (3-3), UBC (3-3), UFV (1-5) and Thompson Rivers (0-6). Ties were broken based on head-to-head results.
Victoria holds a comfortable lead in the aggregate points standings heading into the series finale, which they'll host Feb. 24-25. The Vikes have accrued 20 points, followed by Calgary (14 points), Lethbridge (12), Alberta (8), UBC (6), UFV (2) and TRU (0).
Cascades sophomore Meghan Wellis said that the chance to host a Canada West event was "huge and historic."
"For the girls to have their home crowd cheering them on, it made it real," she said. "We're here, and we're fighting for something."
COMPLETE SCORING SUMMARIES FOR EACH GAME WILL BE POSTED AT CANADAWEST.ORG
About the Canada West Women's Rugby Sevens Series
2018 marks the second season of the Canada West Women's Rugby Sevens Series, which has been made possible thanks to Canada West's partnership with B2ten and Rugby Canada.
Through their joint support, which will include scholarship opportunities for players at all competing institutions, B2ten and Rugby Canada are committed to helping Canadian female athletes pursue their athletic careers, including an opportunity to progress to the national team.
The Canada West Women's Rugby Sevens Series champion will be crowned Feb. 25 at the University of Victoria, as determined by cumulative series points.