Abbotsford – (With files from Keith Dobie) Everyone in the Valley that has anything to do with agriculture knows that smile, that laugh and that passion for the agriculture community.
After more than a decade, Bruce Fatkin is stepping down from his position as manager of the Abbotsford Farm and Country Market. There have been many congratulatory messages on social media, thanking Bruce for his hard work and dedication in creating such a great farmers' market in Abby and his overall tireless efforts.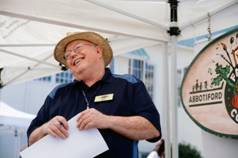 Fatkin is also quite active with Community Futures and Small Business BC, and played a consulting role in the launch of FVN Fraser Valley News in May 2015.
Fatkin posted on the Facebook page – Abbotsford Farm and Country Market:
It is our final market for 2017 and the end of my participation as market manager. When I took on the role of manager in 2006, I promised the Board of Directors two years of my time. Little did I know how much I would enjoy the position and how quickly time would pass.
Sometimes we get lucky with our careers; hit a spot where all of the stars align and everything progresses as if it were well planned and executed. I had the good fortune to take over a market that was given a great start by Donna Dixson. Donna put over a year of her high energy talent into planning and launching the market so that it, as they say, "hit the ground running".
I also inherited an amazing group of vendors who then (and now) function like a family and who have consistently shared a vision of a successful, vibrant market in Abbotsford.
That vision has been echoed by the Board of Directors. Several people have contributed to market growth as Board members over the years, but also a core of folks have been with the market since it started.
Of course a big part of any market's success is the customer base. In Abbotsford, that base has continued to grow steadily over the years and there is among the group a loyal and long lingering core of people, many of whom seldom miss a Saturday.
I hit the scene at the start of what proved to be a significant growth period in the farmers' market movement in BC. I've had the opportunity to ride that wave and to associate with managers, Board members and other stakeholders from markets around BC through our Provincial association. I learned much from them as the years passed and always treasured the chances we were given to compare notes and brainstorm around management issues and opportunities. They, like virtually everyone involved with farmers' markets are incredibly willing to share.
Trinity Memorial United Church, the City of Abbotsford, the Downtown Business Association, local businesses, radio and newspapers and sponsors have all played roles in helping us plan events and activities, tell our story and bring awareness into the community.
I sat down recently and started going through files, e-mails and even memories trying to count the number of people who have interacted with the market over the years. I had to give up and take an Aspirin so did not finish. But it is a staggering number.
Over my 11 years with the market our team of manager, volunteers, vendors and customers have braved everything from sweltering summer heat to the occasional snow day. The market alone has put up over 5,000 pop-up canopies and some number more than that of tables. We've chased wind-blown canopies (and lots of other stuff) down the street. We've wrung ourselves out at the end of monsoon-like rainy days and we've suffered sleepless nights after summer days where we forgot to apply the sunscreen often enough.
Did we smile through all that? Heck no! But I can tell you that, for me there were days when I'd arrive on site at about 6:30 on rainy, windy cold mornings and start set-up wishing that I was still at home warmly tucked under the covers and perhaps not totally my usual jovial self. But even through those conditions and in a somewhat down mood, when vendors and some of the volunteers started arriving for set-up things started to change. The "family" greetings, ribbings and story-sharing would begin and the energy level would start growing. By opening time at 9:00, even soaked to the skin, there was nowhere else I would rather be.
They say that the key to happiness at work is to find something that you like to do and then find someone who will pay you to do it. This job found me rather than me seeking it out; but same end effect. There is nowhere else that I would have rather been. I have all of you to thank for that.
I'll be back, but as a customer. Merry Christmas everyone.