Abbotsford – Construction will soon begin on the new Salton Road Pedestrian/Cycling Bridge, as announced by Abbotsford Mayor Henry Braun.
Over the past two years, the City of Abbotsford has received overwhelming support for the construction of a pedestrian/cycling bridge over Trans-Canada Highway #1 at Salton Road from residents and stakeholders participating in the UDistrict engagement process and public open houses. 81% of people who provided their feedback were in favour of a new bike/pedestrian overpass across Highway #1 to support safe walking and cycling in the U District and surrounding neighbourhoods.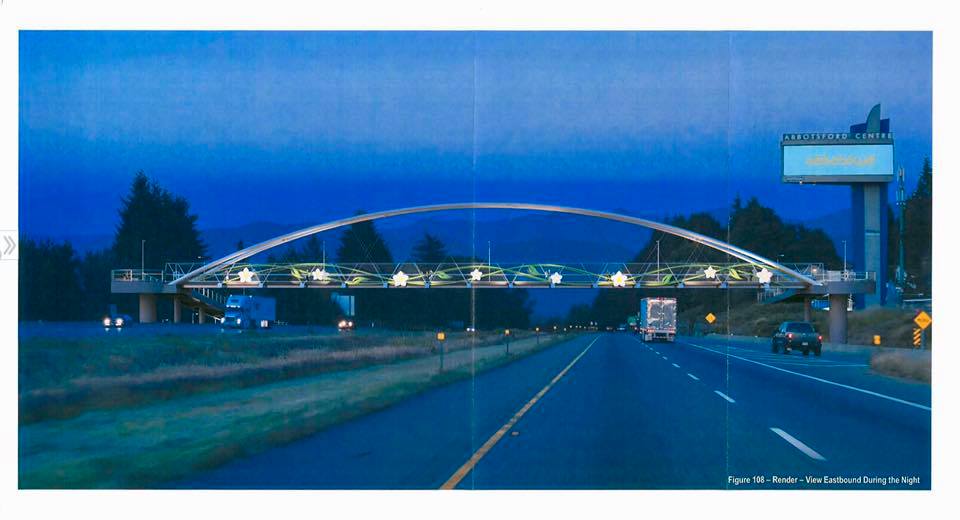 The project includes public art enhancements as a part of the bridge design as well as the expansion of Salton Road to include additional roadside parking. The project is funded from a $1M grant from the Province of British Columbia's BikeBC Program as well as additional funds from the Federal/Provincial Community Works Fund.
Features of the project include:
• 2.6m wide separated bike path along Salton Road between Marshall Road and Highway #1 with a 1.5m
sidewalk and parking on the west side of Salton Road
• 4m wide cycle/pedestrian bridge over Highway #1
• 3.0m wide separated bike path along Salton Road between Highway #1 and King Road with a 1.5m
sidewalk on the east side and parking on the east side of Salton Road to accommodate use of the
infrastructure.
• Pedestrian traffic signal at King Road & Salton Road
• The inclusion of public art which will go through a public consultation process