Women's Soccer: Dhaliwal's strikes pace Cascades past WolfPack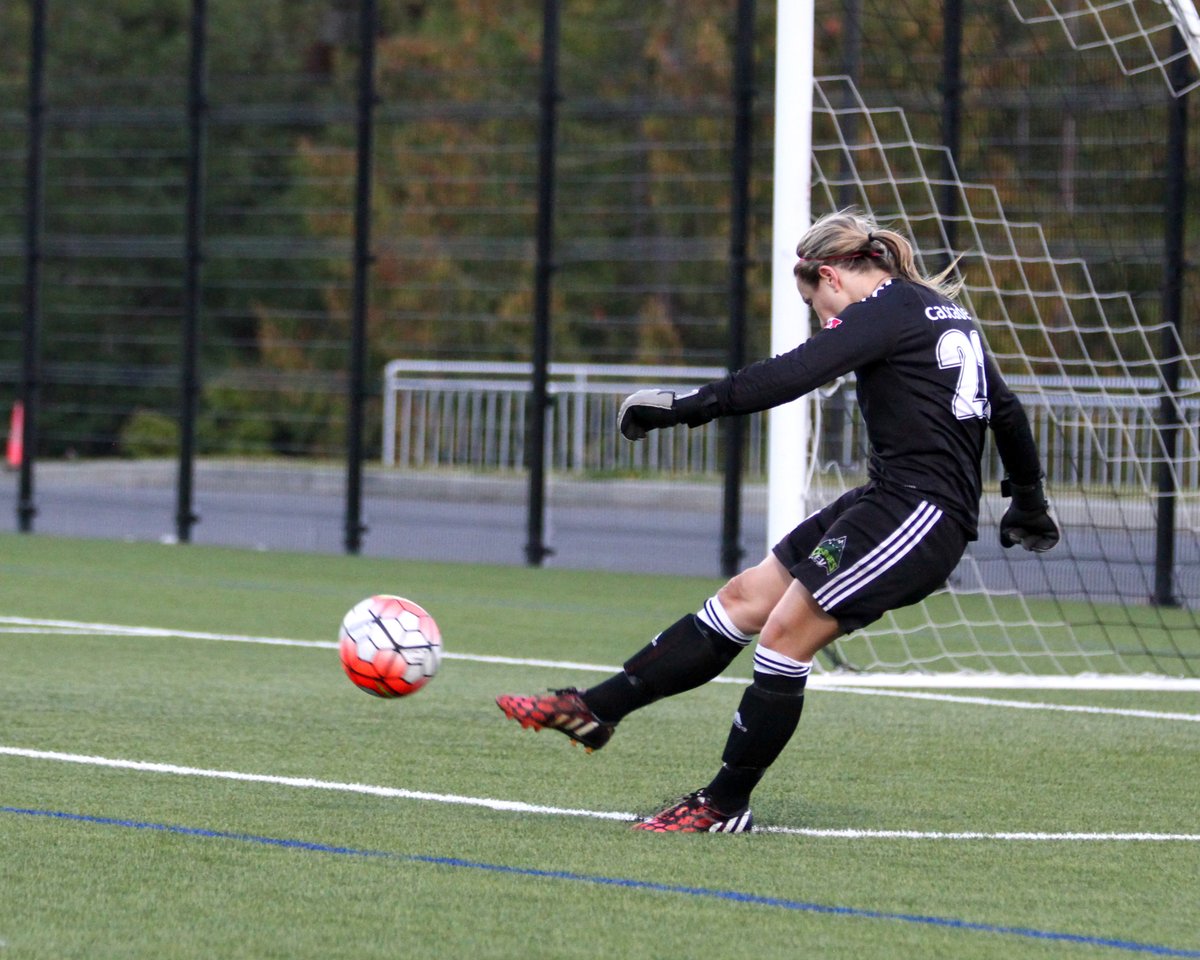 Abbotsford (Dan Kinvig, UFV Athletics) – Gurneet Dhaliwal's clinical finishing sparked the University of the Fraser Valley women's soccer team to a 3-0 win over the Thompson Rivers WolfPack on Friday evening at MRC Sports Complex.
All three goals originated from Dhaliwal's boot – she only got credit for two, though, as one was ruled an own goal on the WolfPack. Even so, it was an efficient evening for the third-year forward from Surrey, B.C. – she did all her damage in 45 first-half minutes and watched the balance of the game from the bench.
The win boosted the Cascades' record to 4-2-1, good for fourth place in the Pacific Division. The seventh-place WolfPack fell to 1-6-0.
Both teams are back in action on Saturday. UFV hosts the UBC Okanagan Heat (5:30 p.m., MRC Sports Complex), while TRU visits the Trinity Western Spartans (5 p.m.).
"She's a finisher," Cascades head coach Rob Giesbrecht said, marveling at Dhaliwal's performance. "At times, when you watch her play, you get frustrated because she's not doing the most natural thing. But all of a sudden, out of the blue she'll appear in a little pocket of space and finish – with a shot that only she can finish.
"You don't coach a kid like that – you kind of get out of her way in the attacking third and let her do her thing. You allow her to play with freedom, and you allow her to be an influencer in the game. I'm happy with her progress."
The Cascades had some great looks early on Friday. Off a Cascades corner, the rebound from Marianne Spring's initial header bounced to Raman Bachra, but the UFV rookie's shot couldn't find its way through a crowd of WolfPack defenders on the goal line. Later on, Lexie Gillette found Bachra alone in the box to the right of TRU keeper Danielle Robertson, but she steered the ball just wide.
The Cascades got a fortuitous bounce to open the scoring. Dhaliwal's high-arcing cross from a sharp angle went off the hands of a leaping Robertson and trickled in just inside the far post for an own goal.
Dhaliwal made it 2-0 in the 33rd minute – Gillette flicked the ball ahead to her, and she blasted home a rising shot.
Just before halftime, Dhaliwal rounded out the scoring. Simi Lehal's free kick from distance caused havoc in the box – Janelle Henke had the first crack at it, but Dhaliwal cleaned up the rebound. Rookie midfielder Henke, making her first appearance as a Cascade after missing the first six games due to injury, picked up her first career assist.
"It felt great," Dhaliwal said, reflecting on her offensive outburst. "It was collective, it was teamwork. Everything built from the back, and I'm just glad I got to finish a few chances for us.
"We're young, but we're coming together," she added. "Today we didn't play the best, but we just wanted it a little bit more and we fought for one another."
It was the Cascades' fourth straight win, all via clean sheet. Emily Harold and Joven Sandhu, who came on at halftime, combined on the shutout.
"I'm really proud of our defensive work, the back four and the keepers," Giesbrecht said. "They've been solid all year. In these kinds of games, when you're playing an opponent that's continuing to work and chasing the game, it's sometimes easy to take your mind off it a little bit and let one sneak by you. But they were pretty tough today. We defended well."
That said, the Cascades could have added to their offensive total with better finish.
"We created tons of chances, just not quite sharp enough to finish them," Giesbrecht noted.