Women's Soccer: Cascades, Heat battle to 1-1 stalemate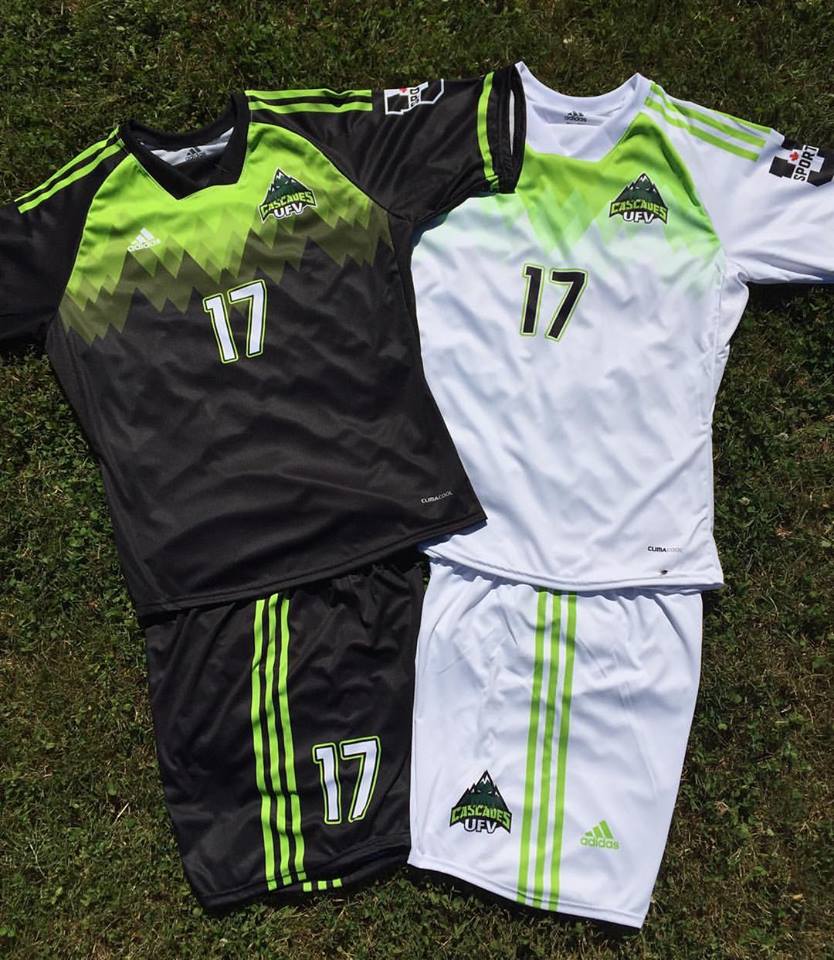 On a soggy Saturday evening at MRC Sports Complex, the UBC Okanagan Heat rallied in the second half to earn a 1-1 draw with the University of the Fraser Valley women's soccer team.
The host Cascades built a 1-0 lead on a spectacular strike from Brittney Zacharuk in the 16th minute, but were unable to extend their lead despite numerous chances prior to halftime. That left the door open for the Heat, and they took advantage – Ally Ferronato scored on a penalty kick in the 53rd minute to secure a point for her squad.
The Cascades (4-2-2) sit fourth in the Pacific Division, while the Heat (0-6-2) are eighth.
"Full credit to our opponents – they played hard and they played well," UFV head coach Rob Giesbrecht said. "We weathered an early storm, and I felt in the middle part of the first half we took over. Brit got her goal, and we had a few good looks after that. The sign of a mature team is, you put a team away at that point. In our maturation process, we're not quite there yet.
"It's tough to give up a penalty goal on an awkward bounce. But that's soccer."
Zacharuk's ice-breaking goal was a thing of beauty – the third-year midfielder intercepted a UBCO clearing attempt and fired away from 30 yards out. The ball soared over the outstretched arms of Heat keeper Francesca Balletta and went bar-down.
Zacharuk said she heard teammate Simi Lehal hollering that Balletta was off her line, so she had a crack at goal.
"I'm a left-footer, but I touched it to my right because it was wide-open," she said. "I kind of shut my eyes and said, 'Let's see what I can do.' . . . I just hit it, and bar-down. Best right-foot shot I've ever taken."
The Cascades continued to press and had several glorious opportunities to extend the lead. Two of them came off the boot of Lexie Gillette, but the UFV forward fired wide in the 24th minute and hit the post in the 28th.
Just after halftime, Harneet Dadrao made a run down the left wing and got another excellent look for the Cascades, but Balletta dove to her right to stop the UFV rookie's hard, low shot.
Shortly thereafter, a Heat cross into the box took an unlucky bounce off Cascades defender Marianne Spring's knee and hit her in the arm, and the referee award a penalty kick. Ferronato stepped up and picked the top corner to the left of UFV keeper Emily Harold.
It was the first goal conceded by the Cascades in five games – a span of 423 minutes (or more than seven hours of game-play) since Lethbridge's Lindsay Amatto scored against UFV in the 80th minute on Sept. 16.
UBCO carried the play for the next 10 minutes after knotting the score, and appeared to have the go-ahead goal off a free kick. But the referee quickly waved it off – the Heat's Erica Lampert had swatted the ball into the net with her hand, and received a yellow card in the aftermath.
The Cascades calmed down and resumed their attacking posture, and had several great chances. Most notably, off a Dadrao corner, Balletta got her hands on the ball and tipped it off the crossbar, and Lehal's follow-up effort from point-blank range went over the net.
UFV is back in action this coming week with a home-and-home set vs. the Trinity Western Spartans – 5 p.m. at TWU on Friday, and 2 p.m. at MRC Sports Complex on Sunday.
Men's Soccer: Parfett's spectacular goal, Hick's big saves lift Cascades to road win over WolfPack
A pair of Davids, Hicks and Parfett, came through with highlight-reel performances to deliver a 2-1 victory for the University of the Fraser Valley men's soccer team on Saturday afternoon in Kamloops.
Facing a tough Thompson Rivers WolfPack squad which is gearing up to host the U SPORTS national championship next month, the Cascades rallied from a halftime deficit to bolster their playoff hopes considerably.
Cascades goalkeeper Hicks kept his team in it during the opening 45 minutes, which were dominated by the host WolfPack. UFV was outshot 6-0 in the first half, but just one ball got by Hicks – a close-range finish from Finlay McPhie.
The Cascades were much better after the break. Jassi Mann knotted the score in the 58th minute, and Parfett followed with the first goal of his Cascades career in the 81st. It was no pedestrian effort – the redshirt freshman midfielder unleashed a stunning top-corner strike from 40 yards out that will surely be a candidate for U SPORTS goal of the year.
The Cascades improved to 3-4-2, and will look to get back to the .500 mark on Sunday afternoon when they visit the UBC Okanagan Heat (3 p.m., CanadaWest.tv). TRU (4-2-4) suffered its first home loss of the campaign and saw a seven-match unbeaten streak come to an end.
"Definitely a tale of two halves," UFV head coach Tom Lowndes noted. "First half, we weren't very good at all. We got too deep, we gave them too much of the ball, and we looked a bit lifeless to be honest. To say I lit a rocket at halftime would be an understatement.
"We changed our formation (after halftime), and the battle and fight was there that had been missing in the first half. I'm really happy for the boys."
The WolfPack had the lion's share of possession in the first half on Saturday, but Hick frustrated them repeatedly. He made a diving stop on a point-blank shot from Ryan Glanville in the 19th minute, and leaped to tip Colton Walker's rising shot over the bar in the 28th.
Shortly thereafter, TRU finally broke through. On a chaotic sequence following a WolfPack corner, conference assists leader Mitchell Popadynetz tracked down the ball and sent a cross back into the box for McPhie to finish.
In the second half, the Cascades had more success keeping possession and going forward, and they levelled the score on a deft series of passes. On a free kick from the left wing, Gurmaan Jhaj spotted Jun Won Choi at the far post, and he sent a header back across the goalmouth to Mann for an easy tap-in.
Each team had their chances to claim the lead. TRU's Brandon Mendez had a shot tipped over the bar by Hicks in the 68th, and later on, another Jhaj free kick from a nearly identical spot that led to Mann's goal produced a sliding shot by Bronson Hartley that was snared by WolfPack keeper Alex Ram.
Parfett broke the tie in spectacular fashion – he took a pass from Hartley in the middle of the pitch and fired an absolute laser beam from distance that Ram had no chance on.
"It was a world-class goal," Lowndes marveled. "If you see Cristiano Ronaldo do that, people would be talking about it for the next two or three weeks. For it to be his first goal, and the timing of it in the game, was incredible.
"Just a fantastic strike, and no keeper in our league is saving that shot."
Parfett said it felt "amazing" to score his first career goal in such a high-leverage spot for his team.
"It just came to me, and I thought, Why not? I'll just shoot it," he recounted. "And it worked out."
Hicks finished with seven saves, and Lowndes termed his performance "fantastic".
"He made some unbelievable saves and showed how good he is," Lowndes said. "He's been battling an injury and we haven't seen the best of him. But now that he's fit, he's been the keeper that I know he is, and I was really proud of his performance today."