Fraser Valley (Don Lehn) – I am somewhat biased about doing this book review, for I fell in love with the music of Charlie Daniels , when I worked Country music radio at CJVI Victoria between 1979 and 1983. In 1979, the Charlie Daniels Band released their epic, "The Devil Went Down To Georgia". Those of us in Country Radio knew that ol' Charlie finally made it after a long toil in the music trenches.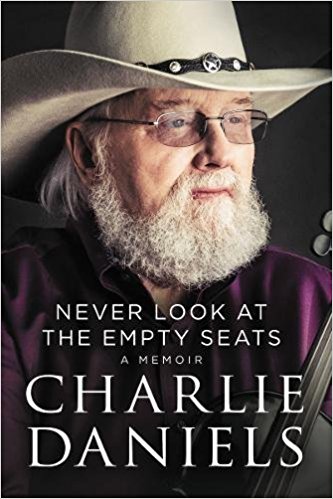 With his autobiography, we finally get to know a little more about this "proud rebel".
From his early days growing up in the Carolina's to the honky-tonks and roadhouses that he would play, to the evolution of a band that would fondly be known simply as the CDB, you learn a lot about this 81 year old who taught himself, how to play the guitar and fiddle.
Along the way were a cast of characters that would mold and shape his destiny including Elvis Presley, Willie Nelson, Leonard Cohen, Ringo Starr. George Harrison, Johnny Cash and fateful session work with Bob Dylan and his legendary Producer Bob Johnson.
And then there was Ronnie Van Zant and Lynyrd Skynyrd and the friendship that was eternal, and the heartbreak of that fateful plane crash and the death of his buddy. The bond between the CDB and Lynyrd Skynyrd is still strong to this very day.
During the book you will learn of the reasoning behind the legendary concerts that would be known as "Volunteer Jam". A mixture of country, rock, blues and soul.
Charlie never thought of the CDB has "just country".
In 2016, and the tender age of 80, Charlie was finally inducted into the Country Music Hall of Fame. He has played the Grand Ol' Opry. Accolades that mean more to him than any other. The irony is that the CDB has yet to be inducted into the Rock and Roll Hall of Fame and the Songwriters Hall of Fame.
Eventually, that should come.
Charlie is never shy about politics. You could label him a Republican. But he has supported Democrats in the past. He is a member of the NRA (National Riflemen's Association) and doesn't hide from speaking his mind.
Health issues have always been there, from an 1980 auger accident that nearly cost him a his arm, to flu like symptoms and chest pains that forced the big man to have a pacemaker implanted.
….and then there is his beloved wife, Hazel.
This is not just a music book. This is a book about a real musician who went through all the ups and downs. Remember, When "Devil" was released, Charlie was pushing 40.
This is a must read not just for the music, but for the man.
Charlie Daniels – "Never Look at the Empty Seats: A Memoir" can be ordered through Amazon, click here.