Victoria – British Columbia's wildfire-driven provincial state of emergency will expire at midnight Friday September 15. (Pacific time).
The state of emergency was declared on July 7, 2017, and extended four times over the nine weeks that followed.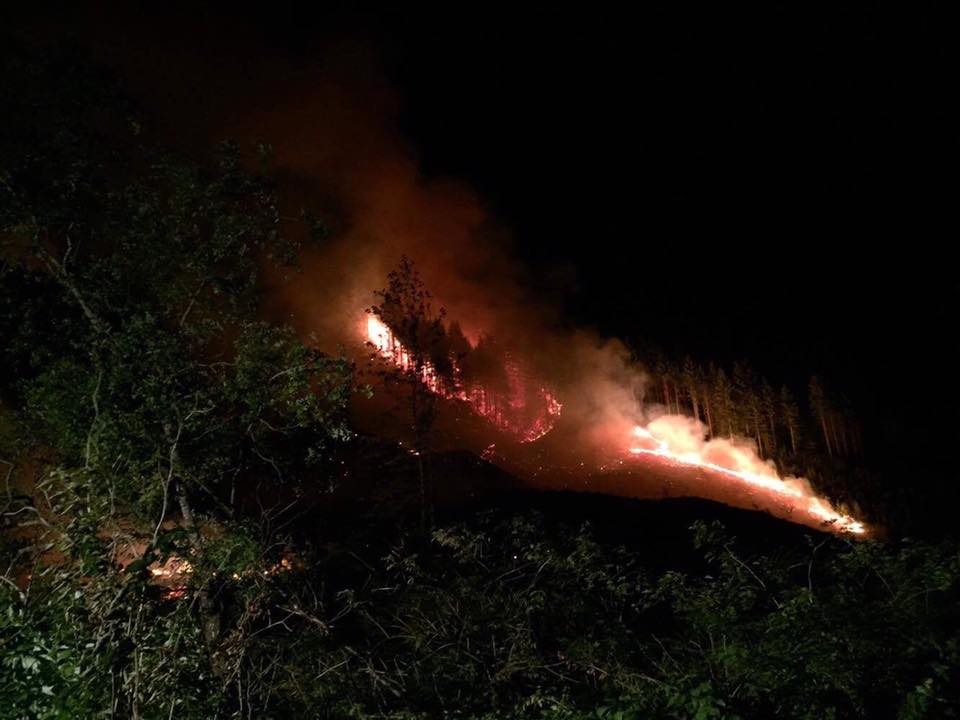 While the extraordinary powers of the provincial state of emergency are no longer required, the wildfire season is not over. It is vital that the public remain prepared and follow the continued direction of local authorities.
The Province will continue to take every action necessary to respond to the ongoing wildfire situation and support the recovery of affected communities.
The provincial state of emergency is an extraordinary measure taken to ensure public safety and the co-ordinated response to this summer's wildfire season, which saw more hectares burned than at any other time in the province's history. Given the weather forecast and the remarkable efforts of the BC Wildfire Service to contain and extinguish fires, the Province now is in a position to allow the state of emergency to expire and return to a standard emergency response.
However, the public must remain vigilant as this wildfire season is not over. As of this morning, 153 are wildfires burning in B.C., with 11 evacuation orders affecting approximately 3,152 individuals, plus 23 evacuation alerts affecting approximately 5,762 people. During this wildfire season, approximately 65,000 people evacuated from their homes.
The Canadian Forces will be demobilizing personnel who have been assisting with response efforts this season. The Province of British Columbia thanks the Canadian Armed Forces for their support.
Wildfire Recovery
Even as firefighters continue to battle blazes throughout the province, the British Columbia government is already implementing a long-term plan to recover from this year's unprecedented wildfire activity and support affected British Columbians.
Now that the provincial state of emergency ends at midnight tonight (Pacific time), the Ministry of Forests, Lands, Natural Resource Operations and Rural Development is assuming leadership from Emergency Management BC for government's long-term wildfire recovery efforts. Government's plan incorporates the following four key components:
People and Communities: examining a range of social services required, based on community need, such as long-term mental-health support;
Economy: identifying short-, medium- and long-term recovery supports for the small business, tourism and resource-based sectors;
Environment: providing co-ordinated support for land-based recovery operations, such as reforestation; and
Infrastructure and Reconstruction: identifying recovery supports for local governments and First Nations in their direct recovery of infrastructure losses, with a focus on longer-term mitigation and adaptation.
Regional economic officers based in communities that include Quesnel, Kamloops and Invermere are working closely with communities affected by wildfires in the Cariboo, Thompson and Kootenay regions to ensure people and communities have access to the services they need.
Throughout the recovery process, there will be ongoing engagement with local governments, First Nations and sector stakeholders.
Supports and assistance programs established to date include the following:
The British Columbia government has provided $100 million to the Canadian Red Cross. These funds are being used to assist people who have been evacuated from their homes. To date, $21 million has been provided to 52,000 individuals. Emergency assistance grants of $1,500 each are also being distributed to eligible small businesses and not-for-profit organizations in evacuated areas and areas impacted by highway closures.
Ministry of Forests, Lands, Natural Resource Operations and Rural Development staff are working closely with the forestry sector and are issuing salvage licences and expediting cutting permits to help people in the industry get back to work as quickly as possible.
Forestry staff are assessing impacts of this year's fires on the timber supply and prioritizing areas for reforestation.
The Ministry of Tourism, Arts and Culture is providing $200,000 each to the Cariboo-Chilcotin Tourism Association, the Thompson-Okanagan Tourism Association and the Kootenay Rockies Tourism Association to help support tourism businesses in those regions.
Together, the provincial and federal governments have committed $20 million to agricultural producers. The AgriRecovery initiative will help B.C. ranchers recover from their losses, return to their land and their livelihoods, and continue to contribute to B.C.'s economy. This funding is in addition to the $6 million that the Province is already spending to replace damaged fencing along highways and on Crown rangeland. An estimated 450 kilometres of fencing on Crown land has been damaged or destroyed by fire this year.
Support for ranchers includes assistance with the relocation of livestock, emergency feed supplies, replacement of breeding stock, reseeding of rangeland and arranging for alternative grazing areas.
Damaged infrastructure is being repaired. For example, BC Hydro has restored power to over 61,400 customers affected by wildfires and repaired 519 power poles, 118 cross arms, 378 spans of wire, 67 transformers and 59 transmission structures. BC Hydro also implemented a Wildfire Evacuee Assistance Program to provide bill credits and flexible payment plans for residential and commercial customers affected by evacuation orders and evacuation alerts.
Public safety assessments (e.g., forest service roads, recreation sites and trails, danger trees, lost structures) are continuing.
A summary of wildfire recovery programs implemented to date is available online: www.gov.bc.ca/wildfirerecovery