UFV Women's Soccer SEASON PREVIEW: New-look Cascades ready to launch Canada West campaign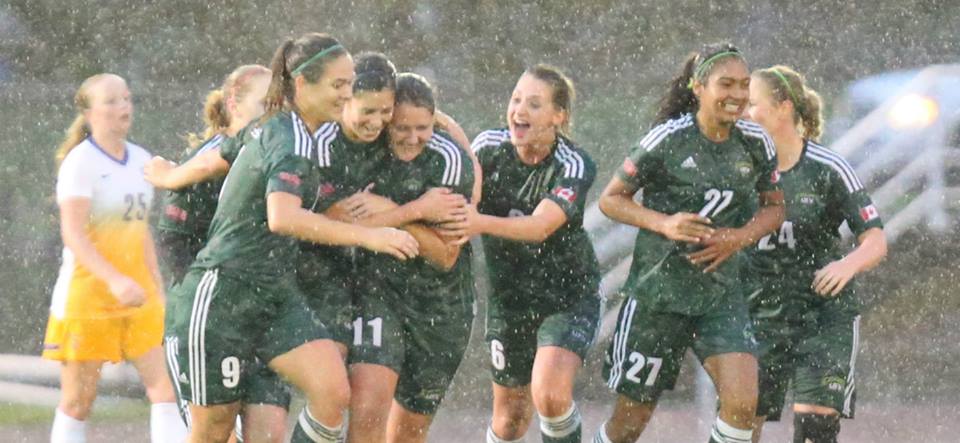 The University of the Fraser Valley women's soccer team takes a new-look roster into the 2017 Canada West regular season, kicking off this weekend at home vs. the Victoria Vikes and UBC Thunderbirds.
The Cascades have waved goodbye to a half-dozen starters from the 2016 edition of their squad which finished second in the Pacific Division and set a new program record for conference wins (nine). Among the dearly departed are 2016 Canada West all-stars Monika Levarsky and Tristan Corneil (Levarsky also earned a U SPORTS All-Canadian nod).
Heading into this weekend's games at MRC Sports Complex Field 4 – Friday vs. UVic, Saturday vs. UBC, both games starting at 5:30 p.m. – Cascades head coach Rob Giesbrecht is eager to watch his players continue to grow as they take on new responsibilities.
CASCADES WOMEN'S SOCCER ROSTER
CASCADES WOMEN'S SOCCER SCHEDULE
"It's exciting, because it's new and different," Giesbrecht said, taking stock of his squad. "We're looking to see who will step up to fill roles that other players have had in the past. It's that natural progression of a support player becoming an impact player. We're looking to see how our returning players adjust to that, and how our new players can step in and contribute."
In goal, fifth-year Cascade Emily Harold ascends to the No. 1 role after serving as the backup her first four seasons, with rookie standout Jovan Sandhu and veteran Risa Venuto also vying for playing time.
In front of Harold, fifth-year fullback Karlee Pedersen gives great leadership to an otherwise youthful backline which will also feature sophomores Kelsey Mitchell and Simi Lehal, the latter of whom is adjusting to a new position after spending her rookie season at forward. Rookie Taylor Nekic will also be in the mix for minutes.
Third-year Brittney Zacharuk will be the Cascades' key playmaker in the central midfield, and veterans Amanda Carruthers and Gurneet Dhaliwal will join forces with promising rookies Harneet Dadrao and Janelle Henke to spearhead the attack. Fifth-year forward Carruthers tied for seventh in the conference last season with seven goals, and Dhaliwal has been highly productive over her first two years at UFV, totaling 11 goals and eight assists in regular-season play.
The Cascades will be tested right out of the gate by a pair of Pacific Division rivals. The Vikes and Cascades have built quite a playoff rivalry in recent years, meeting in the opening round in four of the past five seasons with UVic winning the last two match-ups. The Thunderbirds, meanwhile, are the two-time defending Canada West champs, and won gold and silver medals, respectively, at the U SPORTS national championships in 2015 and 2016.
Both games can be streamed online at CanadaWest.tv.
"UVic is a perennial power, and they've been our recent post-season opponent," Giesbrecht noted. "The last couple haven't gone our way, and that's still fresh in our minds. They're always a talented, well-coached team that has a professional mindset.
"UBC is another opponent we highly respect, and they're loaded with talent and athleticism. They're a very well-coached group. We need to find the level of work and commitment it takes to be successful against them."