Men's Soccer: Cascades sign talented Coquitlam teammates Peat, Zanatta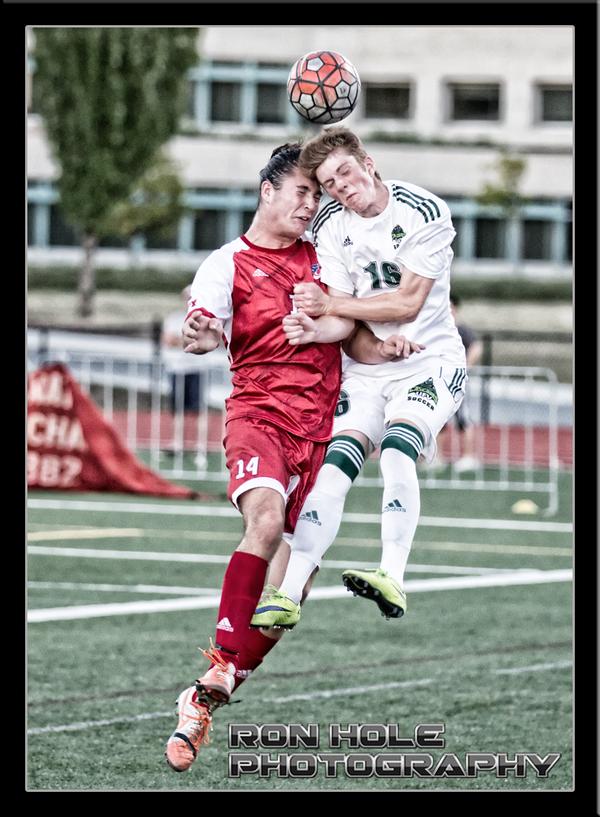 The 2017 Canada West men's soccer season is barely underway, but University of the Fraser Valley head coach Tom Lowndes already has a great start on his preparations for the 2018 campaign.
Andrew Peat and Trevor Zanatta, Coquitlam Metro-Ford club teammates who are considered among the top Class of 2018 prospects in B.C., have signed with the Cascades and will join the squad next fall after they complete their Grade 12 studies.
The duo helped their club win EA Sports BC Soccer Premier League championships in 2015 and 2017, and they're headed to New Brunswick in October to compete for a national title.
"It's massive," Lowndes said, reflecting on the impact of securing commitments from the blue-chip pair. "They're two players I've had my eye on a long time, highly sought-after recruits. For us to be able to sign them this early is huge."
Andrew Peat
6'3" forward, Port Coquitlam, B.C.
Coquitlam Metro-Ford
Terry Fox Secondary
Peat has been a member of the B.C. provincial team program since 2014, and was Team B.C.'s top scorer at the recent Canada Summer Games in Winnipeg, scoring five goals in six matches. He added 17 goals in 14 games during his club campaign. He also had a stint with the Vancouver Whitecaps FC residency program in 2015-16.
"He's a massive recruit, and he's had a lot of other offers," Lowndes said of Peat. "He's a natural goal-scorer – pacey, left-footed, strong, dynamic. He's got all the tools to come in and score right away at the U SPORTS level."
Peat, whose academic interests include social services, said that the opportunity to continue playing alongside his longtime friend Zanatta was very appealing. The two have been soccer teammates dating back to the U13 level.
"When I was offered the deal, it was closest to home and I was happy with it," he said. "With my buddy signing, it's a perfect fit for me and I'm happy to sign early."
Trevor Zanatta
6'1" midfielder, Coquitlam, B.C.
Coquitlam Metro-Ford
Archbishop Carney Regional Secondary
Zanatta captains his Coquitlam Metro-Ford side, and was a provincial teamer in 2015 and 2016. He was part of the Whitecaps pre-residency program in 2012-13, and Lowndes loves his outstanding skillset and work ethic.
"Trevor is a dynamic central midfielder – hard-working, box-to-box, a very good distributor," the Cascades bench boss enthused. "Physically he's mature and ready to come and compete for minutes right off the bat. He'll bring us a lot more depth centrally."
"I felt it was the best choice for me," said Zanatta, who plans to study business at UFV. "It's local, and the commute is easy. Tom's an excellent coach, and I feel comfortable playing in front of him. He's shown a lot of faith in us, and I'm just really excited to get started."
Cascades soccer teams primed for home openers
The Cascades men's and women's soccer squads hosts their home openers next week at MRC Sports Complex, Field 4. Games times are as follows.
Friday, Sept. 8
–          WSOC vs. Victoria Vikes, 5:30 p.m.
–          MSOC vs. UBC Okanagan Heat, 8 p.m.
Saturday, Sept. 9
–          WSOC vs. UBC Thunderbirds, 5:30 p.m.
–          MSOC vs. Thompson Rivers WolfPack, 8 p.m.