Women's Soccer: Cascades wrap up preseason, go 1-3 on stateside swing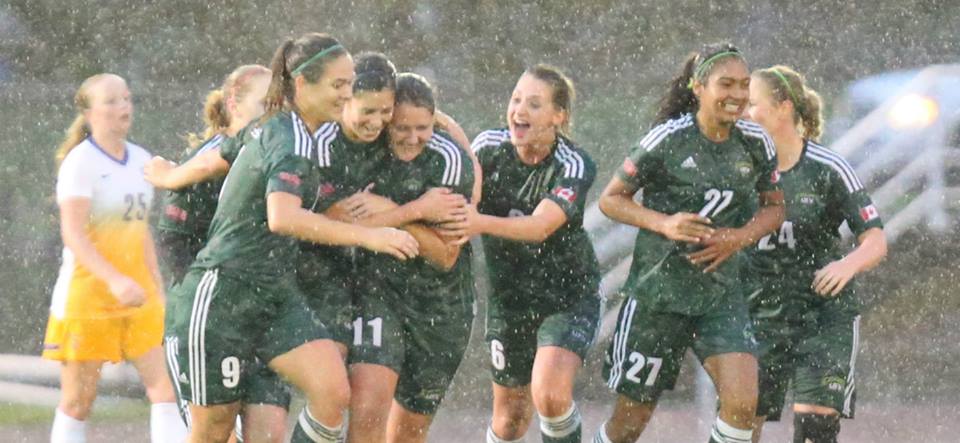 The University of the Fraser Valley women's soccer team closed the book on its preseason schedule, posting a 1-3 record on a trip through Washington and Oregon.
The Cascades opened the jaunt with a 1-0 victory on Wednesday over the Puget Sound Loggers, an NCAA Div. III program. They dropped the next three games to NCAA Div. II foes: 1-0 to the Concordia Cavaliers on Thursday, 2-0 to the Seattle Pacific Falcons on Saturday, and 5-3 to the Central Washington Wildcats on Sunday.
"It was a great learning experience for us," UFV head coach Rob Giesbrecht said. "We played some challenging opponents, and we focused on building our depth through giving opportunity to players who haven't played U SPORTS soccer before or have rarely started for us in the past. I feel like we've learned a lot. We saw what it takes, and I'm excited about our future."
Giesbrecht was heartened by consistent performances he saw from his veterans on the trip – among the standouts were fullbacks Karlee Pedersen and Kelsey Mitchell, forwards Amanda Carruthers and Gurneet Dhaliwal, midfielder Brittney Zacharuk and goalkeeper Emily Harold. As for the rookies, the Cascades saw flashes of positive play from the likes of midfielders Janelle Henke and Harneet Dadrao, keeper Jovan Sandhu and defender Taylor Nekic.
The Cascades are off this week, and then open the Canada West regular season at home against a pair of Pacific Division rivals the following weekend. The Victoria Vikes are the guest on Friday, Sept. 8, and the UBC Thunderbirds visit on Saturday, Sept. 9. Both games kick off at 5:30 p.m. at MRC Sports Complex, Field 4.
AUG. 23 – CASCADES 1, PUGET SOUND 0
The Cascades opened the trip with a solid result in Tacoma, Wash. Henke scored the game's lone goal on a long-range strike in the 54th minute, and keepers Risa Venuto and Harold played the first and second halves, respectively, to share the shutout.
AUG. 24 – CONCORDIA 1, CASCADES 0
Thursday's game in Portland, Ore., was, in Giesbrecht's estimation, the Cascades' best performance of the trip. Harold played the first half and came up with a highlight-reel stop.
AUG. 26 – SEATTLE PACIFIC 2, CASCADES 0
The Cascades' starters played the first half and performed well. The host Falcons claimed the victory on the strength of a pair of goals after the break.
AUG. 27 – CENTRAL WASHINGTON 5, CASCADES 3
UFV's fourth game in five days was a wide-open affair. The Cascades twice erased early deficits and held a 3-2 lead at one point before the Wildcats rallied to win. Carruthers, Meghan Rose and Mackenzie Toop scored the UFV goals, and sophomore Marianne Spring turned in a gritty 90-minute performance. Harold, Sandhu and Venuto each saw time between the pipes.