Abbotsford – This weekend is a huge one for the University of the Fraser Valley soccer programs, as they play their first home games of the Canada West regular season.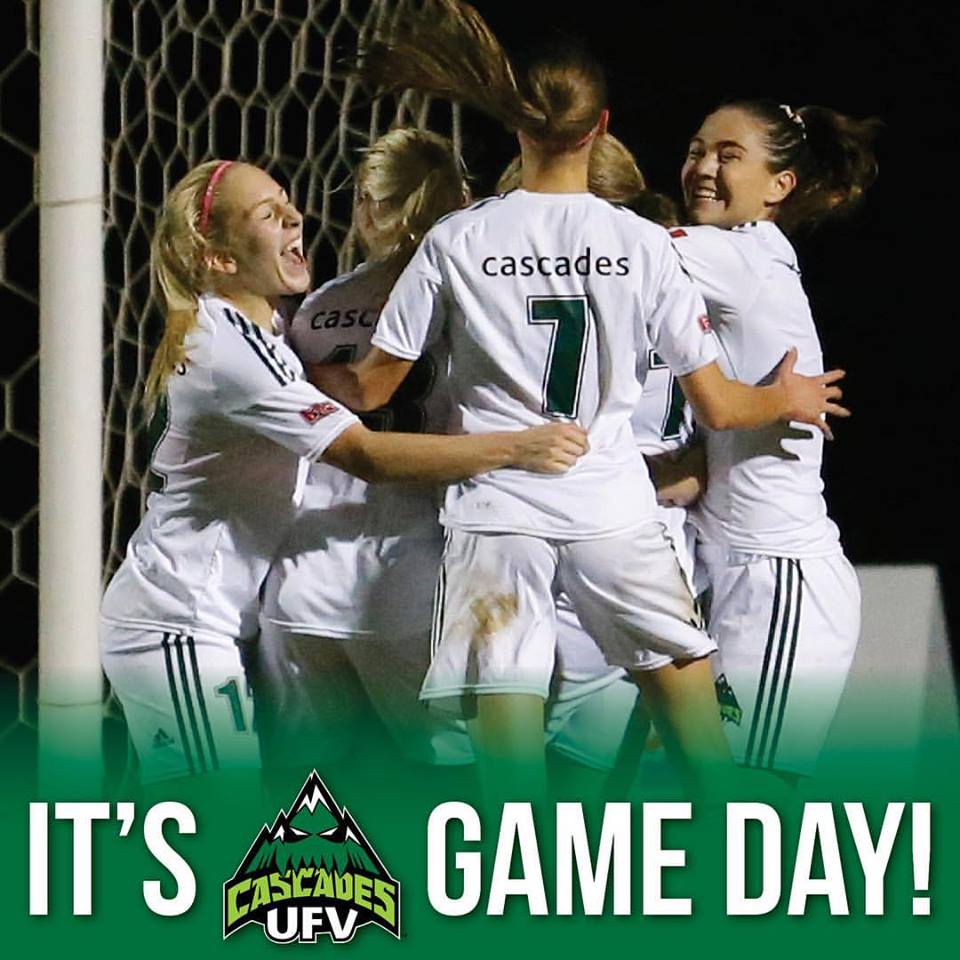 Friday's doubleheader at MRC Sports Complex, Field 4, features the Cascades women's squad taking on the Victoria Vikes, followed by the men facing the UBC Okanagan Heat. On Saturday, it's the UFV women vs. the UBC Thunderbirds and the men vs. the Thompson Rivers WolfPack. The women's team plays at 5:30 p.m. both nights, followed by the men at 8 p.m.
The Cascades women's soccer season preview was issued on Tuesday; a detailed look at the men's soccer match-ups is below.
Cascades make home debuts vs. Pacific Division foes
Friday: Cascades (0-1-1, 6th in Pacific Division) vs. UBC Okanagan Heat (1-1-0, 3rd in Pacific), 8 p.m.
Saturday: Cascades vs. Thompson Rivers WolfPack (1-1-2, T-4th in Pacific), 8 p.m.
MRC Sports Complex, Field 4
Webcast: canadawest.tv
Coming off their bye week, the Cascades men's soccer team returns home in search of its first win of the young Canada West campaign. They're facing a pair of upstart squads from the Interior who are coming off solid performances at home over the Labour Day weekend.
UBC Okanagan picked up three of a possible six points after a hard-fought loss to reigning division champ UBC (2-1) and a victory over Victoria (1-0). Thompson Rivers, meanwhile, thumped UVic 3-0 and were up 2-0 on UBC before settling for a 2-2 tie. The WolfPack are hosting the U SPORTS national championship this season, and are thus guaranteed a berth.
"UBCO is going to come down full of confidence, and they're going to try to cause us some problems," said Cascades head coach Tom Lowndes, whose squad posted a loss to UBC and a draw vs. UVic on the road to open the season two weeks ago. "We'll have to be organized defensively, and we've got to be more clinical in the final third than we were in the first weekend.
"TRU is coming off a great weekend. They were unlucky not to take six points, and they're hitting their stride right now. They're a very experienced team, and that berth to nationals is extra motivation. They're a very physical team, and they can play. We've got to be defensively solid and limit their chances, and look to break them down and cause them problems when we do have the ball."
Players to watch: Cascades sophomore midfielder Bronson Hartley was arguably the Cascades' best player during the preseason, scoring three times in five matches, and he continued to roll in his team's conference openers, highlighted by an outstanding goal vs. UVic. He'll be relied upon as an offensive catalyst this weekend. For the Heat, keep an eye on fifth-year goalkeeper Mitch McCaw – last season he became the program's first-ever Canada West all-star, and he made nine saves in last Sunday's shutout win over UVic. Mitchell Popadynetz, a third-year midfielder for the WolfPack, has been on fire this season, racking up three goals and two assists over his first four games. He's the reigning Canada West men's first star of the week.