WVB: Local recruits bring championship pedigree to Cascades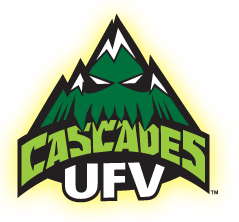 The University of the Fraser Valley women's volleyball program has signed four local high school recruits, infusing its roster with talent and depth heading into the 2017-18 season.
The quartet of newcomers includes setter Olivia Heinen (Langley, B.C.), middle Lauren Poirier (Port Coquitlam, B.C.), libero Karissa Marazzi (Abbotsford, B.C.) and right side Alexis Edwards (Abbotsford). Each player has played a pivotal role in tremendous team successes at the high school level – combined, they have been part of five medal-winning teams at the B.C. high school championships, and have also had some outstanding accomplishments in both club and beach volleyball.
Cascades head coach Mike Gilray termed it "an outstanding class across the board."
"I'm really excited," he said. "They're going to push our veteran players at a variety of positions. The programs they're coming from, as far as high school and club, are elite. To bring starters and key players from those teams into our league and this team is a big boost."
Olivia Heinen
5'10" setter, Langley, B.C.
Langley Christian School
Heinen is a true blue-chip recruit, ranking No. 6 in The Province newspaper's list of the top 15 graduating high school volleyball players in B.C.
She led her Langley Christian Lightning squad to a Grade 10 provincial championship in 2014, earning tournament MVP honours along the way, picked up a second team all-star nod at the AA senior girls provincials in 2015, and was a first team all-star at the 2016 AA B.C. championship as the Lightning took silver.
Heinen also excelled alongside future Cascades teammates Marazzi and Edwards with the Langley-based Airborne Volleyball Club. She was MVP of the 2016 provincial championship as Airborne won gold, and she helped the team to a provincial silver medal and a tie for fifth place at U18 nationals this year.
"Olivia might be the best setter in the province for her age group," Gilray said. "If she was maybe two inches taller, we wouldn't be having this conversation because I think there would be a dozen U SPORTS and U.S. schools looking at her. Her ball location and her strength are the top in B.C., for sure. Her overall smarts and understanding of the game are great, and she's had very good coaching technically."
Heinen, who will begin her academic career at UFV in general studies, said that the opportunity to play close to home with the Cascades was too good to pass up.
"It's a great group of girls," she said. "I came out to a practice, and they were super-nice and super-welcoming, and that made the decision easy. And I like Mike – he's a great coach."
Lauren Poirier
6'3" middle, Port Coquitlam, B.C.
Riverside Secondary
Poirier joined Heinen on The Province's list of B.C.'s top high school recruits, checking in at No. 14 after a much-decorated high school career with the Riverside Rapids. In 2015, she helped the Rapids win silver at the Fraser Valley tournament and bronze at the B.C. AAAA championship, and picked up a tourney all-star award from Riverside's Red Serge Classic along the way.
Poirier also excelled during club volleyball season – her Coquitlam Ducks squad won provincial silver medals three years in a row, at the U15 through U17 levels, before finally breaking through and knocking off Airborne for the U18 gold medal. They went on to tie for fifth at the U18 national championship.
Poirier suited up for a number of regional and provincial rep teams alongside future UFV teammate Heinen, winning gold at the 2014 BC Summer Games with the Fraser Valley zone squad and finishing fifth at nationals with Team B.C.'s U16 side in 2015.
Gilray said he's thrilled to add a recruit with Poirier's rare blend of height and athleticism.
"She's substantially taller than anyone on our team," he noted with a chuckle. "She's got great jumping ability, and she has the size and athleticism to be a U SPORTS middle. I'd love for her to be around for five years, but if we can get her to the level we want, there's going to be people at the next level looking for a middle of her ability, for sure."
"I want to improve my skills, improve my playing, and improve the team as much as I can," said Poirier, who will pursue an arts degree at UFV. "I chose the Cascades because they're an up-and-coming team and I think we can be really great. I want to try to bring the team further and contribute all that I can."
Karissa Marazzi
5'2" libero, Abbotsford, B.C.
Mennonite Educational Institute
Marazzi joined forces with Edwards to help the MEI Eagles win back-to-back B.C. AA high school championships in 2015 and 2016. She was named the top libero at last year's provincial tourney.
She achieved great success with the Airborne club alongside Heinen and Edwards, winning provincial gold in 2016 and silver in 2017, to go with a fifth-place national finish at the U18 level. Marazzi also excelled in beach volleyball, winning gold at both the BC Summer Games and U16 provincial championships last year with MEI classmate Ashley Huberts.
"Karissa is extremely athletic," Gilray enthused. "She's that libero who makes the unbelievable dig at the unbelievable time, as well as being super-reliable and consistent throughout the game. Their provincial championship with MEI this year, they were down to game point (trailing Langley Christian 14-11 in the fifth set), and it's a one-handed dig off the back line off a hard-driven ball to keep it alive, and they come back to win. At nationals, I'm watching her run up the tarp at the back of the court for a one-armed save before it hits the back wall. She just doesn't stop. And she's really coachable, and a great teammate."
"I wanted something local, and this was a great fit," said Marazzi, explaining why she chose to play for the Cascades while pursuing her kinesiology degree. "I really like the school – it's super-close and super-nice, and the small class sizes are good for the style of learning that I am. I really like the volleyball program as well – they've started building up their team, and I'm really excited to be a part of that."
Alexis Edwards
5'9" right side, Abbotsford, B.C.
Mennonite Educational Institute
Like Marazzi, Edwards brings an incredible championship pedigree to the Cascades after winning two consecutive AA gold medals with the MEI Eagles. She also won a provincial club title at the U16 level with Langley's Fraser Valley Volleyball Club Fusion in 2015, and was part of Airborne's B.C. title in 2016 and its provincial silver and fifth-place national finishes in 2017.
Edwards was a second team B.C. high school all-star in 2015, and an all-star at club provincials in 2016. She played predominantly in the middle at MEI, but Gilray envisions moving her to the right side at the next level.
"Alexis is extremely athletic, and that's the type of raw talent you want to bring in," Gilray said. "If you were to go across a lot of the rosters in our league, anyone with any amount of height has probably played middle along the way. But it's actually a really important position to have played, because you have a better understanding of how the game is going on both sides of the court. I think her potential is high, because she's so dynamic. She's extremely fast-twitch, very explosive. I think that's going to allow her to turn into a dynamic right side for us."
Edwards' decision to sign with the Cascades involved academic and athletic factors.
"First of all, the kinesiology program is really awesome, so UFV was a top choice of mine," she said. "And then adding the fact I can play volleyball makes it that much better. It's a great academic program and a great volleyball program as well. I'm really excited."