Vancouver – Former MLA and Social Credit cabinet minister and Deputy Premier Grace McCarthy passed away peacefully at her home in Vancouver last night after a lengthy battle with a brain tumor.  Mrs. McCarthy, 89, was surrounded by her family.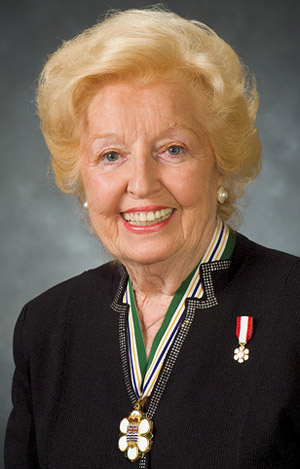 Funeral details and arrangements will be announced in the coming days.
Mrs.  McCarthy was born in Vancouver, and at the age of 17, she cashed in a $50 war bond and opened her own flower shop, Grayce Florists, which she developed into five retail locations across the city.
In the 1966 provincial general election, Mrs. McCarthy ran successfully as the Social Credit Party candidate for Vancouver-Little Mountain.  She was elected to civic and provincial office over three decades.
Mrs.  McCarthy served as President of the Social Credit Party, and is credited with rebuilding her party and helping to ensure its return to power in 1975.  Mrs.  McCarthy became the first woman in Canada to serve as Deputy Premier and as a member of cabinet held various portfolios, including tourism, human resources, provincial secretary and economic development.
She initiated the first toll-free help line for children, worked to establish the Vancouver Trade and Convention Centre, mobilized the film industry in B.C., broadened Home Ownership legislation to include women for the first time, was instrumental in securing British Columbia as the host of Expo '86 and as tourism minister began a new era for the hospitality industry.
Mrs. McCarthy received the Order of Canada in 1992 and the Order of British Columbia in 2004 and holds many honourary degrees.  In 1995, Mrs. McCarthy created the CH.I.L.D. Foundation (Children with Intestinal and Liver Disorders), a cause she embraced until her passing.
Political Note: Grace McCarthy's last stand came in 1994 when she ran as the Socred candidate in a by-election in Matsqui. She lost to Liberal and current MLA Mike deJong.
Premier Christy Clark has issued the following statement on the passing of Grace McCarthy:
"I am deeply saddened by the passing of Grace McCarthy.
"At a time when female leaders were hard to find in Canadian politics, Grace McCarthy was an agent of change. When she was first elected, women could not even apply for mortgages without a male guarantor – until she worked with the provincial and federal governments to fix it.
"From playing an instrumental role in bringing Expo 86 to Vancouver, to starting the first toll-free help line for children, to becoming Canada's first female deputy premier, she left an indelible mark on our entire province.
"Equal parts intelligent, warm, and tough, she led by example, inspiring more than one generation of women in B.C. and Canada to stand up and pursue a career in politics. 'Amazing Grace' indeed.
"Because she touched so many people, we are working with her family on funeral arrangements, and will provide more details when they are available.
"My thoughts are with her family, friends, and colleagues who miss her, and all those she inspired."