Chilliwack –  Chilliwack RCMP Traffic Services closed out the provincial Distracted Driving enforcement campaign with 'an eye in the sky'.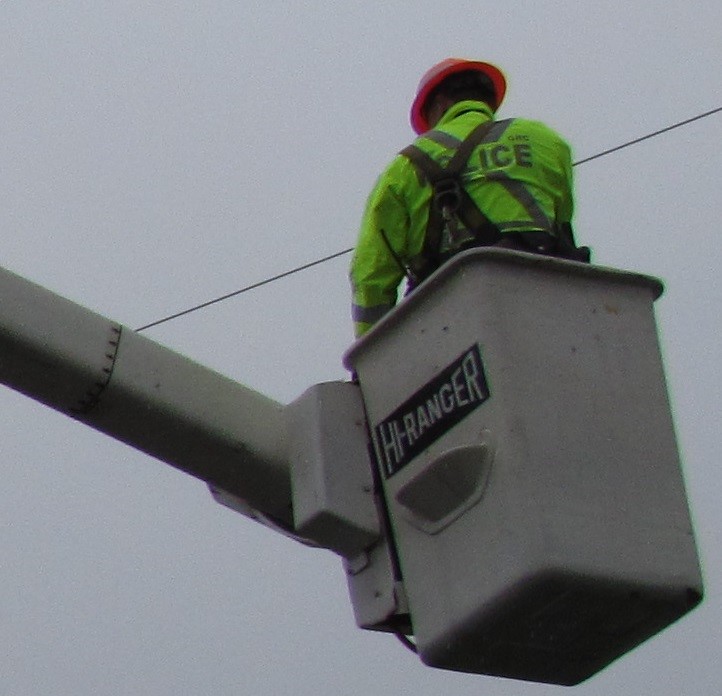 Employing the aid of a bucket truck, courtesy the City of Chilliwack, officers watched from above, for distracted drivers during a traffic enforcement blitz conducted at the intersection of Luckakuck Way and Vedder Road, March 29th.
During the month long Distracted Driving initiative police employed different techniques to spot distracted drivers which included traveling around the city on BC Transit buses over the afternoon of March 21st .
"We watched from places where police would not be expected.  Once sighted, the distracted driver was stopped and issued a ticket by our traffic officer," said Constable Jaden Courtney of Chilliwack Traffic Services.
Over the month of March, teamed with RCMP Fraser Valley Traffic Services, The City of Chilliwack Safer City, ICBC, and Chilliwack Cell Watch, police issued 36 violation tickets to drivers who chose to use electronic devices while operating a motor vehicle. 
"Distracted driving is a dangerous habit practiced by too many drivers on our roadways.  Through enforcement and driver education the RCMP remain dedicated to preventing this offence and ensuring safer highways to the travelling public in our community," says Corporal Mike Rail spokesperson for the UFVRD.  
Chilliwack RCMP would like to acknowledge our partner, BC Transit, for their commitment to road safety.
Here are some helpful tips to prevent distracted driving;
·         Leave the phone alone and minimize potential distractions before you head out on the road.
·         Plan your route and secure your pets.
·         Keep your eyes on the road and hands on the steering wheel.
For more information and tips for preventing Distracted Driving we invite you to visit us at RCMP or the websites of our partners at Chilliwack Safer City and ICBC.