Men's Basketball: Cascades' ball movement, balanced attack trumps TRU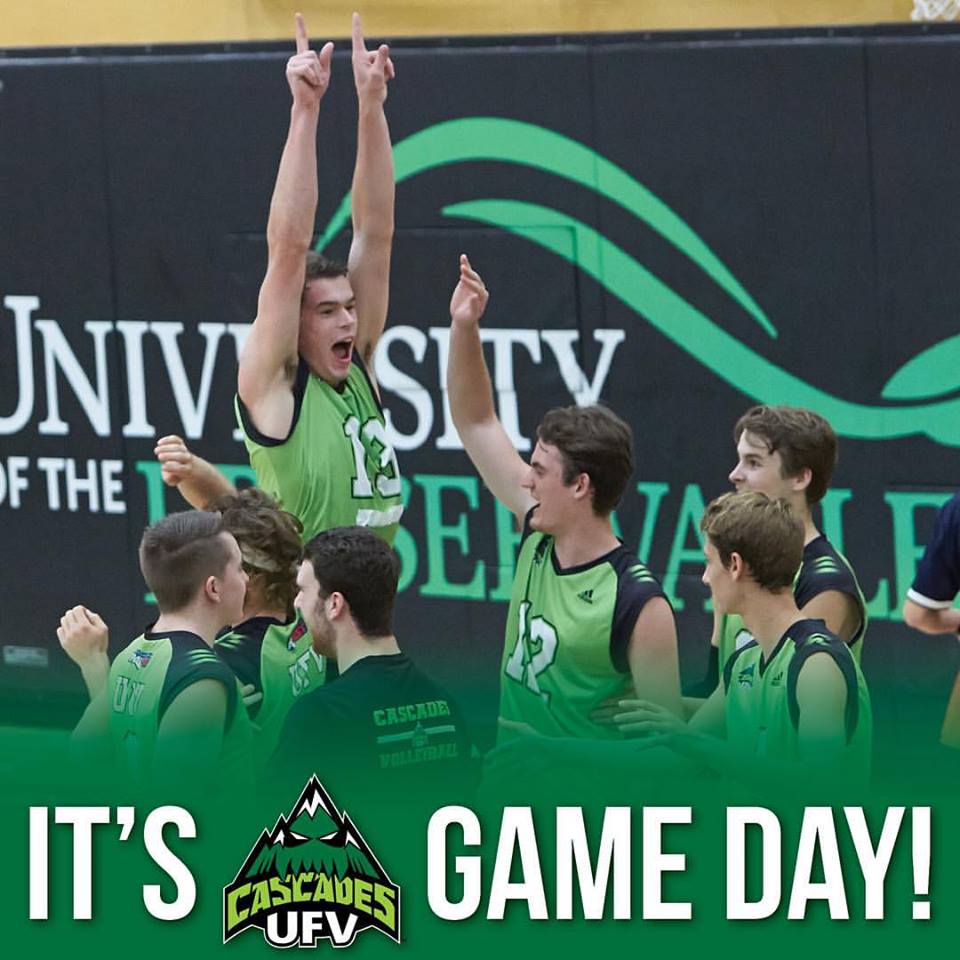 The University of the Fraser Valley men's basketball team was lights-out down the stretch on Friday evening, pulling away late in the fourth quarter for an 80-72 victory over the Thompson Rivers WolfPack.
Playing at UFV's Envision Athletic Centre, the Cascades and WolfPack were tied 66-66 with six minutes left in regulation after TRU's Volodymyr Iegorov swished a three-pointer. But the hosts ended the game on a 14-6 run to move into a tie with the WolfPack and Mount Royal Cougars for eighth place in Canada West. All three teams have 7-8 records.
UFV and TRU clash again on Saturday (7 p.m., Envision Athletic Centre).
"The game was exciting," Cascades head coach Adam Friesen observed. "They (TRU) gave a great effort, and when it came down to that last five-minute stretch of the game and it was neck-and-neck, I'm happy the guys came through and hit some big shots, played together and found a way to pull it out."
The Cascades' game-ending run was bookended by three-pointers – Andrew Morris got it started, and Vijay Dhillon finished it with a dagger from the top of the key with a minute to go.
The WolfPack were led by their post players, Iegorov and Joe Davis. Iegorov, a fifth-year power forward from the Ukraine, has a reputation which preceeds him – he was a Canada West third team all-star last season, and he lived up to that billing on Friday with 21 points, six assists and four rebounds.
But it was the less-heralded Davis who was really a handful for the Cascades – he racked up game-high totals for points (25) and rebounds (12).
"That's the strength of their team," Friesen said of the TRU frontcourt, "and Joe was phenomenal. He was beating us for his spot pretty much the whole game, and if you allow him to get the basketball where he wants it . . . he has such great hands and he's able to finish so well, life gets hard."
The Cascades countered with a balanced attack – six players scored in double figures, led by Andrew Morris with 17 points in just 21 minutes off the bench. Anthony Gilchrist, Manny Dulay and Mark Johnson had 13 points apiece, Nav Bains scored 12, and Vijay Dhillon chipped in with 10.
UFV racked up 24 assists as a team, one shy of their season high, and that stat was indicative of the unselfish ball movement that defined their most effective offensive stretches of the night.
"We're not great at one-on-one – we don't have many physical advantages out on the court," Friesen said. "But I think we have a lot of guys who can be threats and can make shots and can make good passes and can make plays with the ball. If we play together and everyone stays aggressive and moving, we can find a good shot and it doesn't matter who gets it."
The WolfPack out-rebounded the Cascades 43-34, but UFV made up for that by swiping a season-high 16 steals with Dulay (six) and Gilchrist (five) getting the lion's share.
Women's Basketball: Third-quarter explosion boosts Cascades past WolfPack
The University of the Fraser Valley women's basketball team rode a huge third quarter to a 69-64 victory over the Thompson Rivers WolfPack on Friday evening at the Envision Athletic Centre.
The Cascades held a modest 35-31 lead at halftime, but came out of the locker room on fire. They shot 55.6 per cent from the field as a team en route to 29 points in the frame, and would go on to extend the lead to 20 points (69-49) on Amelia Worrell's three-pointer with just over four minutes left in regulation.
The WolfPack kept clawing, though – they reeled off a 13-0 run in less than three minutes against UFV's reserves, forcing Cascades head coach Al Tuchscherer to reinsert senior star Kayli Sartori in the final minute to settle things down.
The Cascades put the finishing touches on the victory to improve to 9-6, which gives them sole possession of eighth place in Canada West. Thompson Rivers fell to 2-13.
The two teams renew hostilities on Saturday at 5 p.m. at the EAC.
"I think in the first half, Thompson Rivers was sort of ahead of the play," Tuchscherer said afterward. "Everything we tried to do, they had a step on us, offensively and defensively. We really weren't in control of the pace of the game. I think in the third quarter, we flowed a little bit better coming out of the backcourt and we tried to simplify things a little bit. That opened things up for us."
Sartori finished with 19 points in just 20 minutes of action, and Shayna Litman and Sara Simovic chipped in with 11 points apiece. Rookies Amanda Thompson and Jessica Zawada contributed seven points each off the bench, Simovic paced the Cascades with five assists, and Taylor Claggett hauled down a team-high eight rebounds.
TRU's Emma Piggin tied Sartori for game-high scoring honours with 19 points and added 11 rebounds. Michelle Bos was the only other WolfPack player to score in double figures.
"You never like to give up a big lead like that as the game goes on, but I think it's good experience for our team, for some of our younger kids to go through that," Tuchscherer said. "This is a team that, if you open the door a little bit, they're going to barge on through. Those are good lessons for some of our younger kids to learn tonight, for sure."
Men's Volleyball: Top-10 clash sees Mariners edge Cascades in five-set thriller
Friday's clash between top-10 nationally ranked teams lived up to its billing, as the University of the Fraser Valley men's volleyball squad and the Vancouver Island University Mariners brought out the best in each other on Friday at the Envision Athletic Centre.
The heavyweight battle saw the host Cascades – ranked No. 8 in the CCAA national poll – take the first set 25-23, but the No. 1 team in the country bounced back for a 25-23 win of their own in the second. UFV was soundly thumped in the third by a 25-11 count, but regrouped to take the fourth 25-19.
The Mariners raced out to a 4-0 lead in the fifth, but the Cascades came roaring back to level the score 9-9 and set up a frantic finish. UFV, trailing 14-12, would fend off two match points to tie things up once again, but VIU earned the next two points to seal the victory.
The Cascades (14-5, second in PACWEST) get another crack at the Mariners (16-1, first place) on Saturday afternoon (3 p.m., Envision Athletic Centre North Gym).
"We didn't come away with a win, (and) we still didn't play to the best I think we're capable of," Cascades head coach Kyle Donen mused afterward. "We had points in the match where we had chances to get extra points, and we didn't capitalize on some of those opportunities we had. When you're playing a good team, they're going to make you pay for those. I think we just needed to be more consistent."
Fifth-year right side Joel Kleingeltink paced the Cascades in kills with 12, and middle Dayton Pagliericci chipped in with 11 kills and four blocks. Fellow middle Connor Pruim also had a big game with nine kills and six blocks.
Isaiah Dahl led the defence with 21 digs, and Kleingeltink and setter Adam Frederickson notched nine apiece.
Women's Volleyball: Cascades push top-ranked Mariners to the limit, fall in five set

The University of the Fraser Valley women's volleyball team staged an epic rally on Friday evening against the top-ranked team in the nation, but the Vancouver Island University Mariners fended them off in the fifth set at the Envision Athletic Centre.
The Mariners, first place in the PACWEST and holding the coveted Canadian Collegiate Athletic Association (CCAA) No. 1 ranking, handled the first two sets by scores of 25-19 and 25-20. But the Cascades dug deep, winning the next two 25-21 and 25-22 to force one more set for all the marbles.
The fifth was a microcosm of the game as a whole – VIU built a foreboding 13-6 lead before the Cascades went on a four-point run to get to within 13-10. The Mariners, though, took two of the next three points to seal the victory.
The Cascades (7-12, fifth in PACWEST) and Mariners (14-3, first place) lock horns again on Saturday afternoon (1 p.m., Envision Athletic Centre North Gym).
"Our girls fight – they have great response and they battle, and that's awesome to see," UFV head coach Mike Gilray acknowledged. "But we're waiting too long. We have to be able to compete with the best teams in the league for full matches, and you can't have 10-point lapses in a game. If you do that against a team of this calibre, they win enough points that they'll separate from you and are able to finish the games off."
The Cascades had big games from left side Rachel Funk and right side Kim Bauder, who tied for team-high honours with 14 kills apiece. Bauder added 15 digs and was among three Cascades in double figures in that key defensive statistic, along with Amy Davidson (21) and Kelly Robertson (16).
Monique Huber led the team with four aces to go with six kills and two blocks, and Funk notched four blocks.