Fraser Valley (Don Lehn) – I am really not into art books, so when this book was first presented to me by the publisher and the agent for the author, I was skeptical. I started to flip through the  pages and was captured by a really intriguing story.
Here you have acclaimed Academy Award winning actor Anthony Quinn, shown to also be a painter, sculptor and artist.
Perhaps a touch psychic? A modern day Nostradamus?
Glenn Harte takes you through two major paintings that Quinn produced, both looked into the future.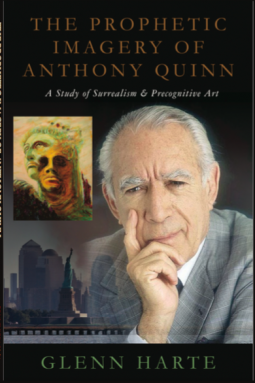 One was a painting done in the mid-80's that depicted, what we would know, as 9-11. The thing is, Quinn died (June 2001) before the planes hit the Twin Towers (September 2001). The second was a portrait done in the 1950's of an 11 year old boy. However, Quinn would not live long enough to see his son, Ryan, reach his 11th birthday (Ryan was born in 1996).
Harte is an art agent, and Quinn was one of many star clients who were actors as well as artists and collections. That includes the estate of Red Skelton as well as actors Anthony Hopkins, Tony Curtis and Burt Young (known for his role as Paulie in the Rocky movie series).
Quinn's work can be compared to (and talk about high praise) to De Vinci, Michaelangelo and Picasso when it comes to Surrealism and Precognitive Art. At 70 pages, it is not a difficult read, in fact, fascinating doesn't come close to giving the book due justice.
The Prophetic Imagery Of Anthony Quinn: A Study Of Surrealism And Precognitive Art can be ordered through Amazon.