New Westminster – Popular Canadian mystery writer Winona Kent introduces her eighth novel with the publication of Lost Time, a mystery set in the seaside village of Stoneford, on England's south coast.
We first met the prolific author's main character, Jason Davey, in her novel Cold Play, when the jazz guitarist was entertaining passengers aboard the Alaska cruise ship Star Sapphire. Back in Canada a few years later, in the novella Disturbing the Peace, Jason's extracurricular activities found him tracking down a missing musician in northern Alberta. And, last year, in Notes on a Missing G-String, Jason was asked by an old friend to help investigate the theft of £10,000 from a dancer's locker at a gentlemen's club in London's Soho.
Now, in Lost Time,while Jason's rehearsing for the last-ever tour of his parents' old folk-pop band Figgis Green, he's asked to investigate the disappearance of 16-year-old Pippa Gladstone. The teen vanished while on holiday with her parents in Spain in 1974and her motherhad her declared legally dead. But 40 years later, a new photo shows her very much alive at the Wiltshire Folk Festival. Nothing can prepare Jason for the truth about Pippa, which he discovers just as his band is about to take to the stage on opening night—with or without him.
Winona Kent was born in London, England but grew up in Regina, Saskatchewan. She has an MFA in Creative Writing from UBC and a Diploma in Writing for Film and TV from Vancouver Film School. She's the current BC/YT/NWT Representative for the Crime Writers of Canada, and is also an active member of Sisters in Crime.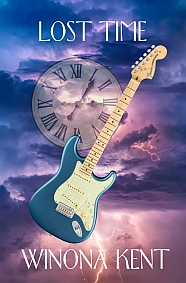 Winona Kent
Author of Lost Time (Blue Devil Books) (Published August 31, 2020)
Regional representative, BC/YT/NWT, Crime Writers of Canada
www.winonakent.com