Chilliwack – Chilliwack RCMP are still not saying much after the story broke of a spy cam found in the stand up tanning area of the recently opened Planet Fitness in Chilliwack ( On Luckakuck next to the Value Village).
Obvious privacy concerns have been brought up on social media although one of the complainants has said, he has yet to be interviewed by Mounties.
Eye brows have been raised as to the timeline. The incident happened in August 8, but it was October 8 when the story finally went viral.
Now to November 1, FVN heard from Kimberly Marie who just received a written apology from the gym chain. Marie told FVN that she was tanning four times a week prior to the discovery. I am still a member at the gym and really do enjoy the staff there. I just wish they would of warned their members right away.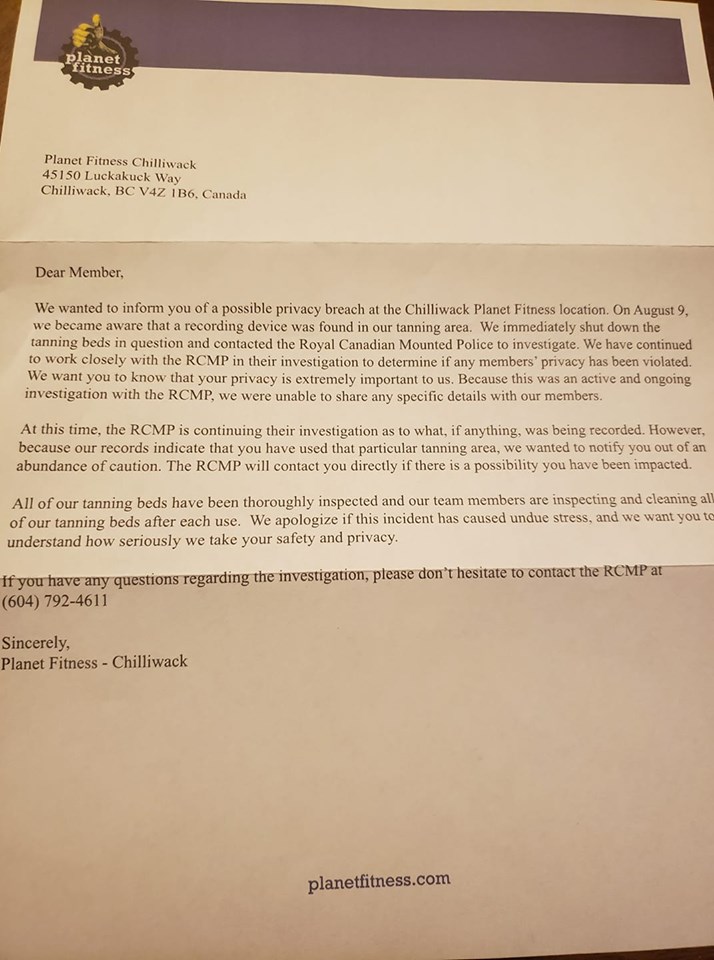 The only comment from Chilliwack RCMP Media Liaison Officer Corporal Mike Rail has been:
On August 8, 2019 the Chilliwack RCMP received a report that suspicious electronic devices -cameras – were discovered in a business in the 45000-block of Luckakuck Way.
The Chilliwack RCMP Serious Crime Section has conduct of the investigation.
"We understand people's concerns and Chilliwack RCMP are actively pursuing our investigation of the report," says Corporal Mike Rail spokesperson for the UFVRD. "As police move forward with our investigation the integrity of the investigation, the evidence obtained, and the privacy of those who might be potential victims remains' a high priority to us."
Anyone who believes they may have been the subject of videoing or has any information regarding this investigation is urged to contact the Chilliwack RCMP at 604-792-4611.