Surrey – The 25th anniversary of the Surrey Cares Grant awards and celebration was Thursday September 19. The crowd of community leaders filled the Surrey Arts Centre to hear about the amazing and inspiring work being done in the community by grant recipients this year.
On October 8, Surrey South MLA Stephanie Cadieux honoured the recipients in the Legislature in Victoria.
I spoke in the House today to congratulate the winners of the 2019 Surrey Cares Awards and to thank the Surrey Cares Community Foundation for their continued efforts and supports of our Surrey community.
SurreyCares Michael Bose Linda Stromberg Dan's Legacy PICS Society Volunteer Cancer Drivers Society The Centre For Child Development SuperChefs Cookery for Kids Kindred Farm ALS Society of BC Horizon Church Lower Mainland Down Syndrome Society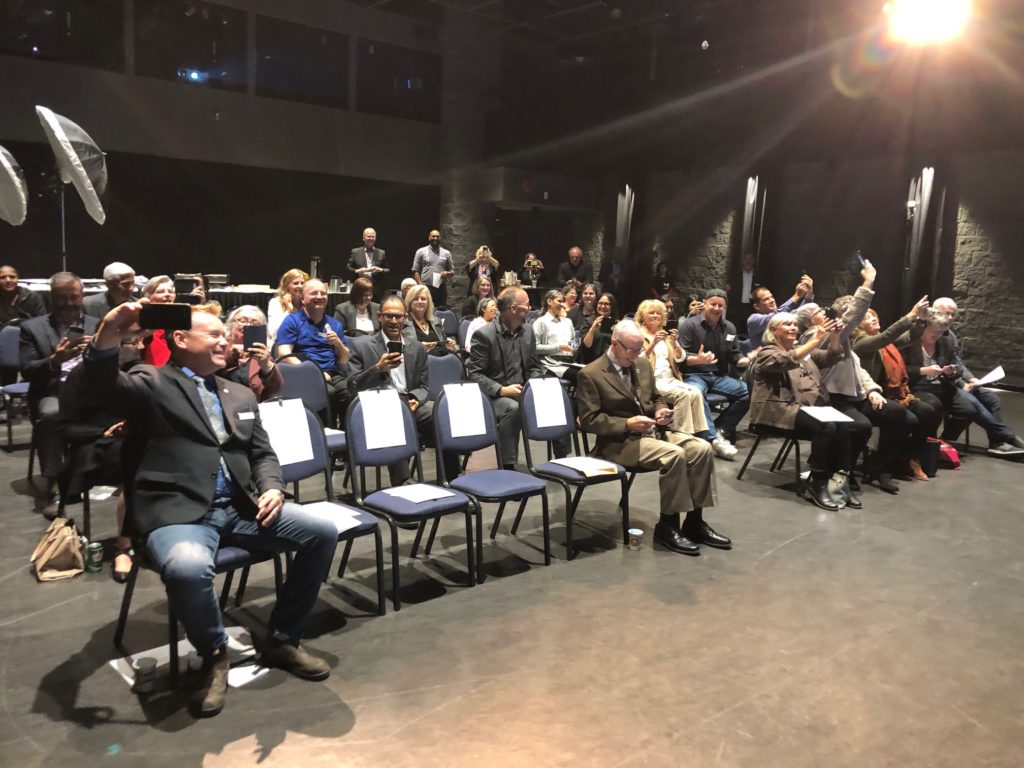 There are nearly 800 non-profits in Surrey, according to Canada Revenue Agency. Annually, dozens of them apply for SurreyCares grants.
In 1994, the organization started with a $200,000 donation from Francesca Darts and now Surrey Cares manages $7 Million in endowment funds. $25,000 is given out annually.
The increasing amount of non-profit endeavours makes choosing just a few very difficult for us, but we've once again made our final selections for the upcoming SurreyCares 2019 Grant Celebration.
One of this year's grant recipients, The Centre for Child Development, received a grant from us last year, which helped keep their hydrotherapy pool for children open on weekends, so that both spouses could be there with their child. When Alison Obrecht, Vice President of the Child Development Foundation spoke to us earlier this year, she said the extra time that the pool was open for allowed families to witness more "life-changing moments."
Here's the full list of organizations which received grants from SurreyCares in 2019.
2019 SurreyCares Grant Recipients
General Community
Volunteer Cancer Driver Society
Hundreds of Surrey cancer patients, from young children to the elderly, have neither a family, friend, support network nor the financial means to provide assured transportation to their treatment programs.
The VCDS was created to meet this critical need by assisting cancer patients on their journey. In 2018, 30% of all the 16,300 Region wide patient rides we completed were for residents of Surrey. Our goal is to provide transportation for 100% of the Surrey cancer patients requesting rides.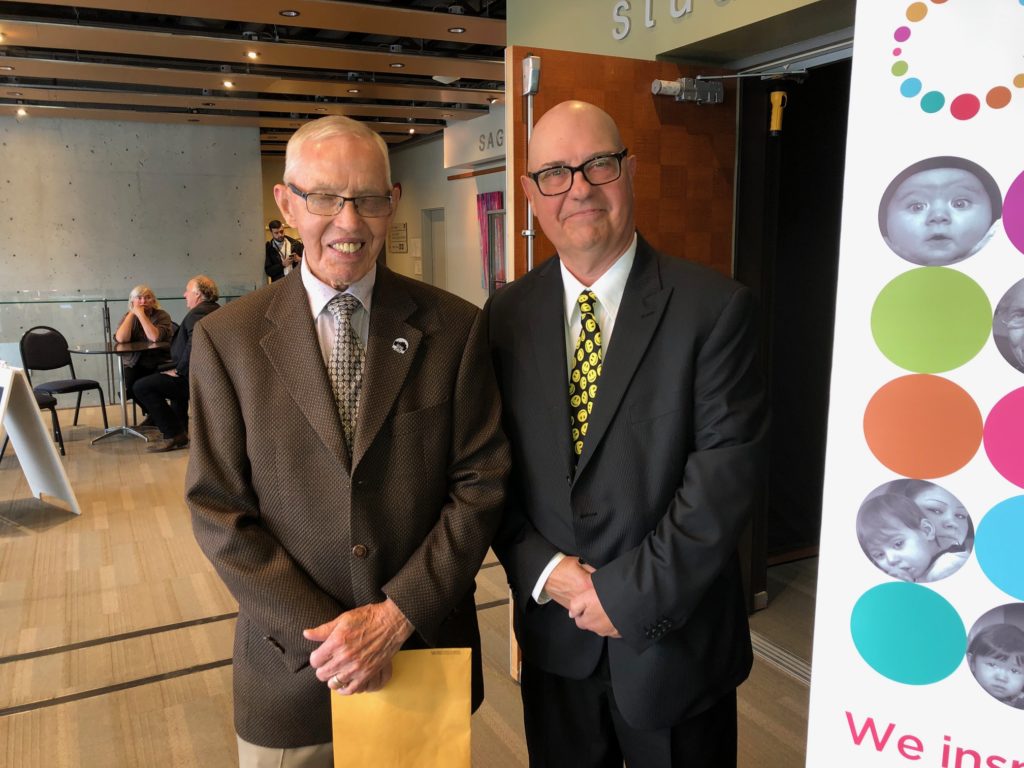 Special Needs
Amyotrophic Lateral Sclerosis Society of British Columbia (ALS)
The Equipment Loan Program of the ALS Society of BC is designed to help people cope with the daily challenges of decreasing mobility and independence through obtaining basic and essential assistive equipment.
All equipment loaned is available at no charge to registered ALS patients in British Columbia and funding the loan program is one of the principal objectives of the ALS Society of BC.
The Centre for Child Development
Their Hydrotherapy Pool is one of the only accessible hydrotherapy pools south of the Fraser River, allowing safe access for children with mobility issues and their families. It is one of the happiest places at The Centre, where children often take their first steps.
The long-term goal is to continue with the Saturday pool sessions and ultimately expand them to include every Saturday. This would greatly increase accessibility for working parents of children with special needs.
Their Night to Shine event is hosted to change the narrative on how people with special needs are viewed, and to celebrate the value of life.
2018 was the first year it was hosted in Surrey, with 60 guests and over 120 volunteers participating. In 2019, over 120 guests and 300 volunteers participated, which is a 100% increase. They have already started receiving inquiries for the event next year and are anticipating over 200 guests will participate in the 2020 event.
Lower Mainland Down Syndrome Society
Their latest project is to translate the New Parent Package into an assortment of different languages. These packages will then be provided to families, hospitals, and other health professionals at no charge. The goal is to have this package available in as many languages as possible.
By providing this new parent package to all families and health care providers, it breaks down language, and cultural barriers. The packages also aim to take away the burden from hospitals, social workers, doctors, etc., allowing the Lower Mainland Down Syndrome Society to work one on one with everyone to build stronger ties in Surrey and with families.
Progressive Intercultural Community Services Society (PICS)
Disha-Parenting Program for South Asian parents is designed to support parents and families from South Asian Background, having children with special needs, such as autism, learning disabilities, ADHD and other severe behavioural issues.
It aims to prevent problems in the family, school and community before they arise and to create family environments that encourage children to realize their potential.
Superchefs Cookery Society
The Special SuperChefs program is an adapted program to enable children of all abilities to participate in the SuperChefs cookery program despite physical or cognitive limitations
By encompassing SuperChefs' core values and mission, the Special SuperChefs program is able to provide an exclusive opportunity for children requiring additional support.
Kindred Farm Sanctuary (formerly SALI)
This is a safe haven for children and animals that have been exposed to violence, trauma, and neglect, and provides a space for them to heal together.
Through horticultural and animal-assisted activities, at-risk children are given the opportunity to begin to overcome the damaging effects of their past experiences and to foster valuable skills to help them cope and grow.
Youth Initiatives
Working in partnership with the educational team at Surrey's Foundations School, Dan's Legacy Foundations School Therapy Workshops will provide therapeutic counselling intervention for at-risk youth.
The grant from SurreyCares will provide support for daytrips and land-based therapies from September 2019 to June 2020.
The KPU International Music Festival (formerly known as the Kiwanis Fraser Valley International Music Festival) will celebrate its 20th anniversary in 2019, and it has become one of the largest of its kind in the Province.
Renowned music educators from across the continent provide valuable feedback clinics and master classes. It is a unique opportunity for music students to perform in front of an audience. Under the umbrella of the seven-week-long KPU International Music Festival, VAYA offers competitive and non-competitive classes for solo instruments, voice, chamber ensembles, bands, choirs, orchestras and more.