Chilliwack – Chilliwack School Boards Tuesday meeting will be a lot of number crunching on the cost of new schools and expanding the current ones. With Chilliwack now in the position of relying heavily on portables, and the controversy surrounding that, the Board will receive the latest numbers.
The Agenda can be found here. All School Board Meetings are live streamed on the District's YouTube Channel.
Based on information from local government, the School Board of School District No. 33 estimates that there will be 9,154 new development units constructed in the school district over the next 10 years;These 9,154 development units will be home to an estimated 4,085 school age children;The School Board expects that three new school sites will be required as the result of this growth in the school district. According to Ministry of Education standards the sites will require 9.29 hectares of land. At current market values, the land will cost approximately $29.7 million.
Surrey used to be the focal point of portable classrooms, as their population was booming. Now it's Chilliwack's turn as population growth has been unstoppable. Pretty much every school in the District has portable classrooms. "As a school district, we've exceeded our functional capacity," the Chilliwack School District's acting superintendent Rohan Arul-Pragasam said.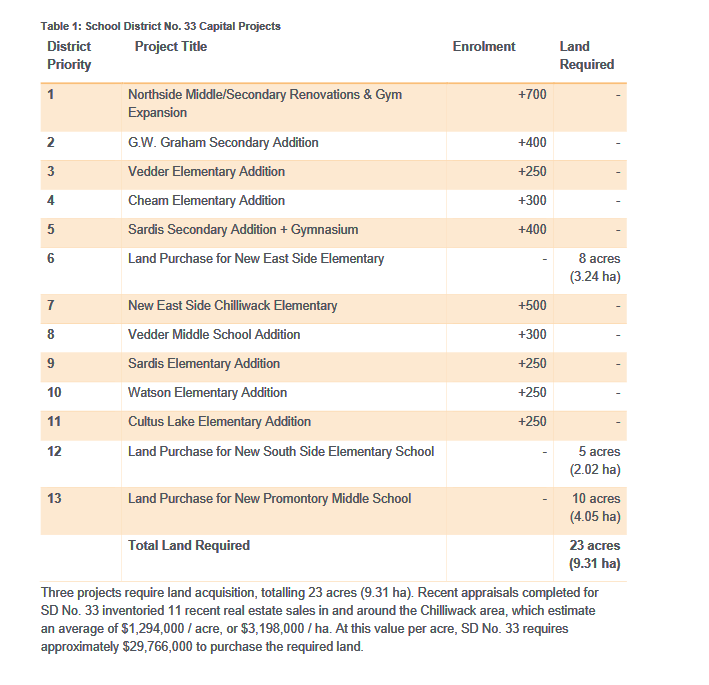 As for personal health concerns, the Secretary Treasurer will provide a status update on the implementation of free menstrual products in the district.