Agassiz – With a challenging 2019 summer fishing season underway in the Lower Fraser River region, the Fraser River Peacemakers and the Cheam Fishing Village in Agassiz gathered at the River on Monday August 26 to promote harmony between recreational anglers and regional First Nation fishing communities.
Special guests and dignitaries from various communities shared a meal and enjoy the day together at the Cheam Fishing Village in Agassiz in a spirit of friendship.
A few members there noted that it tensions will probably worsen before they get better.
Video Courtesy Chris Gadsden:
From the invitation: Dear Chiefs, Council Members, Dignitaries, Representatives, Fishers and Families: It is our pleasure to cordially invite you to the "Gathering at the River" being held at Cheam Fishing Village and Campground on Monday, August 26, 2019. This event has been conceived and planned by the Fraser River Peacemakers, and Cheam Enterprises Inc. of the Cheam First Nation. We thank you for your time and consideration while looking forward to your attendance. Respectfully, Fraser River Peacemakers Board of Directors Cheam First Nation Cheam Enterprises Inc. Board of Directors LFFA and Sport Fishing Organizations Participants in the Fraser River Peacemakers Group include representatives from the sport fishing organizations, Guides Association, the Pacific Salmon Foundation, the Fraser River Salmon Society, and prominent First Nations spokespeople. Throughout the 10-year history of the Peacemakers both the RCMP and DFO have attended and provided support in various ways to the group.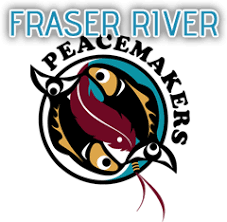 The Peacemakers' mantra is to be respectful and avoid conflict by using good etiquette and sportsmanship. The protocol is demonstrated in the Peacemakers' video, River Manners:
The message of respect and goodwill is particularly relevant this summer. In order to protect the stocks, the Department of Fisheries and Oceans imposed restrictions on commercial, recreational and First Nation harvest of Chinook salmon in the Lower Fraser River tidal waters and non-tidal waters.
As of August 15, the province also closed the main stem of the Fraser above the Mission Bridge to trout fishing. The Peacemakers will work to provide guidance where fishing is still permitted to reduce tensions between eager anglers and First Nations fishers.