Vancouver – When you go to the PNE, there are rules. Eat Mini Donuts, try the lemonade and have perogies from Hunky Bill ( Konyk ).
Bill's secret to success was revealed years ago in a TV interview. When business is slow, fry onions and the people will flock to you.
Bill had a radio background. He moved from CKY Winnipeg to Vancouver to join CJOR in 1966, becoming General Sales Manager of CFUN from 1967 to '71. Konyk sold his trademark Ukrainian-style perogies at the Vancouver Pacific National Exhibition for 52 years.
Vancouver Journalist Marcella Bernardo said that his 50+ years at the fair started with a $10 bet.
Dennis Rook, GM at Community Futures South Fraser (Chilliwack) said : Got to meet him many years ago in Dauphin MB at the National Ukrainian Festival which is held in August every year.
Laura Ballance, the media spokesperson for the PNE posted to social media on Wednesday morning, the sad news: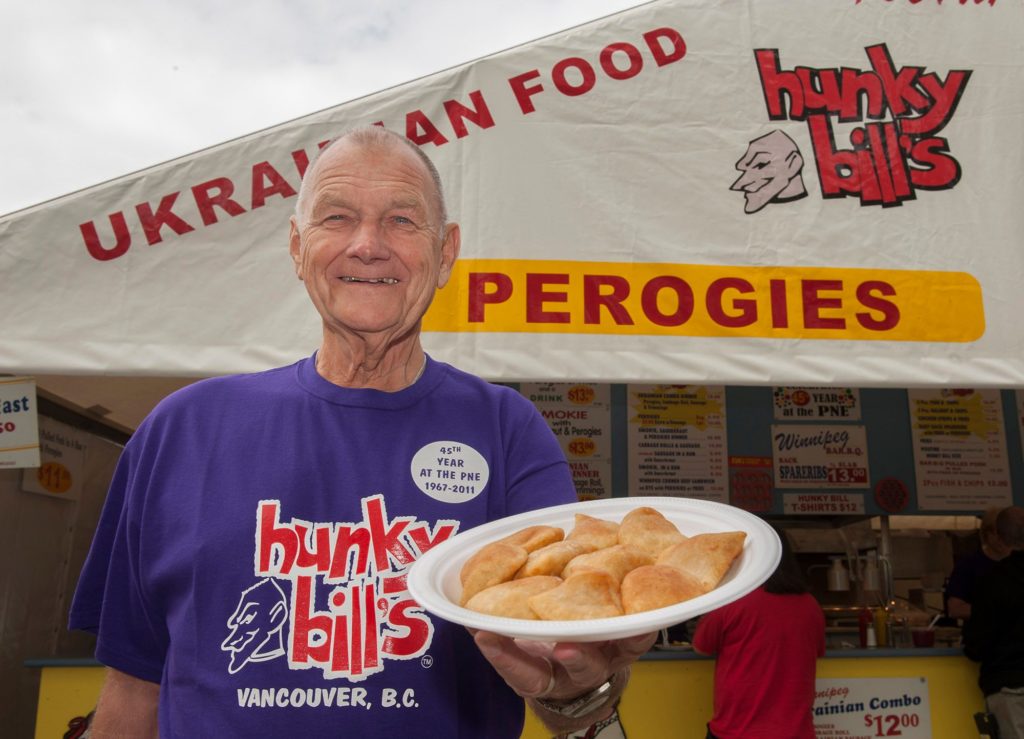 Hunky Bill was a great guy, one of my "go to's" for media interviews and always a friend to me, this Fair and our industry:

It is with incredible sadness that the Pacific National Exhibition acknowledges the passing of the one of one of our longest standing concessionaires and iconic members of our Fair family, Bill Konyk, known across the Canadian fair industry as Hunky Bill.

Bill passed away peacefully last night, surrounded by his family.

Hunky Bill was a beloved member of the extended PNE family for 52 years, beginning, as the legend has it, when the then Vancouver based radio executive bet a friend $10 that he could get a booth at the PNE to sell his homemade Ukrainian style perogy's. The story goes that Bill showed up at the PNE administration office and spent an hour and a half convincing the then head of the PNE booth sales department to give him a chance. Konyk got his booth, won his $10 and began a 52-year journey during which time Hunky Bill has become one of the most iconic pitchmen and restaurateurs in Canadian history.

Hunky Bill's has always been a family operated business spanning three generations. Bill's loving wife Kay and three sons Bill Jr., Clayton, and Mark will continue on the tradition of serving the best Ukrainian food in the city.

Hunky Bill will be incredibly missed by his many friends and family across Canada, including all those in his PNE Fair family.
Bill was 88.