Langley – In February 2018, you first heard about the video on social media, of a village in the Netherlands, for dementia patients. Instead of a rigid care home structure, it is a place where dementia patients can freely walk "the streets", visits shops, go for coffee with other residents and interact as if nothing in their lives had altered drastically.
Doctors, specialists and family members all hailed the concept as brilliant and innovative…and successful. Reducing the stress and confustion for patients is paramount.
At that time, a ground breaking ceremony took place for a similar concept in Langley. It's called The Village. Comprised of six, single-storey cottage-style homes and a community centre and will be the home to 78 people.
This is a first time concept in Canada.
It's now ready for the great unveil July 27th.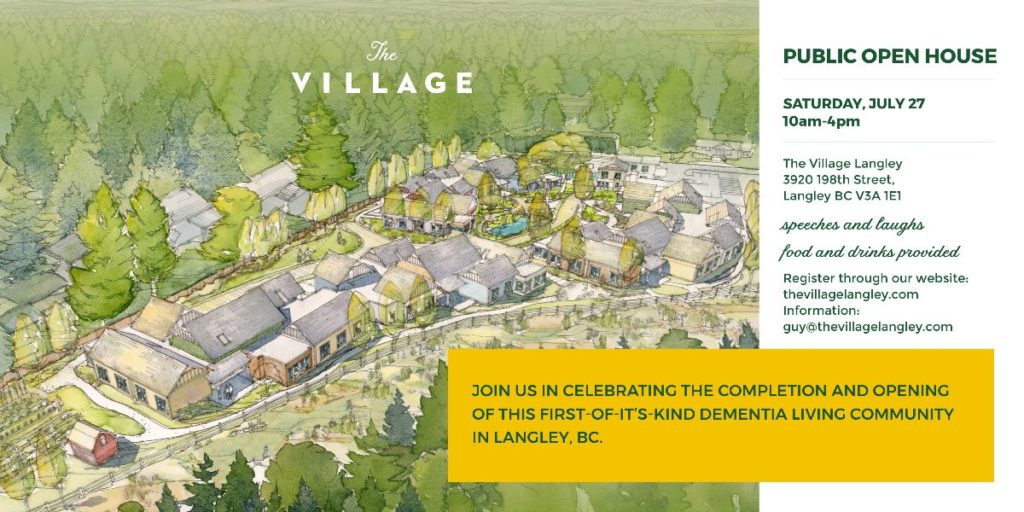 Come learn what is unique about a"dementia village" and the household model it is based around. Meet the team, staff and be a part of something new.
The Village Langley will be open to the public on Saturday July 27th 10-4pm.
Parking is limited. Please consider alternatives. The Village is a short 5-10 minute walk from Brookswood Village and we'll be running a shuttle bus from beside the Starbucks there.
RSVP is not necessary!

If you represent a seniors living, support or research organisation please email Guy@thevillagelangley.com for an invite to our Invite-Only "Industry Day" on Friday July 26th 1-4pm.

Job seekers please attend the Public Open House (watch the Staff Info Session Video first! 😉

The Village is at 3920 198th Street, (the Old Bradshaw Elementary School site) and is expected to be completed by April 2019.