Chilliwack – On Monday June 24, the traffic signal on Lickman Road at the eastbound off-ramp will be removed and all traffic will be routed to the roundabout. The signal removal will also require traffic going southbound turning eastbound onto Highway 1 to use the roundabout.
Yes, we have to learn on how to deal with another roundabout.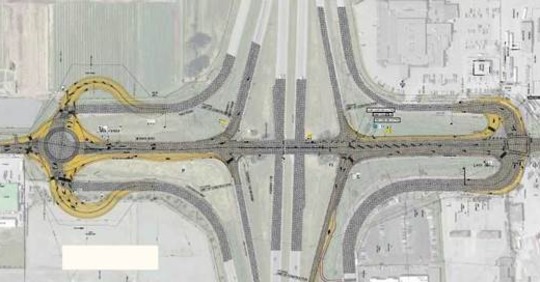 This work includes improvements to the north and south portions of the Lickman Interchange. Key improvements on the north side include additional turning lanes at the Yale Road /Industrial Way intersection, and additional southbound climbing lane to the westbound on-ramp. Key improvements on the south side include an additional northbound lane, and additional southbound lane, removal of eastbound off-ramp / on-ramp signal to allow right-turn only at off-ramp, and construction of a two-lane roundabout at the Yale Road / Luckakuck Way intersection. Improvements also include extension of the northbound left turn lane on the suspended portion over Highway 1 as well as bike lanes in both directions on Lickman Road.
The improvements will enhance safety and provide more efficient vehicular movements and increased pedestrian and cyclist facilities. This project is funded in part by the Ministry of Transportation & Infrastructure.