Abbosford – The Abbotsford Sports Hall of Fame announced that Duncan O'Mahony and Jim Cervo will comprise its Class of 2019 inductees.
Former Canadian Football League standout O'Mahony and basketball officiating guru Cervo will be officially inducted at the Sports Hall of Fame's annual Celebration of Excellence on Saturday, April 27 at the Legacy Sports Centre. Tickets are $60 for adults and $25 for students, and can be purchased online at http://bit.ly/AbbySportsHOF2019.
Duncan O'Mahony
O'Mahony fashioned a six-year career in the CFL as a placekicker/punter, suiting up for the Calgary Stampeders (2001-03, 2007) and B.C. Lions (2004-05). He was a Grey Cup champion with the Stampeders as a rookie in 2001, and the following season, he earned CFL West Division all-star honours as a punter and was the team's nominee for the Top Canadian and Top Special Teams Player awards.
O'Mahony also had some memorable moments for his home-province Lions. Most notably, in the 2004 West Final, he kicked a 48-yard field goal to send the game to overtime, then booted the OT winner from 40 yards out to give B.C. a 27-25 victory over the Saskatchewan Roughriders and punch their ticket to the Grey Cup. He would be denied a second CFL championship, though, as the Toronto Argonauts prevailed 27-19 despite a pair of O'Mahony field goals.
All told, O'Mahony racked up over 29,000 yards punting, and scored 338 points during his CFL career.
In the years prior, he excelled for the Abbotsford Senior Panthers, earning all-province honours in 1994 and participating in the Senior Bowl. He also suited up for the Abbotsford Air Force junior football squad for three seasons, and was named a CJFL national all-star in 1996. O'Mahony played both soccer and football at the university level – he was part of the 1995 UCFV Cascades men's soccer squad which won the conference title and took bronze at the CCAA national championships, and he went on to a three-year football stint with the UBC Thunderbirds, earning a pair of CIS national all-star awards in 2000 (first team placekicker, second team punter).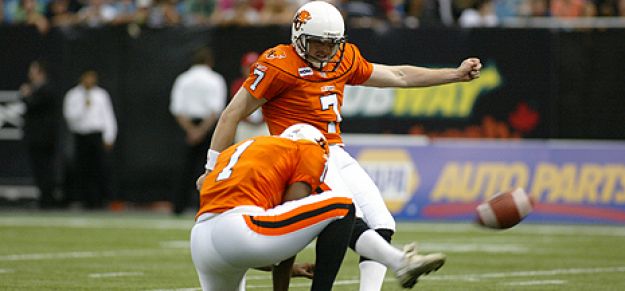 Jim Cervo
Cervo has been a mainstay in the basketball community, both locally and nationally, for 35 years. He began refereeing in 1984, starting with high school games, and would go on to officiate many provincial championships at all tiers, including multiple appearances at the B.C. AAA boys basketball championships at the Agrodome in Vancouver.
Cervo would progress to the college and university levels, and was selected to officiate at ten CCAA and CIS/U SPORTS national championships, working the gold medal game at the majority of these tournaments.
Cervo's impact went well beyond his on-court work. He was instrumental in the development of several officials' associations, beginning with the Fraser Valley Basketball Officials Association (FVBOA) which would come to be known as one of the premier refereeing bodies in the province. He also helped to establish a "provincial college panel" of referees to officiate CCAA games throughout B.C., and was a founding member of the Canada West Panel of Officials which manages more than 125 referees for U SPORTS games from Victoria, B.C. to Winnipeg, Man. As well, Cervo is designated as a provincial and national evaluator, coaching and training basketball officials for all of B.C. and across Canada.
Eventually, Cervo would get involved at the national level with the Canadian Association of Basketball Officials (CABO) where he served on the executive for nearly a decade as the education officer. In this position, he revamped the national training program for all Canadian officials, writing a new certification manual (NOCP) that would become the standard for officiating across the country. This manual is still in use today. As a member of the CABO executive, Jim worked closely with Canada Basketball and FIBA (the international governing body of basketball) on behalf of the officials in Canada.
Cervo retired from refereeing at the college and university levels in 2018, after almost 30 years. He continues to officiate high school basketball in the Fraser Valley and serves on the B.C. Basketball Officials' Association executive.
Additionally, 11 individuals and six teams will be honoured as Abbotsford Sports Wall of Famers. The Wall of Fame honours athletes in the 14 to 25 age bracket who had outstanding accomplishments in 2018. They will have a plaque on display at Legacy Sports Centre for one year.