CASCADES SOCCER: Men's and women's teams begin playoff runs on the road
The University of the Fraser Valley soccer teams embark on their post-season journeys this weekend, and both will do so on the road.
The Cascades men's team, the No. 3 seed out of the Pacific Division, is off to Saskatoon to face the Saskatchewan Huskies, the No. 2-seeded team from the Prairie Division, in the crossover quarter-finals for the right to advance to the Canada West Final Four.
The UFV women's team, meanwhile, plays much closer to home. They're part of a quarter-final quadrant playing out of Trinity Western University in Langley this week. The Cascades, seeded No. 5 in the Pacific, take on Prairie No. 4 Mount Royal in the first round on Thursday evening, with the winner advancing to face the host Spartans (Pacific No. 1) in the quarter-finals on Sunday.
Men's Soccer: Cascades, Huskies renew acquaintances
Saturday, Oct. 27: Cascades (7-6-1) at Saskatchewan Huskies (6-6-2), 7 p.m. Central / 6 p.m. Pacific
Webcast: CanadaWest.tv
The Cascades are the lower seed this weekend, but it's hard to call them an underdog; they defeated the Huskies earlier this fall by a score of 1-0 back on Sept. 22 in Abbotsford. UFV played a man down for much of the second half, but pulled out the victory on Gurmaan Jhaj's free kick in the 89th minute.
UFV bench boss Tom Lowndes knows that the playoffs are a different story, though, especially going on the road to face the Huskies this time. Moreover, Saskatchewan comes in riding a three-game win streak which earned them home-field advantage for the quarter-finals.
"They're a tough team to play against – very organized," Lowndes said of the Huskies. "Any success we had against them before can be thrown out the window. Playoffs is a different animal. They've had some success over the past couple weeks so they're going to be confident, and it'll be up to us to play the way we can and get a result."
Players to watch: Gurmaan Jhaj has been the engine that's driven the Cascades' offence this season. The fourth-year forward from Aldergrove, B.C. shattered the team record for goals in a season with 13 (the previous mark was eight), and he ranked second in Canada West in goals and third in points (15). He'll look to reprise his heroics from the earlier match-up with Sask. The Huskies' balanced attack was led by freshman forward Nikolas Biakas, whose 10 points (four goals, six assists) were tied for sixth-most in CW.
Women's Soccer: Cascades tangle with Cougars for right to face Spartans
Thursday, Oct. 25: Cascades (5-5-4) vs. Mount Royal Cougars (6-6-2) at Trinity Western, 6:30 p.m.
Sunday, Oct. 28: Cascades-Cougars winner at No. 1 Trinity Western Spartans (12-2-0), 5 p.m.
Webcasts: CanadaWest.tv
For the second straight season, the Cascades find themselves playing in a quarter-final quadrant at TWU. Last year, UFV defeated the Lethbridge Pronghorns 1-0 in the opening round, only to fall to the host Spartans by an identical 1-0 score in the quarters.
Like the Cascades men, the women's squad has first-hand familiarity with their first-round opponent. They hosted the Cougars on Oct. 12, and earned a 1-0 victory on Harneet Dadrao's goal in the 79th minute.
"It was a tough game last time we played them, and it came down to a late goal for us," UFV head coach Rob Giesbrecht noted. "They scared us at moments in the second half – they hit the bar once – so we enter this game knowing we'll have to be sharp, executing well on set pieces, and doing all the little things correctly."
Should they outlast the Cougars, the Cascades' reward would be to face a TWU side that's No. 1 in the U SPORTS national rankings.
Players to watch: Cascades fourth-year forward Brittney Zacharuk was red-hot throughout the second half of the regular season, finishing tied for second in the conference in goals (nine) and third in points (15). The Delta, B.C. product had four multi-point performances over her last seven games. The Cougars' offence is led by midfielder Janai Martens, who paced the squad with five goals this season.
BASKETBALL SEASON PREVIEW: Cascades men's and women's squads set to tip off Canada West schedule at home vs. TRU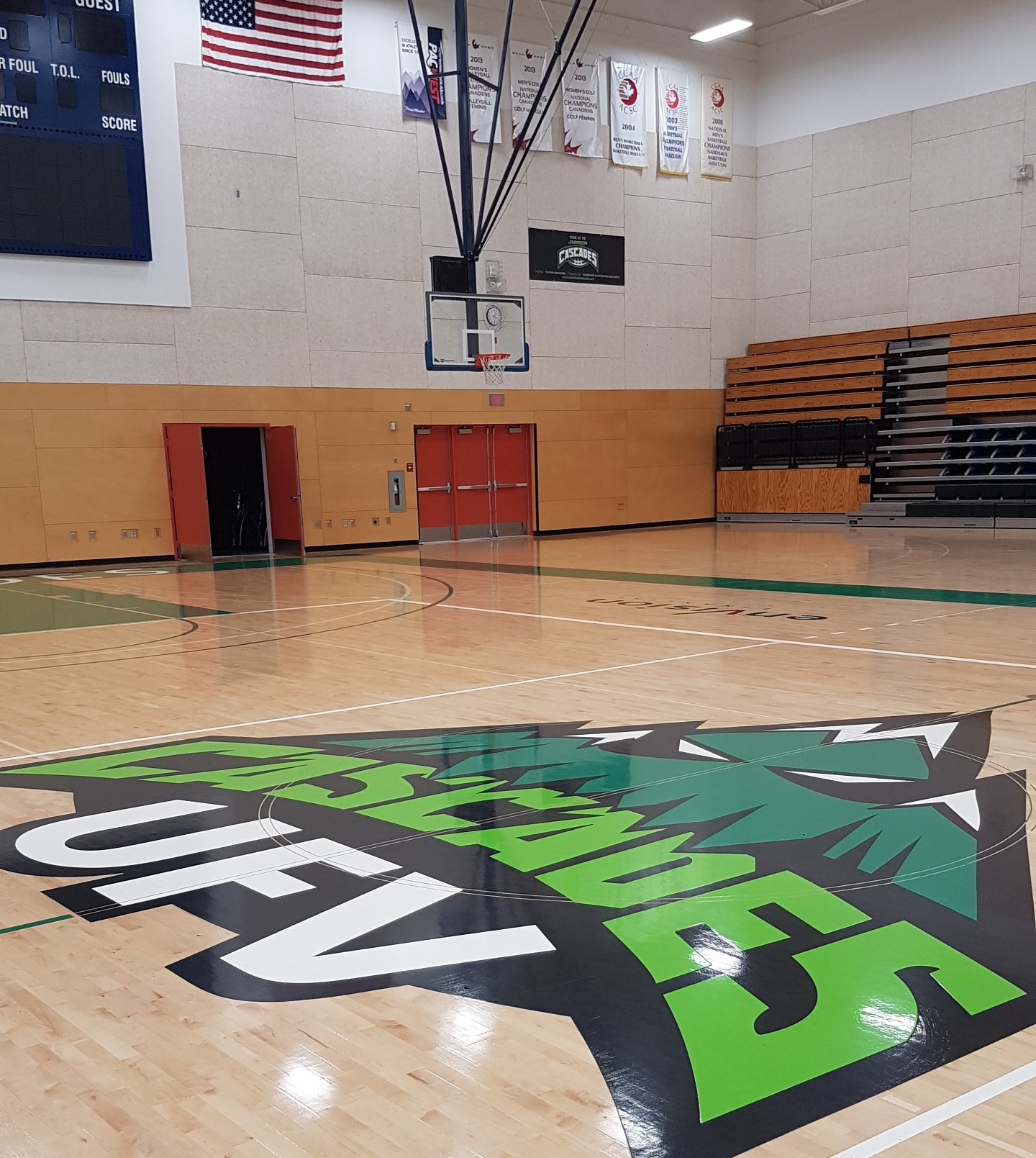 Basketball season officially tips off this weekend at the University of the Fraser Valley, as the Cascades host the Thompson Rivers WolfPack at the Envision Financial Athletic Centre on Friday and Saturday.
It's the first games of the 2018-19 Canada West regular season for both programs, and games run Friday (women 6 p.m., men 8 p.m.) and Saturday (women 5 p.m., men 7 p.m.) at the Envision Financial Athletic Centre.
As part of the opening-weekend festivities, the EFAC mezzanine will host a Cascades Pub event beginning at 3 p.m. on Friday, and a food truck from Kal Side Grill will also be on site to supplement the EFAC's concession offerings. The Cascades Pub will be a regular presence on Friday home game nights throughout basketball and volleyball season.
Friday is also Abbotsford Basketball Association night, and school-aged youth wearing their basketball jerseys will receive free admission to the games.
A closer look at the Cascades men's and women's teams heading into the Canada West campaign is as follows.
Men's Basketball: Bains brothers augment deep group of returnees
2017-18 regular-season record: 5-15 (14th in Canada West)
Friday, Oct. 26: Cascades vs. TRU WolfPack, 8 p.m.
Saturday, Oct. 27: Cascades vs. TRU WolfPack, 7 p.m.
Envision Financial Athletic Centre
Webcast: CanadaWest.tv
Coming off a 2017-18 campaign which saw them miss the playoffs for the first time in eight seasons, the Cascades men's basketball program is hoping that roster continuity combined with key reinforcements will result in a return to the post-season.
"The expectation is for us to have a better season than last year," said UFV head coach Adam Friesen, who is embarking on his seventh season at the helm. "We want to play like a more experienced team. We want to value every possession and value the small details of the game more, understanding how much impact they have on the outcome."
The Cascades didn't have a single fifth-year on the squad last season, so the entire group was eligible to return, seasoned with one more year of experience.
Leading the returnees are rising fifth-year forwards Mark Johnson and Andrew Morris. UFV's top two scorers last season averaged 13.8 and 12.6 points per game, respectively; Johnson also led the squad in rebounding (7.7 boards per game), and his 45.6 per cent shooting from beyond the arc ranked second in Canada West.
The Cascades will lean heavily on 6'10" third-year forward Sukhman Sandhu, who led Canada West in blocked shots (2.1 per game) while averaging 9.3 points and shooting 37.3 per cent from downtown. Fellow third-year Daniel Adediran (8.9 points, 7.4 rebounds last season) will also be a key presence in the frontcourt rotation, along with fourth-year Matt Cooley.
The point guard position will be manned by a trio of second-year Cascades: Parm Bains, Vick Toor and Kenan Hadzovic. Bains is a knockdown three-point shooter, while Toor excels at getting to the rim and posted a well-rounded stat line (8.8 points, 4.4 assists, 4.2 rebounds) as a rookie.
Wing Jordyn Sekhon is a breakout candidate who brings great outside shooting to the squad, and fellow sophomores Joban Pandher and Mike VanderWerff round out the returning group.
Further fortifying the existing roster is the sibling duo of Navjot and Sukhjot Bains (no relation to Parm). Elder brother Nav is a fifth-year veteran who sat out last season after tearing his ACL in the fall. He'll infuse the team with his trademark intensity, defence and board work.
Sukhjot Bains signed with the Cascades over the summer after playing post-secondary basketball south of the border for the past three seasons – most recently, suiting up for the NCAA Div. I Green Bay-Wisconsin Phoenix in 2017-18. The talented 6'6" guard will bring multi-faceted scoring and playmaking abilities to the squad.
"He brings a lot to the game," Friesen said of Sukhjot Bains. "He's a primary scorer, and he's going to be asked to guard a lot of the other teams' best players, and take on a lot of responsibility at both ends."
Women's Basketball: Claggett steps to forefront with young squad
2017-18 regular-season record: 8-12 (12th in Canada West)
2017-18 playoff record: 0-1 (eliminated in CW first round)
Friday, Oct. 26: Cascades vs. TRU WolfPack, 6 p.m.
Saturday, Oct. 27: Cascades vs. TRU WolfPack, 5 p.m.
Envision Financial Athletic Centre
Webcast: CanadaWest.tv
After graduating high-scoring fifth-year standouts Shayna Litman and Sara Simovic from last year's squad, the 2018-19 Cascades are a decidedly youthful outfit. But this is an exciting group of young players, with some talented veterans on board to show them the way.
The Cascades' most experienced player is a fourth-year, Taylor Claggett, and she's an outstanding building block for head coach Al Tuchscherer to work with. The 5'11" forward has proven over her previous three seasons to be an elite contributor – she averaged 13.8 points and 9.7 rebounds per game last year, the latter total ranking fifth in the conference.
"Taylor has evolved into one of the premier forwards in Canada West," said Tuchscherer, who begins his 17th season at UFV. "She's had an opportunity right from her first year to play a lot of minutes and be a key contributor. She's a real solid veteran going into her fourth year for us. She has a real knack for getting to the line, she rebounds the ball, and her defence has improved tremendously over the years."
The Cascades also boast a deep group of third-year players, featuring guards Kate Head, Amanda Thompson and Victoria Jacobse, and forwards Jessica Zawada and Veronica Kobes. Head, Thompson, Jacobse and Zawada all averaged between three and six points per game last season, and all will step into more prominent offensive roles. Thompson spearheads the Cascades' defensive effort – she's emerged as one of the top perimeter defenders in the conference.
Sophomores Katelyn Mallette and Alexis Worrell will also be key contributors. Mallette, a 6'2" forward, is coming off a solid rookie campaign which saw her average 4.0 points and 3.4 rebounds, and lead the team in blocks (0.7 per game).
The Cascades also welcome five newcomers. Sophomore transfer Elissa Vreugdenhil out of Whatcom Community College and rookies Abby Zawada (Jessica's sister), Natalie Rathler, Madison Draayers and Madeline Beerwald all have the potential to grow into key rotation pieces.
"We're just really excited to get in the gym every day and teach them," Tuchscherer said. "They're willing to learn, and we've already seen some tremendous strides in a lot of the girls on the team throughout the preseason. We're happy to keep that trend going. I think this is going to be a team where, as the year goes on, we'll get better. I'm sure we'll be playing some really good basketball towards the end of the season."