Vancouver – It's official, they will retire at the end of this season.
After 18 wild years, Daniel and Henrik Sedin will hang up the skates BUT they will remain in Vancouver. Former GM Brian Burke, on the advice of Scout and former Canuck Thomas Gradin, put together the 1999 trade to secure the #2 and #3 overall draft pricks and bring the boys to Vancity.
Henrik has won a Hart Trophy (MVP) and both have won the Art Ross (Scoring).
…and then there was the magical season of 2010-2011 and the Stanley Cup run.
It is expected by insiders that both the #22 and #33 will be retired sometime next season.
In their joint statement on the Canucks' website to the fans: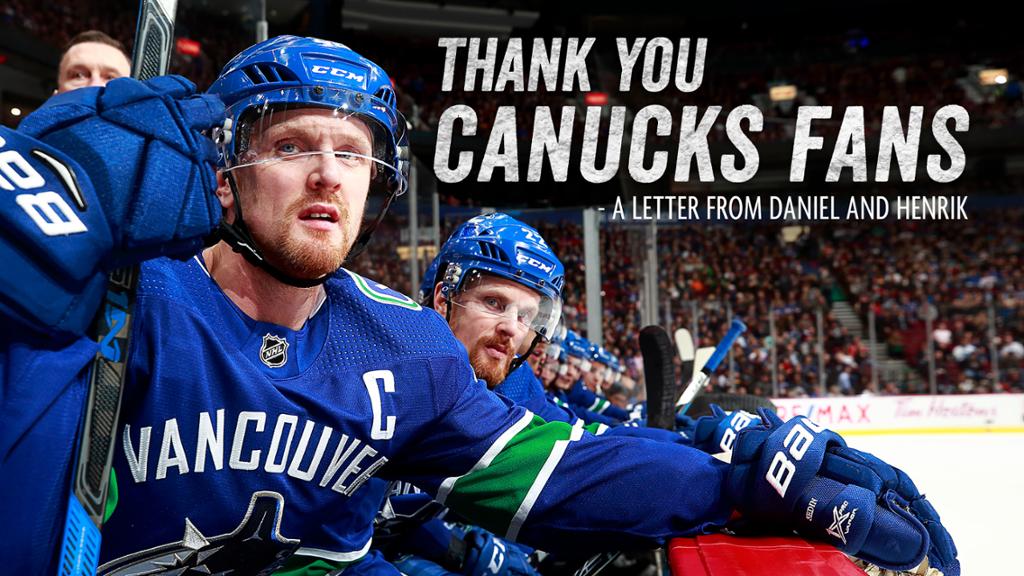 Dear Canucks fans,
Earlier this year we wrote a letter to the city, and to everyone who has supported us for the past 18 years. Many people were asking what the future holds. We said we'd take it one year at a time. We said when the time was right, we'd talk with our families and sit down with management to discuss it.
We started the year with the mindset that a decision would be made in the postseason. But it became clear, after discussions with our families throughout the year, that this will be our last season. This feels right for all of us.
Being part of the Canucks family for 18 seasons has been the best period of our lives. But it's time to focus on our families and life after hockey. It's time to help with homework every night. It's time to be at every birthday party and to stand in the cold at every hockey rink, soccer game and riding lesson on weekends. It's time to be at home for dinner every night.
We're saying it now because we want to share these final three games with you. We also want to share these games with our families, friends, teammates, coaches, trainers, staff and everyone at the Canucks who have supported us. You've all been with us every step of the way, and we want to thank you.
It's time to let the next generation of young players lead the Canucks. Travis is building a strong culture and emphasizes a style of play we know will be successful. The team is in great hands, with people who care about its success and it's headed in the right direction. We know there is a bright future for the Canucks.
As we've said before, Vancouver has become home. This is our family's home. We plan to be part of this community long after we retire. Vancouver has given us so much and we've tried to give everything we have in return. That won't change.
In the meantime, we still have some games to play, and we still have some work to do.
Henrik and Daniel
Now comes the speculation. Who becomes the new Captain of the Canucks next year?
It's long been rumored that Bo Horvat was being groomed to step up into that position to replace Henrik.
Daniel was one of the alternates, alongside Alex Edler, Chris Tanev, Michael Del Zotto and Brandon Sutter.
Who do you think will wear the "C" and the "A"?