Chilliwack – Literacy in Chilliwack could soon see a big boost thanks to a new effort to bring Dolly Parton's Imagination Library to the Fraser Valley. Brian Martin and Sharon Blaker have been working with the Optimist Club of Chilliwack to make this vision a reality. Together, they aim to begin enrolling children in late 2018 once they have enough funding secured from community donors and sponsors.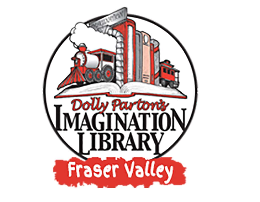 While best known as a country music icon, Dolly Parton started the Imagination Library in 1995 to help improve childhood literacy in her home county in Tennessee. Since that time, the program has grown significantly, with 170 affiliates in Canada, and 35 in British Columbia.
Here's how it works. Each month, participating children from birth to age five receive an age-appropriate book in the mail. There is no charge to register and the books are absolutely free. While the program is largely subsidized by the Dollywood Foundation, it does require a community organization to run each local program. Brian Martin, of Made to Measure Performance and Engagement Solutions, saw the impact the program has on children and was determined to bring Chilliwack on board.
"The numbers are astonishing. When you look at the research in early literacy you can clearly see the positive impact that this kind of investment can have on education, health, social, and economic outcomes," said Martin. "While we know that reading to children isn't a panacea, we do believe this can play a significant role in addressing some of the challenges facing our communities."
Sharon Blaker said, "We're looking for committee members, partnerships, and donors who are passionate about literacy. Our goal is to garner enough support to provide 3,000 infants and preschoolers with books that will foster a love of reading."
Those interested in joining the Advisory Committee or in becoming a sponsor are invited to attend an information meeting at 6:30 p.m. on February 1 at 45950 Cheam Avenue (4th Floor Board Room).