Men's Soccer: Cascades sign seven B.C. standouts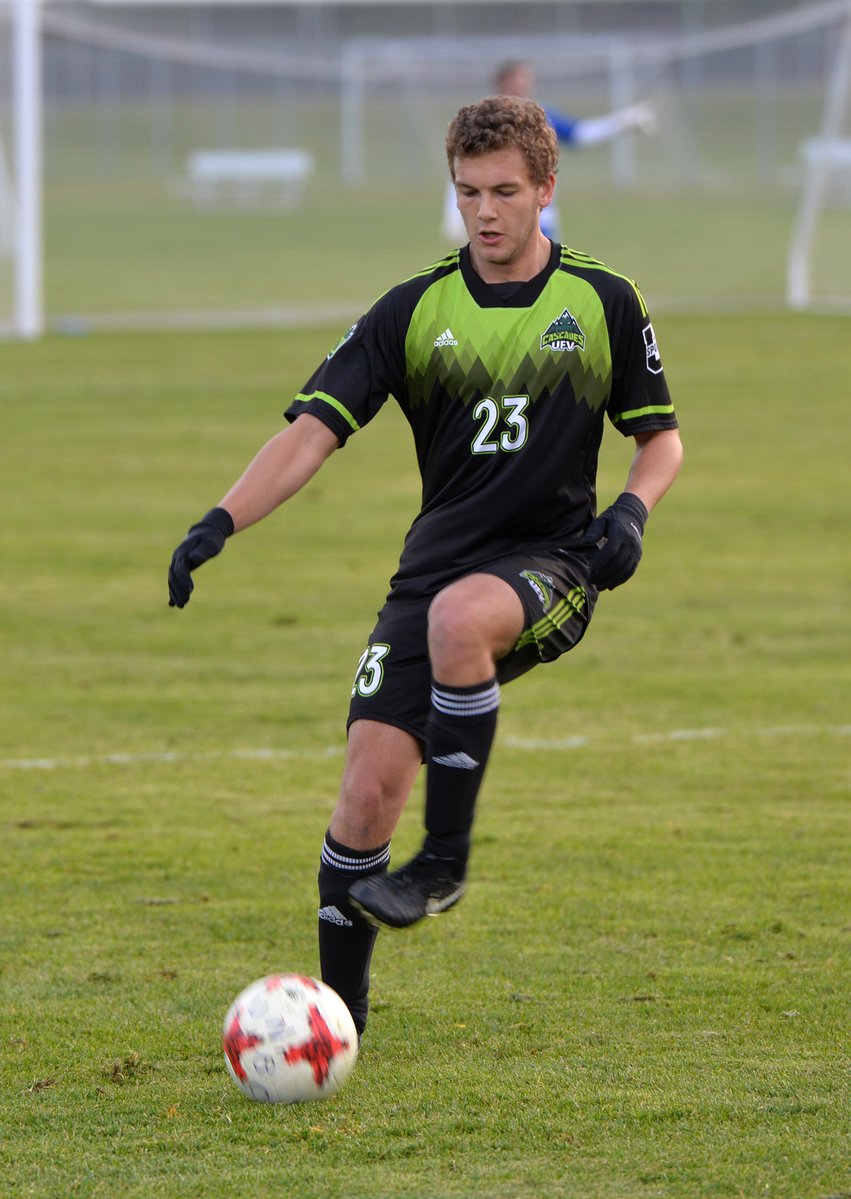 The University of the Fraser Valley men's soccer team has expanded its roster by seven, signing a talented group of local high schoolers.
Midfielders Anthony Vega and Sahil Dhindsa, defenders Kyle Gibson, Avi Kumar and Samuel Enchelmaier, and goalkeepers Harjot Nijjar and Joben Mander will join the Cascades for the 2018 season.
Dhindsa, Kumar, Mander, Nijjar and Enchelmaier are from Surrey, B.C., Vega is from New Westminster, and Gibson hails from Delta.
This group of seven joins a pair of previously announced recruits, Andrew Peat and Trevor Zanatta, to bring the Cascades' Class of 2018 to nine players.
"It's really exciting to have such high-quality players joining us," Cascades head coach Tom Lowndes enthused. "They're not only good players, they're very good students and people as well, which is massively important. They'll come in and provide some much-needed depth, and challenge for spots. Adding that quality to our core group of returnees will put us in a good place for next fall."
Anthony Vega
5'9" midfielder, New Westminster, B.C.
Coastal FC
New Westminster Secondary
Vega's highly accomplished youth soccer career included a stint with the Vancouver Whitecaps pre-residency program (2013-14), and he's been a member of Team B.C. since 2012, highlighted by a silver medal at the 2015 Western Canada Summer Games.
"He's a very technical midfielder with a very good range of passing," Lowndes said of Vega. "He dominates the midfield, and provides a solid anchor for the team to go forward. I think he can come in and compete for playing time immediately, and I'm excited that he's joined us."
"I think it's a very good place for me," said Vega, who plans to take kinesiology at UFV. "I like the idea of playing alongside teammates that I know. It helps a lot with fitting in and getting used to the program."
Kyle Gibson
6'0" centre back, Delta, B.C.
Coastal FC
Seaquam Secondary
Gibson had an outstanding run of success at Coastal FC, highlighted by provincial titles in 2013, 2014 and 2015, and a silver medal at the U14 national championships in 2014. He's also been a part of the B.C. provincial program since 2015. Gibson's multi-sport pedigree includes a pair of medals (gold in the 400 metres, bronze in the 800 metres) in the Grade 8 division at the 2014 B.C. high school track and field championships.
"He's a very versatile defender – he can play centre back or right back," Lowndes noted. "He's got a fantastic work ethic, and he's a very good one-on-one defender. I can see him coming in and competing for playing time right away."
"I just thought UFV was a good fit for me," said Gibson, who plans to study kinesiology. "I know a lot of the guys who are coming here, so it's nice to see familiar faces. I've played with a bunch of them as well, and that was a big factor. Knowing people going in, it's not going to be a huge shock when I start university."
Harjot Nijjar
6'0" goalkeeper, Surrey, B.C.
Coastal FC
Sullivan Heights Secondary
Nijjar was part of provincial championship-winning Coastal FC sides in 2013 and 2014, and suited up for the provincial team from the U13 level through U16. At the 2014 Pacific Challenge, he was selected as a player of distinction. Nijjar also helped his Sullivan Heights high school team to a fourth-place finish at the AAA provincial championships in 2016 and was named top goalkeeper.
"I'm very happy to sign Harjot," Lowndes said. "He's a very good goalkeeper, one of the top keepers in his age group the last three or four years. He's a great shot-stopper, very good with his feet. I'm excited to see how he adapts to the university level."
Nijjar, who plans to pursue a Bachelor of Arts degree at UFV, recently began training with the Coastal FC Premier men's team, where he's been working alongside Cascades rising fifth-year goalkeeper David Hicks.
"He's taught me a lot already, and it's only been three or four weeks," Nijjar enthused. "And I can tell that Tom (Lowndes) is someone I can work with. I have a few friends on the team, and it's close to home. And these recruits, two of them are teammates, and Sahil and I have been best friends for years."
Sahil Dhindsa
6'0" midfielder, Surrey, B.C.
Surrey United
Panorama Ridge Secondary
Dhindsa celebrated back-to-back provincial titles (2013 and 2014) and a national U14 silver medal (2014) with Coastal FC before moving over to Surrey United. His squad won a provincial silver medal in 2015. Lowndes is excited about his offensive potential.
"He's a very creative midfielder, either as a box-to-box midfielder or a No. 10," Lowndes said. "He's got great attacking qualities – he can set up goals or finish them himself. He'll give us an extra dynamic going forward."
Dhindsa plans to pursue a Bachelor of Science degree at UFV, with the goal of becoming an optometrist.
"I get to stay close to home, and it's a good balance of school and soccer for me," he said.
Avi Kumar
5'8" left back, Surrey, B.C.
Surrey United
L.A. Matheson Secondary
Kumar captained his high school soccer squad at L.A. Matheson Secondary, leading the Mustangs to a sixth-place finish in 2016 and a fourth-place result in 2017. He was named to the Commissioner's 11 all-star team last year. Kumar was also a standout at Surrey United, helping the team to the BC Soccer Premier League finals in 2017.
"He's a very technical left-footed player," Lowndes said. "He can play either left back or left wing, and gets up and down the field well. He helps to create a lot of chances. I'm excited to see how he transitions to U SPORTS soccer."
"It's close to home, close to my family," Kumar said, explaining his decision to sign with UFV. "And I feel like with soccer, I'm going to get a better opportunity with schooling here, so I can balance both.
"Obviously I want to go far in soccer, but my first goal is studying criminology because I want to become a police officer. And these recruits, I know all of them personally, so it's going to be a great ride."
Joben Mander
6'0" goalkeeper, Surrey, B.C.
Surrey United
North Surrey Secondary
Mander helped his Surrey United club to the BCSPL final last season, and has an extensive history in the B.C. provincial program, suiting up from 2013 through 2015. He also attended a U15 national team camp in 2015.
"He's a very solid all-around goalkeeper," Lowndes said. "He's good with his feet, good distribution, and has a good presence in goal. I'm excited to see him come in with Harjot and battle for a spot."
"It's convenient to be close to home, and academically it's a good fit for me," said Mander, who will study kinesiology at UFV. "It's going to be a good year with all these guys from the BCSPL. I've played with a lot of them before."
Samuel Enchelmaier
5'9" fullback, Surrey, B.C.
Coquitlam Metro Ford
Fraser Heights Secondary
Enchelmaier joined forces with future Cascades teammates Peat and Zanatta on a memorable 2017 season with Coquitlam Metro Ford. They won League Cup and BCSPL championships, and went on to finish fourth at the U17 national championships in New Brunswick. Enchelmaier bagged a goal at nationals. He also captained his Fraser Heights high school team.
"He's had a good youth career in a good environment at Metro Ford," Lowndes said. "He's a solid defender with a very good work ethic, and I'm excited to see him join us in the fall."
"Andrew and Trevor signed earlier, and I'm really close to them, and I'm looking forward to continuing to play with them in the future," said Enchelmaier, who will study business at UFV. "Also, it's really close to home, so I can commute easily. I came out and watched a couple games last season, and the way they played looked really similar to my team right now. I like the way they play, and I thought it would be good to continue moving forward with a similar dynamic."