Abbotsford – On Monday afternoon (@12:27 PM), Abbotsford Police  responded to the 32900 block of South Fraser Way (Seven Oaks Shopping Centre) for reports of a woman uttering threats to stab people.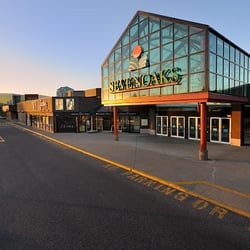 Witnesses directed police to the mall food court and that's when police observed the female suspect stabbing a mall patron. Police were able to apprehend the female suspect.
The victim, a 71 year old man, remains in hospital with serious, but non-life-threatening injuries.
The Abbotsford Police Department's Major Crime Unit is leading the investigation with the assistance of Patrol Division officers and members of the Forensic Identification Unit.
APD are asking anyone with video or information about this violent attack to contact the Abbotsford Police at 604-859-5225.  If you wish to remain anonymous, please call Crimestoppers at 1-800-222-TIPS (8477) or report online at solvecrime.ca.