Chilliwack – The sad irony.
Just days after an Abbotsford Police Constable was shot and killed in the line of duty, a memorial dedicated to recognizing and honouring Upper Fraser Valley RCMP officers killed in the line of duty, was unveiled on Wednesday.
The Upper Fraser Valley Regional Detachment Fallen Officer Memorial will remain a permanent presentation in front of the Chilliwack RCMP Community Policing Office at 45924 Airport Road (off Young). 
FVRD Chair and City Councilor Jason Lum on Facebook : I was honoured to meet and thank the family, friends, and colleagues of RCMP Members Fortis and Genaille. Both Officers lost their lives in the line of duty. Today I spoke at the unveiling of the Fallen Officer Monument in honour of their sacrifice. The events earlier this week are a sobering reminder of the harm that Police officers put themselves in on a daily basis as they work to keep our communities safe. Along with Officers Genaille and Fortis, we honour the courage and sacrifice of Const. John Davidson from the Abby PD. Members in Red Serge from the City of Chilliwack visited our neighbours in Abbotsford to personally deliver our condolences and a wreath in recognition and remembrance of Const. Davidson and to send a message that Chilliwack stands with our neighbours in times of grief and sadness.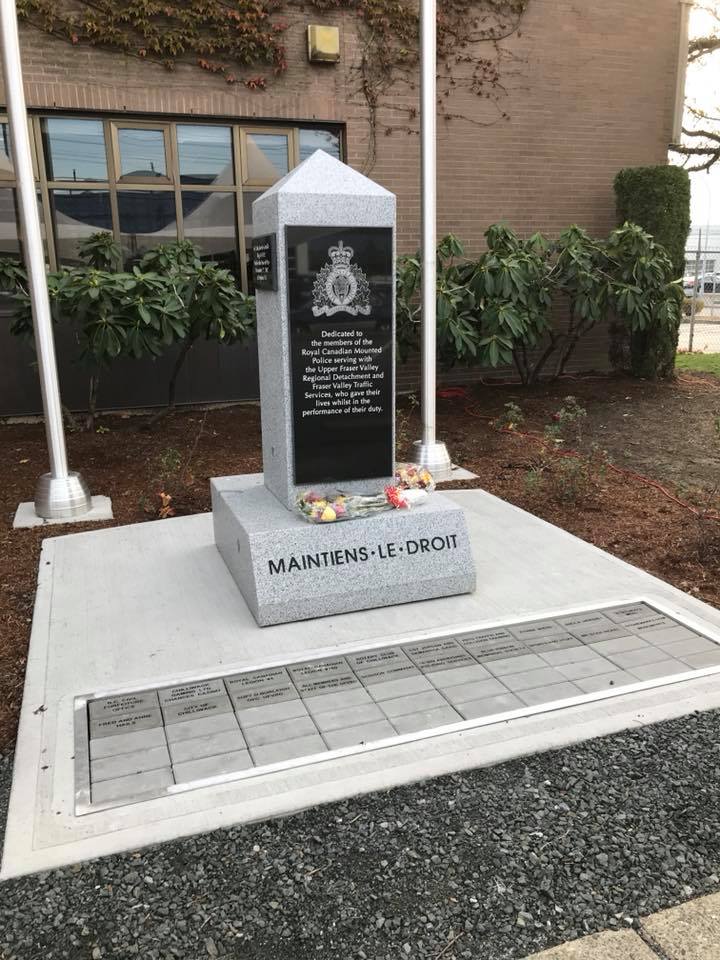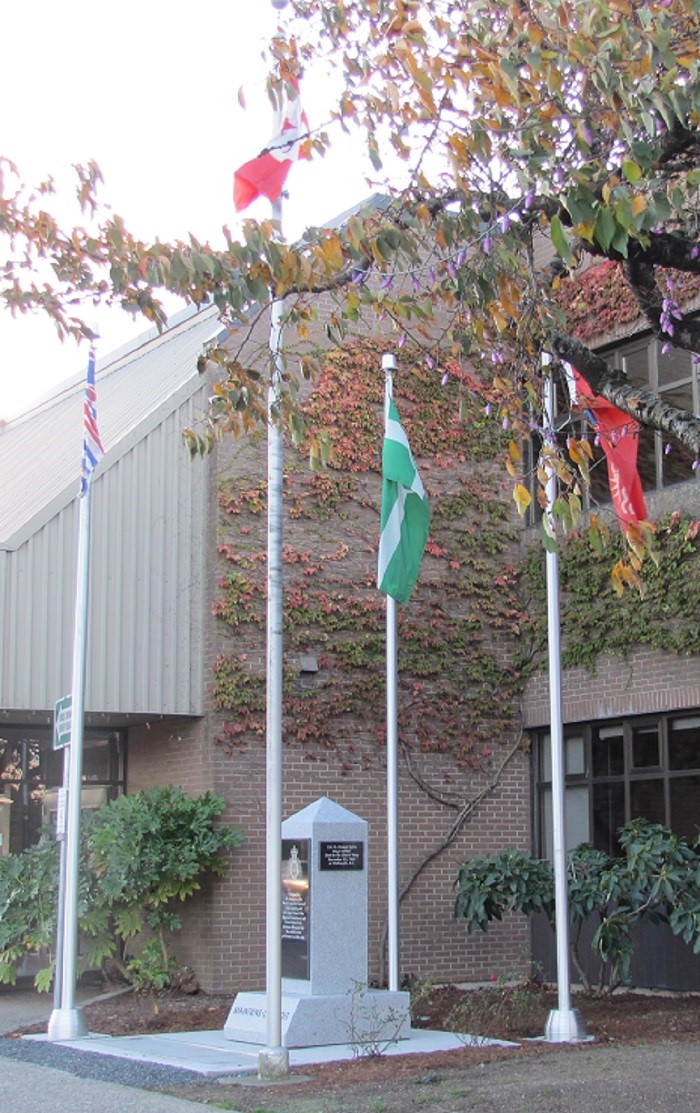 The announcement of the memorial was made one week ago, before the tragic sreies of events which saw the death of APD Const. John Davidson and a first degree murder charge against a 65 year old Alberta man who recently moved to BC.
The bronze commemorative displays the names of Constable Gerald Fortis, Sumas RCMP Highway Patrol, who succumbed to injuries received during an automobile collision on December 25, 1997 and Constable Vernon Genaille, Agassiz RCMP Detachment, who died after suffering a heart attack while effecting an arrest on December 22, 2002. 
"Memorials that show respect for professionals who put public safety ahead of their own, especially those who've paid the ultimate price for their selflessness, serve as important reminders of how police officers are fundamental to the safety and quality of life we enjoy in B.C.," said Minister of Public Safety and Solicitor General Mike Farnworth. A $2,500 grant from provincial civil forfeiture proceeds supported the creation of the memorial.
"The last Sunday of September every year is proclaimed as Police and Peace Officers' National Memorial Day in which we as Canadians may reflect on the unselfish service of those who protect us and ultimately give their lives in their service," says Superintendent Deanne Burleigh, Officer in Charge, UFVRD.  "We remember our fallen officers every day."