Surrey – With Financial Literacy Month beginning just days ago, A Life Literacy advocacy is sharing a rich story of new Canadian immigrants committed to improving their financial literacy skills. ABC Life Literacy Canada's national community program, Money Matters, will visit Surrey Wednesday November 8 and and 15th.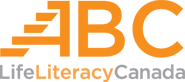 This segment idea provides a view of what it can be like for the 55% of adult Canadians who have inadequate numeracy skills. Adding to this serious reality, 4 in 10 Canadians report that money management+finances are a daily concern. These realities heighten the issue and need to improve financial literacy.
The location for your community's Money Matters session will be at:
SFU Surrey — TD Community Engagement Centre — November 8 and 15th, 6-8 p.m..
The Money Matters program (www.moneymatterscanada.ca) has made tremendous impact since its inception in 2011 to improve their math and money management skills. This November, Money Matters will have supported over 10,000 adult Canadians. The breakthrough for these adults taking part in the sessions can be seen at home, at work and in key life moments where these skills are essential.
ABC and our community partner SFU Surrey – TD Community Engagement Centre are very pleased to invite you on a personal behind-the-scenes vantage point during a Money Matters session.
On-site, in-studio or phone interview, you will meet:
1. adult learners sharing their story of their financial literacy challenges,
2. volunteer tutors in community from TD Bank Group working alongside adult learners to support their life literacy skills.
3. community educators who will lead overall facilitation of each class.
Here is a link on how Canada ranks — http://www.oecd.org/finance/oecd-financial-literacy-study-finds-many-adults-struggle-with-money-matters.htm