Women's Basketball: Cascades ride huge third quarter to victory over Cougars
Dan Kinvig, UFV Athletics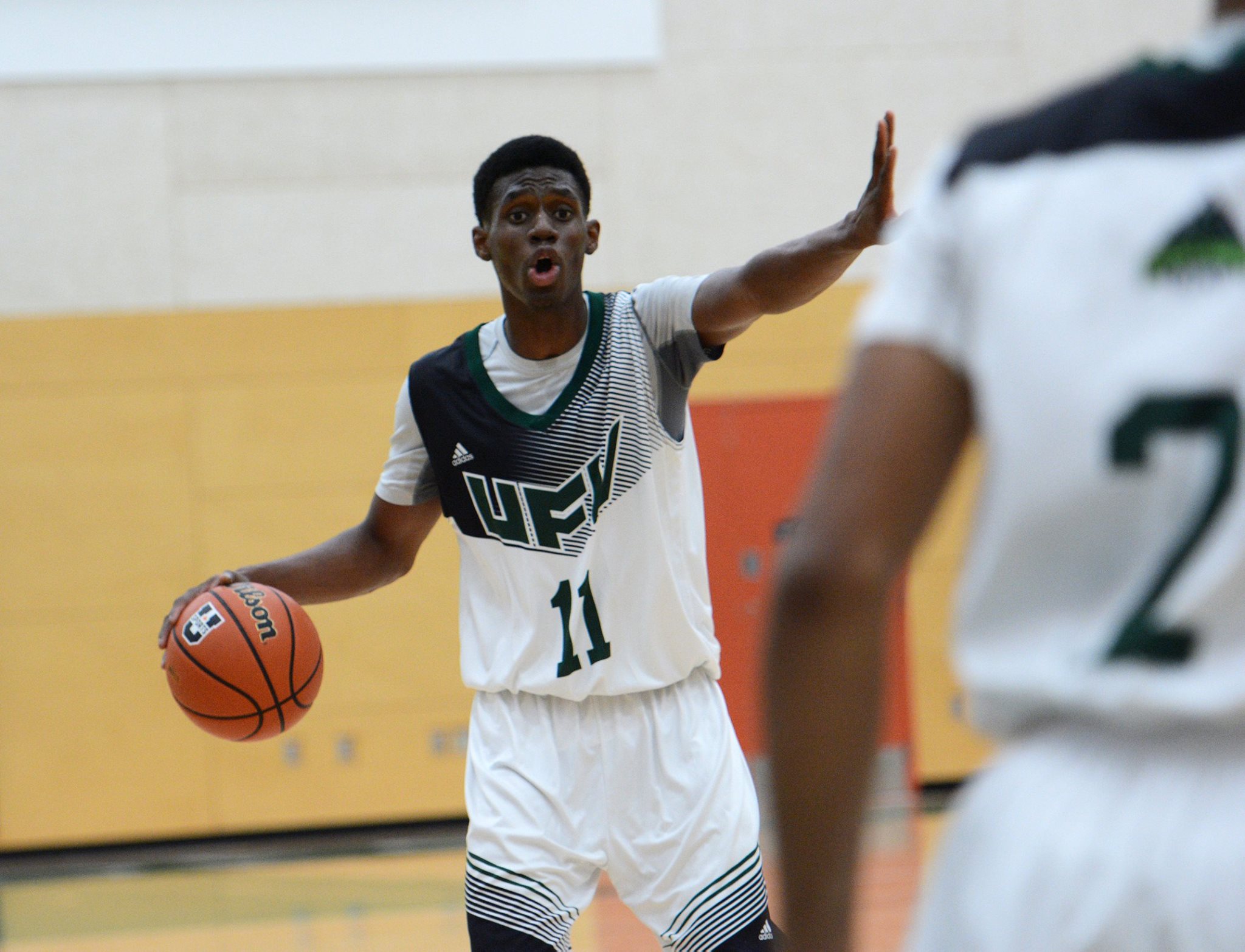 The University of the Fraser Valley women's basketball team broke the game open in the third quarter on Friday, pulling away for a decisive 68-47 victory over the Mount Royal Cougars in their home opener.
Offence was slow to materialize for both teams in the first half at the Envision Financial Athletic Centre, which ended with the Cascades holding a 26-20 lead.
The third quarter was a different story – UFV outscored the Cougars 27-11 in the frame, mustering more points over that 10-minute stretch than they had in the entire first half.
The Cascades (1-2) and Cougars (0-3) clash again on Saturday evening (5 p.m. tip-off, Envision Financial Athletic Centre).
"I thought we were getting good shots in the first half, and we just encouraged the girls to continue to look for those good shots," UFV head coach Al Tuchscherer said, analyzing his team's third-quarter explosion. "They've got to start falling for us eventually. We haven't been playing with a ton of confidence, and it was good to kind of break out in the third quarter. We made some easy ones in transition, and then we knocked down some (outside) shots and had a couple fortunate buckets. It was good to see. I think we really needed that quarter."
The Cascades opened a 15-5 lead at the end of the first quarter, but the Cougars clawed out a 15-11 edge in the second to cut the deficit to six at the break. Neither team shot the ball well – UFV hit 22.2 per cent of their attempts from the field, to MRU's 24.1.
The hosts found the range in the third, shooting 61.1 per cent in the frame, punctuated by a 14-0 run. Cascades third-year forward Taylor Claggett racked up seven points during that spurt, and UFV cruised from there.
Claggett (16 points, 16 rebounds) and Shayna Litman (16 points, 12 rebounds) both had huge double-doubles and helped the Cascades out-rebound the Cougars 53-41. Sara Simovic notched 10 points and six assists, and Jessica Zawada contributed nine points off the bench.
Erin Kehrig (10 points) was the lone Mount Royal player to score in double figures, and Cougars forwards Becky Nash and Charity Marlatt hauled down nine boards apiece.
"We knew this was going to be a tough battle on the boards," Tuchscherer noted. "They're a good rebounding team, and obviously they have some length with Nash (6'5") in the middle, and Charity coming off the bench is a real physical presence. It was a real focus going into this game that we wanted to take care of the boards, and I think the girls took that to heart.
"Taylor can score in a number of different ways, and she had a really big third quarter for us, for sure. She got some stuff in transition, hit some medium-range shots, so that was good. You hit a few of those, and everybody starts feeling better about themselves. Then Shayna hits a couple shots, and I thought Sara did a good job facilitating in the second half."
Men's Basketball: Six Cascades score in double figures in home win over Cougars
Dan Kinvig, UFV Athletiics
The University of the Fraser Valley men's basketball team rode a balanced attack and some clutch plays down the stretch to its first victory of the young season, 86-80 over the Mount Royal Cougars on Friday.
The Cascades, playing their home opener at the Envision Financial Athletic Centre, saw six players score in double figures, led by Vick Toor's 17. Sukhman Sandhu's tip-in off a missed free throw was the key play in the final minute, making it a two-possession game with 21 seconds left and allowing the UFV squad to send their fans home happy.
Friday's result left the Cascades and Cougars with matching 1-2 records. The two teams lock horns again on Saturday (6 p.m., Envision Financial Athletic Centre).
"Getting the first win means a lot – to have the guys feel it and know we can do this," Cascades head coach Adam Friesen acknowledged. "We know we have a long way to go, but to get that off our backs is big. We're not anywhere near, hopefully, playing our best basketball. We didn't play overly well, but just good enough to get a win."
The first half was closely contested – the Cougars led 25-24 at the end of the first quarter, and the Cascades edged ahead 47-45 at the break. Neither team found the opposing defence overly taxing; UFV shot a healthy 48.6 from the field over the first 20 minutes, and Mount Royal was at 48.7.
The two teams went back and forth throughout the third quarter, but UFV finished the frame strong. Daniel Adediran scored a layup in the dying seconds to seemingly close out the quarter, but Sandhu stepped up and stole the ensuing MRU inbounds pass, leading to a Riley Braich layup at the buzzer to put the Cascades up 67-62.
UFV stretched the lead to eight points midway through the fourth quarter, but the Cougars reeled off an 8-0 run to tie it 76-76, highlighted by back-to-back three-pointers by John Hegwood and Glen Yang. Both treys came off offensive rebounds.
But the Cascades settled down, with Andrew Morris scoring four straight points – two free throws and a driving layup – to restore the lead. MRU drew back to within 80-78 with less than a minute left, but off Adediran's missed free throw, the 6'10" Sandhu rose up to tip home the rebound, and the Cascades wrapped things up from there.
Friesen said the Cougars' fourth-quarter rally was the product of his young squad's tendency to relax when they feel things are going well.
"In this case, we have a lead – eight points or whatever it was – and you can just see us go, 'OK good, we're going to get that first win,'" he said. "We start looking at outcomes and the future, and we stop playing. Teams have been going on big runs on us this year, and it's when we lose focus and get sloppy with the ball, or really soft on the defensive end.
"Offensively, there were definitely a lot of good takeaways from the game," he added. "We saw some guys start to make some plays and grow in their confidence, and our shooting percentage was pretty good. That was a huge positive. The defensive end of the floor is where, as a young group, it's going to be a little bit of a struggle."
Toor, a first-year guard from Kent, Wash. making his first start for the Cascades, counted a trio of triples among his 17 points and added eight assists. Mark Johnson (15 points), Adediran (14), Morris (11), Kenan Hadzovic (11) and Sandhu (10) also scored in double figures. Sandhu's well-rounded stat line featured 15 rebounds and four blocks.
Hegwood finished with a game-high 21 points for the Cougars, and Yang (15 points), Josh Ross (11) and Charn Gill (10) also chipped in offensively for the visitors.