Abbotsford – The West Coast Christmas Show & Marketplace is Western Canada's leading holiday season show that brings together holiday gifts, fancy foods, artisan creations, decor ideas, festive culinary presentations and floral demonstrations, all under one roof.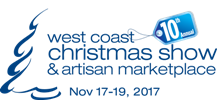 The West Coast Christmas Show, a three day shopping extravaganza visited by over 18,000 holiday shoppers each year features over 200 vendors – of which 140 are artisans. The show features live presentations to meet the needs of visitors' holiday entertaining, decorating and gift giving. Family entertainment is provided by live Christmas music performed by local bands, choirs and carolers plus a huge working model train setup. In Santa's Workshop children may write letters to Santa and decorate their own fresh baked Christmas cookie. Triumph Acrobatic will be on site all 3 days in Santa's workshop to demonstrate and work with children through circus arts such as aerials, tumbling and trampoline. Pictures with Santa & Mrs. Clause, of course.
As you enter through a huge array of fresh plants, floral and holiday decor for your home to the sounds of live Christmas music, you will discover new ideas and products for holiday gift shopping, entertaining and home decorating.
You'll find hand-made doll clothing, seasonal hand-made ornaments, hand painted silk scarves, up-cycled table decor, beard balm, craft spirits, artisan fudges, lollipops and marshmallows, hand crafted doll furniture, personalized ornaments and gifts, Christmas lanterns, paintings, sculptures, blown glass decor, hand crafted trendy baby and children's accessories, reclaimed wood furniture, gluten free treats, artisan baked goods, cottonwood carvings, macramé and much more such as repurposed vintage goods, fashions and home furniture and accessories.
See the gallery of artisan creations pictures: click here.
The Home For The Holidays Stage will feature numerous talented local chefs and designers who will offer great hands on demonstrations and ideas for your holiday cooking, entertaining, floral designs and seasonal home décor ideas.
When: Friday, November 17 – Sunday November 19, 2017
Where: Tradex Exhibition Centre in Abbotsford
Tickets: Child 16 & under: FREE Adult: $8 Senior $7 (Further discount if purchased online)
FREE PARKING Courtesy of the Show Managers, FREE Re-entry all weekend.