Men's Soccer: Fakunle, T-Wolves edge Cascades in Abbotsford
A second-half goal by Tofa Fakunle lifted the UNBC Timberwolves to a 1-0 win over the University of the Fraser Valley Cascades in Canada West men's soccer action on Monday afternoon.
The game had originally been slated for Saturday evening in Prince George, but was postponed due to snowfall and rescheduled for Monday in Abbotsford. While the two teams escaped the snow, they were nevertheless awash in precipitation, in the form of rain which began just prior to kickoff and persisted throughout.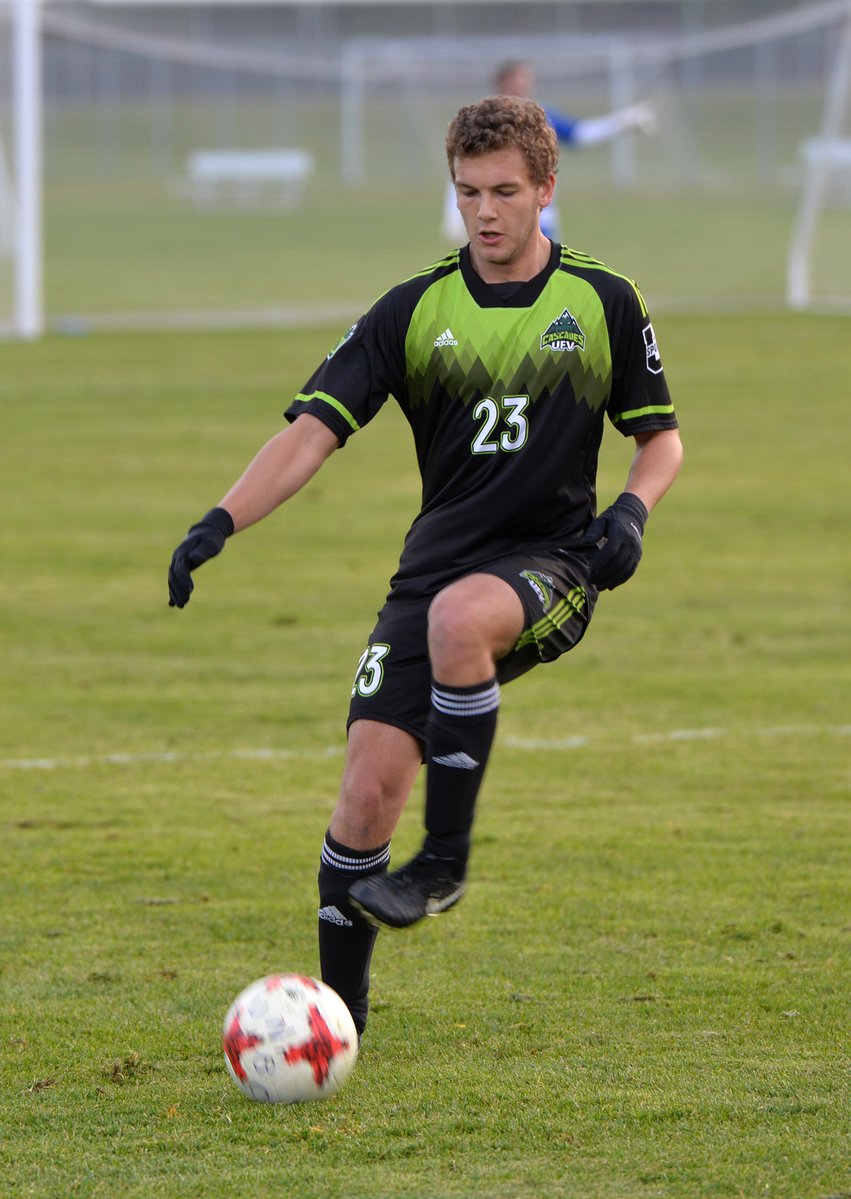 The Timberwolves closed out their Canada West schedule with a 5-5-6 record, good for sixth place in the Pacific Division, while the seventh-place Cascades fell to 4-7-3. UFV wraps up its conference slate this weekend with home games vs. the Victoria Vikes (Friday, 6 p.m.) and UBC Thunderbirds (Saturday, 6 p.m.) at MRC Sports Complex, Field 4.
The Cascades were the better team in the early going, and had a golden chance to open the scoring just 40 seconds in. Gurmaan Jhaj was played through on a partial breakaway, but UNBC goalkeeper Tyrone Venhola dove to his right to parry Jhaj's hard, low shot. The rebound fell to UFV's Brady Weir at the far post with nothing but net in front of him, but a UNBC defender came sliding in at the last moment to block his shot.
The Cascades continued to buzz in the T-Wolves' half of the field over the opening 20 minutes, earning four corners, but were unable to connect on any of them.
UNBC found some traction at that point, and had a glorious chance of their own in the 21st minute. Fakunle worked his way through the UFV defence for a partial breakaway, but he sent his shot wide of the post to the right of Cascades keeper David Hicks.
The Timberwolves broke the ice on the counterattack early in the second half. Off a UFV turnover in the midfield, Cheona Edzerza played a ball through to Fakunle sprinting down the left side. This time he made no mistake, sending a shot over a hard-charging Hicks and inside the far post.
The Cascades had a couple more corners in the late going, but were unable to get anything past Venhola, a fifth-year Abbotsford product playing his final Canada West regular-season game in his hometown.
Afterward, UFV head coach Tom Lowndes noted that his team's inability to cash in on its early chances proved costly.
"First half, if we take our chances, we make life easy for ourselves," he said. "We were really good the first 20 minutes and caused a bunch of problems. They came back into it, and we put ourselves in trouble again. We're our own worst enemy at times, kind of give them a goal. Then it's an uphill battle from there.
"We had chances, the lads worked hard, we threw everything at them. Full credit to the boys for the way they worked, just sometimes it's not your day. If you don't take the few chances you have, you're not going to win many games."