Victoria /Fraser Valley – Behind British Columbia's many wildfire-fighting crews stands a team of provincial inmates who provide vital support to those serving on the front lines.
Throughout the recent provincial state of emergency, a longstanding partnership with the BC Wildfire Service (BCWS) saw inmate crews, under the supervision of BC Corrections staff, ramp up their efforts to help fire crews.
The BC Corrections fire suppression program operates out of four correctional centres that work in partnership with the BCWS. This provides participants with meaningful, rewarding work experience, while saving taxpayers hundreds of thousands of dollars and staff resources: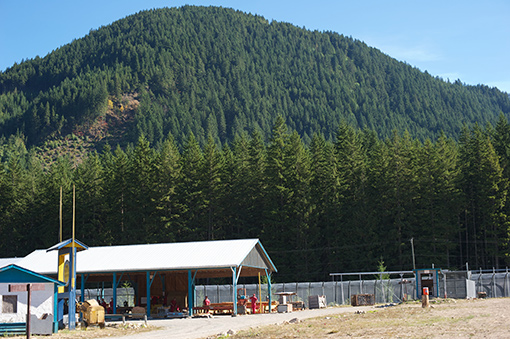 Crews from Fraser Regional Correctional Centre (FRCC) in Maple Ridge and Prince George Regional Correctional Centre (PGRCC), under the guidance of BCWS fire camp co-ordinators, set up and take down firefighting base camps, assist with inventory of camp-related equipment and supplies, and maintain base camp equipment and facilities.
Crews from Ford Mountain Correctional Centre (FMCC) in Chilliwack  inspect, test and repair firefighting hand tools, such as axes, suction hoses, shovels and fire rakes.
Crews from Nanaimo Correctional Centre (NCC) repair, clean and dry thousands of fire hoses from all over the province, which are then returned for re-use by the wildfire service. Huge savings result from inmates repairing a hose for approximately $15, compared to spending between $120 and $140 to replace a hose. During the 2015 fire season, this NCC program processed almost 30,000 hoses. This season, with extended shifts, it was averaging around 1,300 lengths of hose per week.
Inmates assigned to a crew have "open custody" status, which means they can be trusted to work in the community under supervision. These inmates are selected based on their history and have performed and behaved exceptionally well during previous experience on other community work crews.
The BC Corrections fire suppression program would not be possible without the support of dedicated BC Corrections professionals. Beyond supporting the program, a number of community and custody staff deployed away from their families to help with security, firefighting and other relief efforts. The support of inmates and BC Corrections aids the BCWS and, at its core, this partnership allows inmates to gain meaningful work experience and give back in a positive way.