Women's Soccer: Lehal's lethal strike lifts Cascades past No. 10-ranked Griffins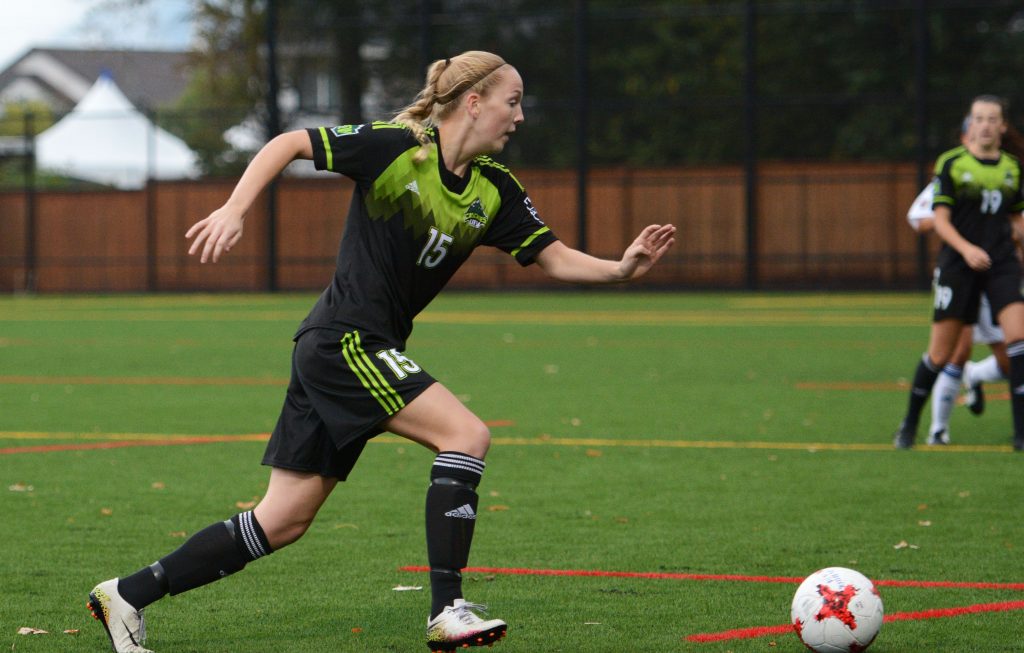 Edmonton (with files from Jefferson Hagen, MacEwan Athletics) – Simi Lehal doesn't spend as much time around the opposing team's goal as she used to, but the University of the Fraser Valley women's soccer sophomore proved on Friday afternoon that she still has a nose for the net. 
Lehal, who played forward for the Cascades in 2016 and notched three goals and two assists during her rookie campaign, has transitioned to a defensive role this season as one of the team's starting centre backs.
On Friday in Edmonton, she showed her old scoring touch, blasting home a highlight-reel free kick in the 37th minute to lift UFV to a 1-0 road win over the No. 10-ranked team in the nation, the MacEwan Griffins.
Lehal also excelled in her defensive duties en route to game MVP honours, and goalkeeper Emily Harold made six saves for her second consecutive clean sheet as the Cascades improved to 2-2-1.
The Griffins, who this week became the first team in school history to earn a U SPORTS national ranking, sustained their first loss and fell to 4-1-0.
It was the second straight impressive result on the road for the Cascades, coming on the heels of a 1-0 win over the Calgary Dinos last Sunday.
"Our young team is coming together – we're still banged up, but I'm encouraged with how the team is dealing with the adversity we're facing," Cascades head coach Rob Giesbrecht said. "We had a frustrating start in our first road game (a 5-0 loss at Lethbridge on Sept. 16), but it woke us up a little bit and we learned we have to earn our points.
"I'm so proud of how hard we battled today, and we defended really well."
The game's pivotal moment was preceded by a collision between UFV forward Gurneet Dhaliwal and MacEwan keeper Emily Burns. The Griffins felt Burns had been interfered with, but play was allowed to continue. While arguing the lack of a foul call with the head official, Burns inadvertently stepped out of the box with the ball in her hands. She was called for a hand ball, giving the Cascades a free kick from the top of the box.
Lehal stepped up and drilled a shot perfectly over the wall and bar down.
"Simi Lehal was a beast for us today," Giesbrecht enthused. "She's a fantastic player and we're looking forward to seeing this continue for her.
"She's really embracing her new role, and it's cool to see," he added, reflecting on Lehal's transition from forward to backline. "It was a great shot she hit – she hammered it. MacEwan's keeper is one of the top keepers in the league, and it was a well-executed free kick."
Lehal's strike stood up as the only goal of the game. The Griffins outshot the Cascades 19-7 (and 6-2 in shots on goal), but the UFV backline was a brick wall. None of Harold's six saves were overly difficult.
MacEwan's best chances to tie the contest came in the second half. Raeghan McCarthy put a dangerous cross from Meghan Oram wide in the 58th minute before Jamie Erickson's 39-yard free kick caromed just over the bar. Finally, in an extra-time flurry, Brittany Costa's header off a corner kick went high.
Up next for the Cascades is a Sunday date in Prince George with the UNBC Timberwolves (12 p.m., CanadaWest.tv).