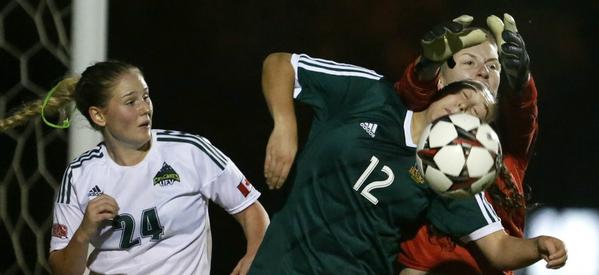 Men's Soccer: Reigning national champs, playoff adversaries on the docket
Friday: Cascades (1-2-1, 5th in Pacific Division) vs. No. 1 Alberta Golden Bears (3-0-1, 1st in Prairie Division), 6 p.m.
Saturday: Cascades vs. Calgary Dinos (2-2-0, 3rd in Prairie), 6 p.m.
MRC Sports Complex, Field 4
Webcast: canadawest.tv
Both of the Cascades men's soccer team's weekend matches carry a level of intrigue. Friday's guests, the Alberta Golden Bears, are the reigning Canada West conference and U SPORTS national champs, and they're currently ranked No. 1 in the nation. The Calgary Dinos, who visit Saturday, dealt the Cascades a bitter 2-0 defeat in the 2016 Canada West quarter-finals.
So the stakes are high, and there's no shortage of motivation for the hosts.
"It's a big weekend – it's the type that reminds you why you play university sports," Cascades head coach Tom Lowndes said. "It's two big tests for us, beginning with the defending national champions and a very talented squad in Alberta. We're going to have to be at our best to combat what they have to offer, and to cause problems for them too.
"With Calgary, there's unfinished business and that'll give us extra motivation on Saturday night. It'll be a battle, and it's something we're looking forward to. I'm excited to see how our young teams shapes up, and how we embrace the challenge."
Players to watch: The Cascades' Gurmaan Jhaj is coming off an outstanding offensive performance, albeit in a losing effort, in last Saturday's 4-2 defeat to the Thompson Rivers WolfPack. The third-year midfielder from Aldergrove, B.C. scored a highlight-reel goal and added an assist, and he'll aim to maintain that form vs. Alberta and Calgary. The Golden Bears' Ajeej Sarkaria will merit a great deal of the Cascades' defensive attention – the 2016 Canada West player of the year set a conference record last season with 19 goals in 16 games. He's off to another great start – his four goals are tied for the CW lead. The Dinos' Bori Falaye also won conference hardware last season, claiming the rookie of the year award. He's notched two goals in two games this season.
Women's Soccer: First road trip will pose challenges
Saturday: Cascades (0-1-1, 5th in Pacific Division) at Lethbridge Pronghorns (0-1-1, T-6th in Prairie Division), 2:15 p.m.
Saturday: Cascades at Calgary Dinos (0-1-1, T-6th in Prairie), 2:30 p.m.
Webcast: canadawest.tv
The jaunt through Southern Alberta is relatively unfamiliar for the Cascades – the last time they faced Lethbridge and Calgary on the road was five years ago (Sept. 22 and 23, 2012). Of UFV's current crop of players, only senior defender Karlee Pedersen was along on that trip.
It's a big weekend for all three teams involved – the Cascades, Pronghorns and Dinos are all in search of their initial wins of the young Canada West season.
"This weekend is going to be a challenge for us," UFV head coach Rob Giesbrecht said. "It's always tough going to Lethbridge and Calgary – they're two tough places to get points, and we haven't been there in years.
"The key thing is that our girls are focused on the task – on doing their job really well, and not distracted by playing tough opponents on the road. Lethbridge, getting a point on the road in Edmonton last weekend (a 0-0 draw vs. the Alberta Pandas), is coming in on a high. And Calgary is a talented team – they've been the best team on the Prairies the last few seasons, and they're always a tough opponent."
Players to watch: Cascades fifth-year forward Amanda Carruthers had an exceptional opening weekend. She notched two goals in last Friday's 2-2 draw with the UVic Vikes, and set up UFV's lone goal on a savvy free kick in Saturday's 3-1 loss to the UBC Thunderbirds. This week is a homecoming for Carruthers – the Calgary product is a graduate of Foothills Composite High School and played her youth soccer at Calgary Foothills Soccer Club. For the Pronghorns, fifth-year midfielder Nikki Furukawa scored exactly half of her team's 12 goals last season, and she's notched Lethbridge's lone goal through two games this year. Dinos fourth-year forward Natalie Arnett is another proven goal-scorer with the potential to cause problems for the Cascades. Last season she racked up seven goals and was named a Canada West second team all-star.