Chilliwack – For the third time in six years, Led Zepagain left LA for the Wack and , pardon the pun, again, did not disappoint.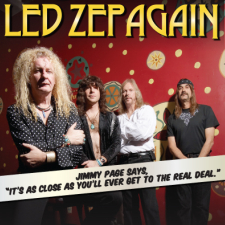 Cover bands come and go, but these four, headed by Swan Montgomery, singing his heart out at "Robert Plant", ran through deep cuts and old favorites.
Led Zepagain is an anomaly. A tribute band that has received praise from the artist they portray. Led Zeppelin's Jimmy Page has gone on record stating that Zepagain is the closest thing you will find to the Mighty Zep at their pinnacle.
Opening with a medley of Whole Lotta Love/The Crunge, the band had plenty of fun (and a few funny miscues as well), rolling through Immigrant Song, Rock and Roll, The Song Remains the Same, Ramble On, Good Times-Bad Times, Stairway To Heaven and Kashmir.
A local high school student, who has played with Led Zepagain in the past, took the sticks for the last song of the first set and blew away the audience. 15 year old Michael Story , the pride of Sardis Secondary, not only impressed everyone, he played one of the most technically challenging songs in the Zep catalogue – Fool In The Rain. The only thing missing were the Jamaican steel drums.
Here is the video courtesy Rob Warwick RockIt Boy Entertainment:
They showed off their cheeky side with a saucy, brash, naughty cover of The Lemon Song (Squeeze my lemon, baby).
The two encores were the bluesy Nobody's Fault But Mine and The Ocean. That came complete with a broken kick drum pedal that had to be swamped out before the band could wrap up their show.
Zepagain is heading for South America and Russia by the end of 2017. Hopefully by Christmas or early 2018, they make the 20 hour drive from LA back to the Wack.