Men's Soccer: Solid showing on stateside swing for Cascades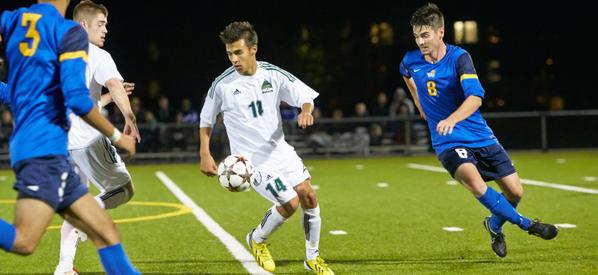 The University of the Fraser Valley men's soccer team launched its 2017 campaign on a promising note, posting a winning record on a four-game exhibition jaunt through the northwest United States.
On a grueling four-games-in-five-days stretch, the Cascades picked up wins over Clark College and Multnomah University to go with a draw vs. Warner Pacific College and a loss to Evergreen State College.
The games were critical for the Cascades as they prepare for the upcoming Canada West regular season, which sees them open on the road vs. the UBC Thunderbirds (Friday, Aug. 25, 6:30 p.m.) and Victoria Vikes (Saturday, Aug. 26, 7:15 p.m.). The team's home-opening weekend is Sept. 8-9, when they host the UBC Okanagan Heat and Thompson Rivers WolfPack, respectively. Both games kick off at 8 p.m. at MRC Sports Complex, Field 4.
COMPLETE CASCADES MEN'S SOCCER SCHEDULE
Head coach Tom Lowndes's squad has one additional preseason game remaining: a home tilt vs. the Simon Fraser University Clan this Saturday, Aug. 19 (4 p.m. start, MRC Sports Complex, Field 4).
"I'm happy with this trip overall," Lowndes said. "Preseason is never about results – it's about the process, and it's about finding out who you are. Over the four games we did that. With a young group it's going to take time to find our identity, but we took steps in the right direction. We found out how we need to defend to be successful, how we need to attack and break things down, and we found out a few different strengths and weaknesses of our squad."
Sophomore midfielder Bronson Hartley paced the Cascades offensively, accounting for three of UFV's five goals on the trip. Among the rookies, Lowndes was heartened by the early returns from forward Charlie Lovell, midfielders Spencer Williams and Parman Minhas, and centre back John Kasper.
AUG. 11 – EVERGREEN STATE 3, CASCADES 0
The Cascades encountered extremely heavy traffic on their way to the Olympia, Wash. campus, and after arriving on-site later than expected and completing an abbreviated warm-up, struggled in the early going vs. the NAIA's Geoducks. All three of Evergreen State's goals came in the first half, and UFV was unable to recover.
AUG. 12 – CASCADES 2, CLARK COLLEGE 1
The Cascades bounced back with a bright performance in Vancouver, Wash. against the Clark College Penguins, a Northwest Athletic Conference program. Hartley scored both UFV goals, and was, in Lowndes's estimation, "the best player on the pitch."
AUG. 13 – CASCADES 1, WARNER PACIFIC 1
Lowndes noted that the Cascades carried the play, but they only managed a single goal off the foot of Brady Weir despite numerous chances. The NAIA's Knights netted the equalizer off a set piece with one minute remaining.
AUG. 15 – CASCADES 2, MULTNOMAH 1
Jassi Mann staked the Cascades to a 1-0 lead in the first half, but they came out flat after the break and the host Lions (an NAIA program) drew even shortly after play resumed. Hartley's game-winner was "a world-class goal" according to Lowndes – the ball was whipped in to him from out wide, and Hartley chested it up and volleyed it in off the crossbar.