Coquihalla/Hope/Merritt – Plan ahead, check real-time traffic conditions on DriveBC.ca and expect delays on the Coquihalla Highway this upcoming B.C. Day long weekend.
Heavy summer traffic volumes and two major road and bridge construction projects between Hope and Merritt may cause delays. Work to build the Box Canyon chain-up area continues 40 kilometres north of Hope, while a further 13 kilometres north, crews are resurfacing four lanes of the Dry Gulch Bridge. Work will not be underway over the long weekend but construction speed zones will be in effect.
Motorists are asked to watch for flaggers, obey posted construction signs and adjust their travel speeds accordingly. Additional police resources are actively enforcing these construction speed zones. For the safety of the travelling public, the posted construction zone speed limit is in effect at all times, even when workers are not on site because the posted limit also reflects the existing condition of the road. For example, a higher speed may not be appropriate because the road alignment is changed or there may be uneven pavement.
When travelling in a mountain pass, it is good practice to carry a sufficient supply of gas, water, food and medical supplies, as closures can occur at any time.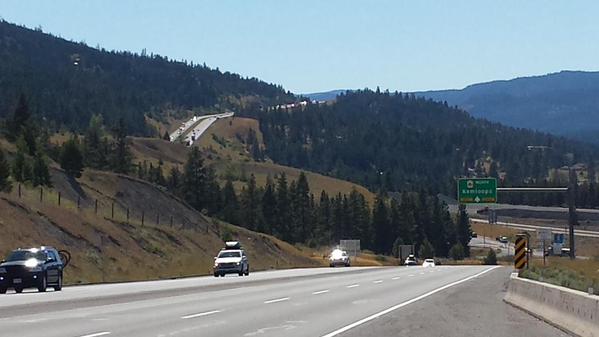 To check up-to-date travel information, closures and detours, click on the links below before your trip:
DriveBC: www.drivebc.ca
DriveBC on mobile: http://www.drivebc.ca/mobile/
TranBC: https://www.tranbc.ca/
With a long weekend ahead, visitors to popular Coquihalla Canyon Provincial Park are reminded to park their vehicles in designated parking stalls or risk being towed.
The park has experienced an increasing number of visitors and a growing concern over illegal parking. Drivers are frequently parking outside of designated stalls and even along emergency zones. This has led to occasions where emergency vehicles have been prevented from accessing the park, putting public safety at risk.
Drivers are reminded to pay attention to signage and that if a vehicle is parked illegally, expect it to be towed at the owner's expense.
Visitors to the park should anticipate high-traffic volume throughout the operating season. Peak visitation periods occur between 10 a.m. and 4 p.m. on sunny weekends.
To help relieve parking congestion, visitors are encouraged to carpool to Coquihalla Canyon Provincial Park.