Victoria – Former Premier Christy Clark has announced she will resign as leader of the BC Liberal Party effective Friday, August 4. Clark has also resigned her MLA seat in Kelowna.
Langley MLA Rich Coleman is now interim leader of the BC Liberals. There is no indication yet of who wants to be the next leader of the BC Liberals.
In a typical non partisan political move, this is done on a Friday when no one is around for an immediate response.
This is what the resignation letter looked like: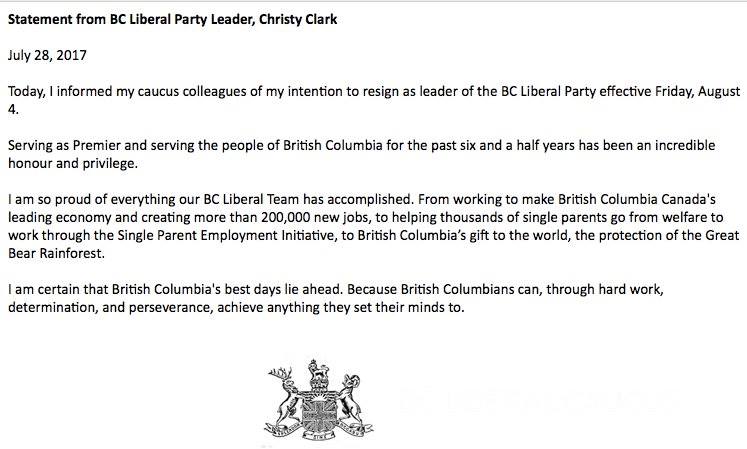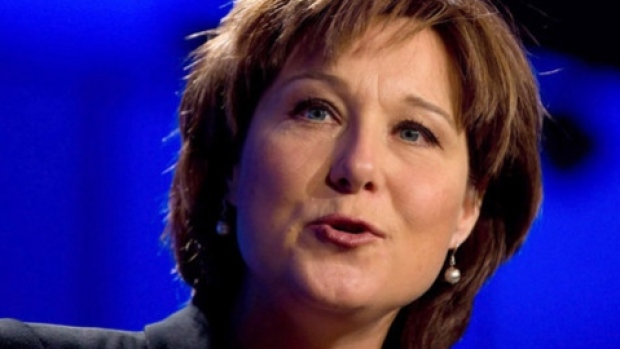 Premier John Horgan released the following statement about the resignation of Christy Clark as Leader of the Official Opposition and MLA for Kelowna West, effective Aug. 4, 2017:
"Today we thank Christy Clark for her service to British Columbia.
"We take up the call of public service because we want to make this province a better place. While we represented two different political parties, Ms. Clark and I are united in the belief that, working together, we can build a better future for British Columbia and the people who call this place home.
"As an MLA and as Premier, Ms. Clark fought passionately for what she believed in. I know she will take that passion and energy to her next opportunity. I wish her all the best in her future endeavours."
Green Party Andrew Weaver released his statement:
"I want to thank Christy Clark for her years of service to British Columbians, both as an MLA and as Leader of the BC Liberals," said Weaver. "She has been a fierce advocate for British Columbia, here at home and around the world.
"A highlight of my time in the Legislature was working directly with Christy Clark to implement for BC's post-secondary institutions. Her leadership and willingness to work across party lines on this vital issue has made universities and colleges across this province safer for our students – and for this I am grateful.
"This experience illustrated what we can achieve when members of this house work together. I wish Christy Clark well in her future pursuits and look forward to developing a productive relationship with the next Leader of the BC Liberal Party."