Chilliwack – JULY 24 UPDATE – Two people have been charged in connection with the double homicide at Five Corners, an hour after Party in the Park wrapped up on July 7. Kirkland Joseph Russell and Victoria Sherri Purcell are each charged with one count of second degree murder and one count of assault with a weapon. The two, both from Chilliwack, have been in custody since July 22.
The names of the two deceased are 46 year old Douglas Presseau and 51 year old and Stephen Drage. A 26 year old female was taken to hospital and later released. All three are from Chilliwack.
IHIT has not confirmed a timeline, and FVN had talked to a number of people with knowledge of what happened. The confusion surrounds whether this was a targeted stabbing or a heated argument gone wrong. IHIT has been tight lipped about the exact events as their investigation continues. IHIT's Cst. Meghan Foster would not comment if an altercation at Nowell and Princess, which happened around the same time as the stabbing, were in fact related.
IHIT's Cst. Meghan Foster at the RCMP briefing in Chilliwack
In a statement from his family, released by IHIT on Monday, Presseau was described as a "a beautiful and imperfect man, much loved by his only son, his partner, his little brother, his parents, his extended family, and his countless close friends. His sudden and tragic murder has torn a gaping hole in all of our hearts and lives, and into the very fabric of this community."
"Doug was known for his caring and empathic nature, his gregariousness, his generosity, and his off-the-wall wit. He had a natural talent for creating unique works of art, from surreal creatures to beautiful greeting cards, filled with his overflowing love. He will be deeply missed," the statement said.
Both Russell and Purcell appeared in court Monday.
JULY 8  6PM UPDATE – Two crime scenes, literally side by side are behind police tape. One is at Five Corners where, according to IHIT, the double murder took place. The other is a block away behind the Bibles for Mission's thrift store, at a known drug house. RCMP and IHIT will not comment if the two are related.
There are three victims, the two deceased and one remains in hospital. Officers continue to walk the blocks around the two taped off crime scenes, talking to locals. FVN has spoken with a number of sex trade workers that wanted their anonymity protected. They claim this was partially a revenge for a previous assault. Again, RCMP and IHIT remain cautious about releasing information as this is an on going investigation.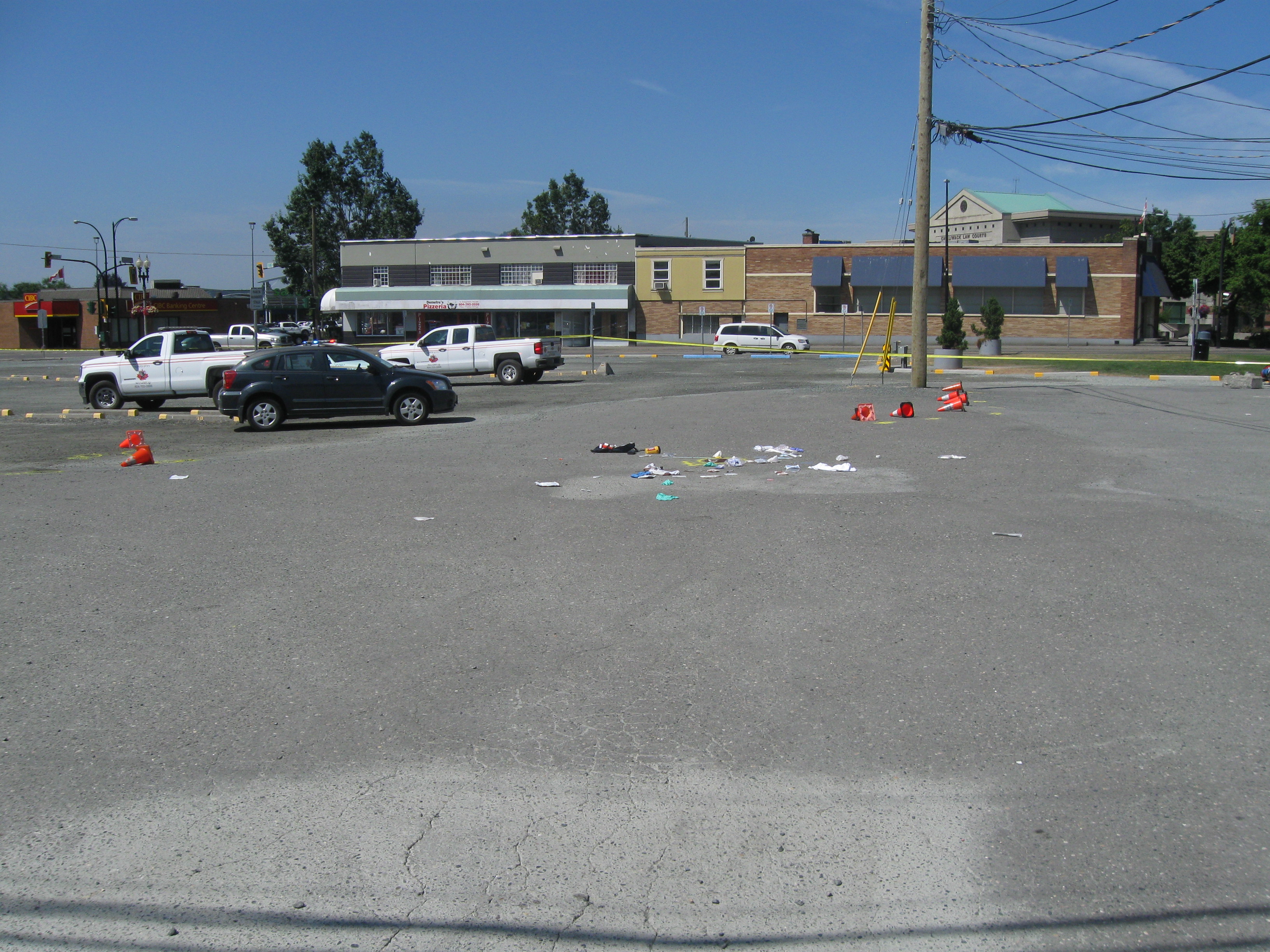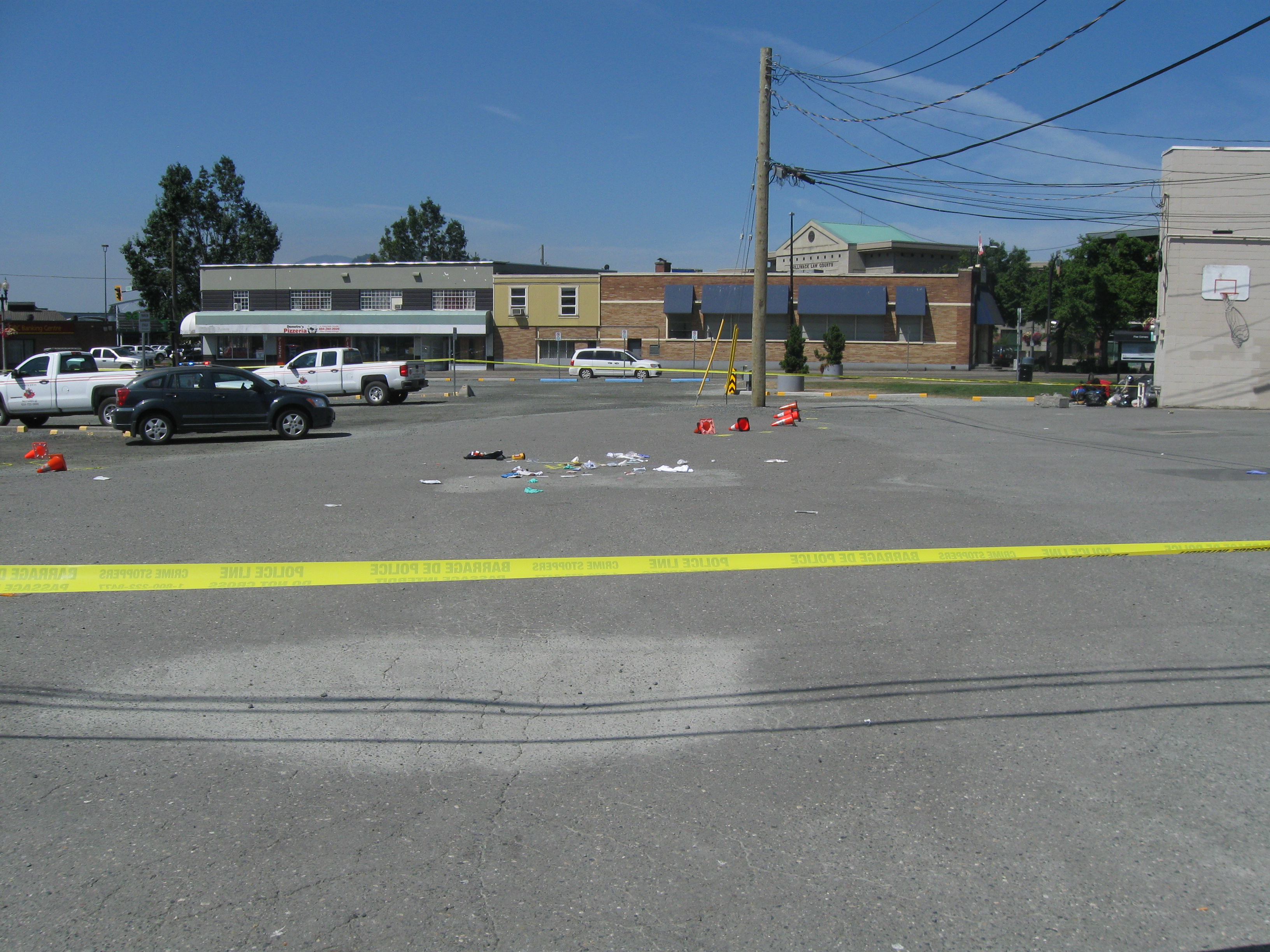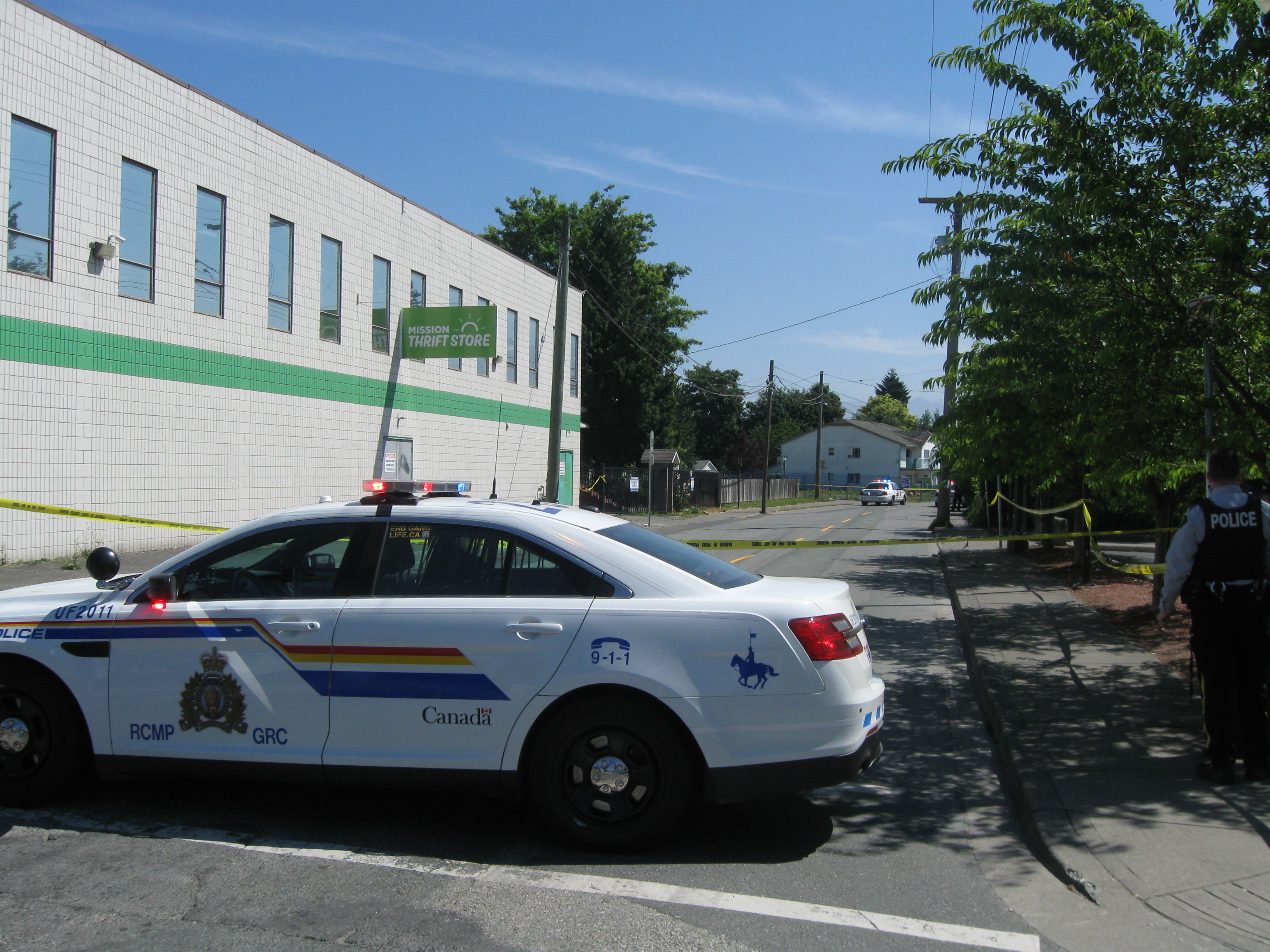 JULY 8 10 AM UPDATE –  IHIT has taken over a Chilliwack RCMP investigation of a double homicide.  Chilliwack RCMP responded to an altercation at Young Road and Yale Road (Five Corners) just after 10:00PM Friday night and found three people with stab wounds.
Two people died.
IHIT – The Integrated Homicide Investigation Team says it's unclear if the altercation was targeted, and the scene remains closed off while the investigation continues.
JULY 8 7AM ORIGINAL STORY – Around 10:30PM Friday night, after the first Chilliwack 2017 Party In The Park wrapped up, a heavy police presence filled downtown.
There were a number of reports of stabbings including Five Corners, Nowell and Princess (a known drug house which remains behind police tape) as well as an alleged incident near Ruth and Naomi's.
FVN talked with witnesses who claimed at least 2-3 stabbings and a possible death.
Ambulances leaving Princess between Nowell and Young around 11PM left without any lights or sirens and could be seen from the balcony of where FVN is located.
Inquiries to RCMP have been forwarded to the Integrated Homicide Investigation team – IHIT – suggesting there has been a fatality.