Men's Volleyball: Cascades reload for 2017-18, sign eight new recruits
The University of the Fraser Valley men's volleyball program's 2017 recruiting class features an exciting blend of size, athleticism and championship pedigree.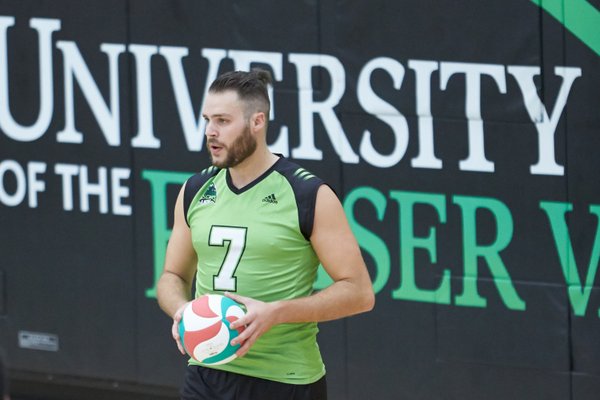 Five of the eight players signed by Cascades head coach Kyle Donen come from a pair of perennial powerhouse B.C. high school programs. Setter Brendan Loewen, middle Dylan Neudorf and libero Matt Kornelsen combined for four provincial medals over their four years of junior and senior volleyball with Abbotsford's Mennonite Educational Institute Eagles. Outside hitter Justin Peleshytyk and middle Keyshon Jackson are coming off a memorable Grade 12 campaign which saw their Kelowna Secondary Owls win the B.C. AAA silver medal.
Outside hitters Lucas Mantel (Centennial Christian, Terrace, B.C.) and Landon Uy (Cedars Christian, Prince George, B.C.) both own multiple all-star awards from the B.C. Single A high school championships, and Donen reached across the Alberta border to sign towering 6'10" middle Ian Jagersma out of Edmonton.
It "shows the growth of the program," Donen said, that much of the Cascades' 2017 class comes from outside the fertile recruiting ground of the Fraser Valley.
"Not only did we recruit out of province and outside of the Valley, I had a lot of other athletes from those areas who reached out to us, too," he noted. "I'm glad that so many of them felt strongly enough about us to sign. This group is going to add some significant depth to an already-strong team."
Brendan Loewen
6'3" setter, Abbotsford, B.C.
Mennonite Educational Institute
Loewen and his fellow Eagles-turned-Cascades Neudorf and Kornelsen climbed the podium at volleyball provincials each of their four years of high school. At the junior level, they were part of a championship-winning team in 2013 and a bronze medal squad in 2014. They mirrored those results upon moving up to the senior AA ranks, winning gold in 2015 and bronze in 2016.
Loewen, who will study criminology at UFV, was a tournament all-star at junior provincials in 2014, and helped his Fraser Valley Volleyball Club squad win the B.C. U18 title this summer.
"Brendan is going to bring some depth to the setter position," Donen said. "He comes in with a lot of experience, and he's definitely a competitor who wants to win. I like to see that drive in a setter. And being a left-handed setter also brings a great element to the team."
"I chose UFV because it's a good opportunity for me," said Loewen, noting that it was special to sign alongside a pair of former MEI teammates. "It made my decision easier, knowing that Matt and Dylan would be here. I know a couple other guys on the team as well, so it was a good fit."
Dylan Neudorf
6'2" outside hitter, Abbotsford, B.C.
Mennonite Educational Institute
Donen has a great deal of familiarity with Neudorf, having coached him the past two summers with the Abbotsford-based Orangemen Volleyball Club. Neudorf played middle at MEI, but he'll likely transition to outside hitter at the next level.
"I saw a good personality and what he can bring to the table," Donen said, reflecting on what he learned about Neudorf over the last two years. "He has a desire to really be successful in this sport, and I felt good about giving him the opportunity at this level. I know he'll work hard for it, and he has a great competitive drive. I have confidence he'll have success with us."
Neudorf, who will pursue a kinesiology degree at UFV, said his high school years with the Eagles have given him a taste for winning and stoked his competitive fire.
"I have always been passionate about volleyball, and playing for MEI has been a highlight of my schooling," he said. "I'm excited to be able to play locally in a competitive league on a high-level team with teammates of the same mindset."
Matthew Kornelsen
5'8" libero, Abbotsford, B.C.
Mennonite Educational Institute
Kornelsen, like Neudorf, spent two years under Donen's tutelage with the Orangemen. He brings tremendous speed and athleticism to the libero position, and Donen said it's just a matter of sharpening his passing skills in the faster collegiate game.
"He's a workhorse on defence, and I hope that element translates to the next level," Donen said of Kornelsen. "I think he'll add some great depth at that position."
"UFV is an awesome local university right in my hometown where I can get a good education and play some great volleyball," noted Kornelsen, who plans to enrol in the Faculty of Science at UFV.
Justin Peleshytyk
6'3" outside hitter, Kelowna, B.C.
Kelowna Secondary
Peleshytyk was a key performer for a Kelowna Owls squad which owned the No. 1 AAA ranking all season until falling in the B.C. final. He picked up a provincial first team all-star nod in addition to his silver medal.
"I think his overall ball control is what impressed me the most," Donen said. "It gives him a lot of opportunities to play different roles, as an attacker and a passer. As he develops more power, I can see him developing into a very effective left side at this level."
"I'm stoked to play at UFV," said Peleshytyk, who will study kinesiology at UFV. "It seems like a team that expects to win each night and that's the sort of program I want to be a part of. I'm excited to further my skills as a Cascade while getting an education that fits well with my career goals."
Keyshon Jackson
6'2" middle, Kelowna, B.C.
Kelowna Secondary
Jackson, like his Owls teammate Peleshytyk, plans to pursue a degree in kinesiology at UFV. He's known as an outstanding blocker, and Donen believes his skill at the net will translate at the next level.
"He's a bit undersized for the middle position, but he's a guy who will work really hard for us," Donen said. "He seems pretty driven to be successful, and I'm looking forward to seeing what he can bring."
"I'm really excited about coming to UFV," Jackson said. "Great school, great campus, great team and even better coach."
Lucas Mantel
6'3" outside hitter, Terrace, B.C.
Centennial Christian
Mantel suited up for B.C.'s 16U and 17U provincial teams, and also excelled at the high school level for the Centennial Christian Seahawks. He's a three-time all-star at the B.C. Single A championships, earning a second-team nod in 2014 and first-team honours in 2015 and 2016.
Current Cascade Cole Nutma is Mantel's cousin, which gave Donen a connection point during the recruiting process.
"It definitely was a helpful factor," Donen said. "He brings a good skillset as well. I'm excited to see how he develops playing every day, and I like his demeanor on the floor – he's very calm and cool."
"I chose UFV because I will play volleyball with a great team while also being able to pursue my passion in the trades," said Mantel, who will study automotive repair through UFV's Applied and Technical Studies department. "My goal while at UFV is to work hard to be the best player I can be, and to take adversity head-on in everything I do and represent where I come from."
Landon Uy
5'7" outside hitter, Prince George, B.C.
Cedars Christian
Uy transfers to UFV after beginning his academic career at Trinity Western University. He was a high school standout with Prince George's Cedars Christian Eagles, earning first team all-star honours at the B.C. Single A championships in 2013 and 2014.
Uy drew Donen's attention playing in the Sunday recreational volleyball league that the Cascades ran last year. According to the UFV bench boss, Uy's skillset is reminiscent of a former Cascades All-Canadian.
"He's a mini version of Adam Chaplin," Donen said. "He's not a big guy, but he's incredibly physical and he jumps really high. He plays the game smart, and as a kid who's third-year age but going into his first year of eligibility, he'll have a very successful rookie year."
"I just wanted to play volleyball again as an outside hitter," said Uy, who will pursue a Bachelor of Business Administration degree with an accounting major at UFV. "Kyle presented the opportunity to play with the Cascades in the PACWEST and there was no way I could say no."
Ian Jagersma
6'10" middle, Edmonton, Alta.
Parkland Immanuel Christian
In signing with the Cascades, Jagersma is making a homecoming – he was born in Abbotsford, but has been living in Edmonton most recently. He'll pursue a Bachelor of Arts degree at UFV, and his 6'10" frame has Donen excited about his on-court potential.
"It's an exciting thought, working with a kid who's 6'10"," Donen enthused. "It's also exciting to work with a kid who's as raw as he is. He has a great drive to want to learn, and I like that mentality in a player. You can't teach height, and in our league he's going to have a huge advantage at that size. I think he has a chance to have a really successful career at UFV."
"I chose UFV because I know many of many people who have gone there and everyone had a positive experience," Jagersma said. "I liked the enthusiasm shown by Coach Kyle Donen, and the players that I met on the team seemed like a good group of guys. I hope to use both the athletic and academic talents that have been given to me to the best of my abilities."