Fraser Valley – The University of the Fraser Valley athletic department is sending its largest-ever contingent to the 2017 Summer Universiade, which runs August 19-30 in Chinese Taipei.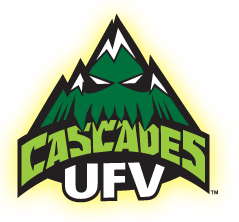 Connor MacMillan will suit up for the Canadian men's soccer entry at the FISU (Fédération Internationale du Sport Universitaire) event, and two members of the Cascades golf program will join him in Taipei City. Sharon Park is one of three players comprising the Canadian women's golf team, and UFV head coach Chris Bertram will serve in the same role for the Canadian men's golf team.
MacMillan, a Chilliwack, B.C. product, wrapped up an outstanding five-year career with the Cascades last fall. The dynamic midfielder posted 14 goals and seven assists (regular season and playoffs combined) during his time at UFV, and his signature performance came in the 2015 Canada West playoffs when he registered three goals and an assist over three games to spark the Cascades to a conference bronze medal.
MacMillan earned a tryout with Vancouver Whitecaps FC 2 in the spring, and he currently plays for the TSS Rovers of the Premier Development League. He's posted one goal and two assists in five appearances this summer on behalf of the Richmond, B.C. club.
Canada's best Universiade finish in men's soccer is fourth place, achieved in 2007. At the most recent Universiade in 2015, Team Canada went 0-3 and failed to make it past the group stage.
"It means a lot, because I've never represented Canada before," MacMillan enthused. "To me it was a surprise, and cool to get that email (confirming selection). I'm definitely excited to wear a Canada jersey and play halfway across the world. I'm going to train as hard as I can to be prepared for it."
"It's a massive opportunity, a once-in-a-lifetime experience that I'm sure Connor will cherish and will help him with his soccer goals," Cascades men's soccer coach Tom Lowndes said. "It's great to have one of our players recognized and make the squad, and it's incentive for our other players to see that there's an opportunity to attend these types of competitions."
Park, who hails from Surrey, B.C., earned her spot on Team Canada by virtue of a third-place finish at the Canadian University/College Golf Championship earlier this month in Barrie, Ont. It was the culmination of an outstanding campaign for the Cascades rookie – she won three times in four PACWEST tourneys last fall en route to CCAA All-Canadian honours, and added two more wins in stateside events this spring.
"This will be the biggest golf tournament I've ever played in, and I can't wait to get to Taipei," said Park, who was a finalist for UFV's 2016-17 female rookie of the year and athlete of the year awards. "I'm so glad I came to UFV this year and have been able to play in so many cool events. This one is the highlight though, that's for sure."
"It's a huge honour any time you get picked for a national team, and for Sharon to make it in her freshman year is incredibly impressive," Bertram said of Park. "It just shows how talented she is, and when she's on her game she's got enormous potential."
For Bertram, this summer's trip to Chinese Taipei marks his third coaching engagement at a FISU event. He was an assistant coach with the Canadian women's golf squad at the 2014 World University Championships in Crans-Montana, Switzerland, and served as head coach of the men's team at the 2015 Summer Universiade in Gwangju, South Korea. At the latter event, the Bertram-helmed squad finished sixth in the 20-nation field – the best-ever result for Canadian men's golf at a Universiade.
This year's edition of Team Canada features Laurier Golden Hawks teammates Eric Flockhart and Austin Ryan, and Truman Tai of the Toronto Varsity Blues. Bertram believes they're capable of setting a new high-water mark for Canada and challenging for a podium position.
"I'm excited about the opportunity to go back and represent Canada in such a prestigious event, and I'm also very proud to represent the University of the Fraser Valley and the athletics department," Bertram said. "I think we have a good chance to contend. The level of play in Canadian university and collegiate golf is at an all-time high, and the players that are choosing to stay and play their university golf in Canada are getting better each year. It's a world-class field full of NCAA and national team players from around the world at the Universiade, but if we go there and play well, anything is possible."
The Summer Universiade is an international multi-sport event which takes place every two years and is second only to the Olympic Games in the number of participating athletes and countries. The 2015 Universiade in South Korea featured 12,885 athletes from 143 nations, competing in 21 sports.
Competitors must be at least 17 and less than 28 years of age as of Jan. 1 in the year of the Games, and must be full-time students at a post-secondary institution (university, college, CEGEP) or have graduated from a post-secondary institution in the year preceding the event.
The 2017 Summer Universiade will feature 14 compulsory sports and seven optional sports. Compulsory sports include athletics, basketball, fencing, football (soccer), artistic gymnastics, rhythmic gymnastics, swimming, diving, water polo, tennis, volleyball, judo, table tennis and taekwondo. Optional sports are archery, badminton, baseball, golf, roller sports, weightlifting and wushu.
Official website: http://www.taipei2017.com.tw/
Cascades alumni who have participated in previous FISU events include golfer Aaron Pauls (2014 World University Golf Championships, 2015 Summer Universiade) and soccer player Shelby Beck (2016 World University Futsal Championships, Goiania, Brazil).