Burnaby/Chilliwack – The British Columbia Hockey League is pleased to announce its FortisBC Energy Players of the Year with forward Colin Burston of the Wenatchee Wild and Zac Masson of the Langley Rivermen tying for a share of the the regular-season recognition with Chilliwack Chiefs forward Linden Hora taking it for the playoffs.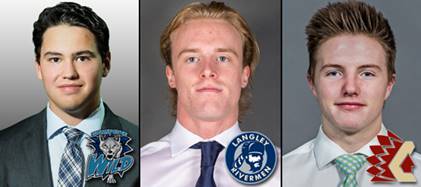 Once again this past season and throughout the playoffs, in addition to the 3 Stars, one player was recognized each game for his hard work on the ice with the FortisBC Energy Player of the Game nod. Burston, Masson and Hora are this year's winning players with the BCHL season concluded and the playoff tally added up.
In 56 regular-season games, Burston was named FortisBC Energy Player of the Game 12 times while Masson earned his 12 nods while suiting up for all 58 games. Burston, a native of Winnipeg, produced 25 goals and 43 assists for 68 points which was third-most on the Wild.
Newmarket, Ont. native Masson set new career highs with 15 goals and 39 helpers for 54 points which put him fourth in Rivermen scoring.
Hora, from Kelowna, B.C., played all 23 Chiefs playoff games as the team went all the way to Game 7 of the Fred Page Cup BCHL Finals. He earned the FortisBC Energy Player of the Game recognition on five occasions after notching five goals and three assists in the playoffs. He had eight goals and nine helpers in 51 regular-season games.
The BCHL thanks FortisBC for their support again this season and congratulates Colin, Zac and Linden on this outstanding achievement.