Richmond – The BCHL held its annual general meeting last week in Richmond, B.C. and have decided on several initiatives that will take place for the coming season.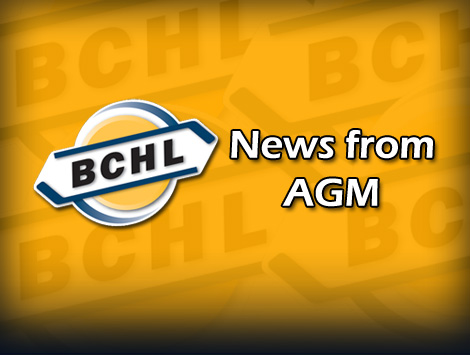 First, the league confirmed the results of a motion voted on prior to the AGM that sees the Wenatchee Wild move to the Interior Division for 2017-18 season. The Wild competed in the Mainland Division for the past two seasons.
The league has entered into a partnership agreement that will see each of its players undergo base-line concussion tests prior to participating in league games. The initial testing will be completed at the 2017 Bauer BCHL Showcase. When new players join the league, they will be tested prior to competing in their first game. The partnership is part of the BCHL's ongoing efforts to ensure player safety.
The BCHL renewed its commitment to an existing partnership with the Canadian Mental Health Association of B.C. (CMHA BC) via its Talk Today Program where each team has a CMHA liaison who provides referrals to mental health and addictions support.
Additional resources have been committed to the Ultimate Toolkit program for fan engagement and ticket sales. The initial phase of the program, in place for the 2017 BCHL playoffs, saw an increase in attendance of close to 24 per cent over the 2016 playoffs.
Also, BCHL clubs will be pursuing upgrades to their broadcast systems to get high-definition video for pay-per-view customers on HockeyTV. Several BCHL teams had HD in place last season and the goal is to have all arenas with upgraded cameras for 2017-18.
The dates for the 2017 Bauer BCHL Showcase are Sept. 20 to 24 at Prospera Centre in Chilliwack. All games this year will take place on the arena's main sheet of ice.
The board of governors is also fully in support and looking forward to the first-ever BCHL Exposure Camp which is happening July 1 to 3 at Richmond Olympic Oval. The camp is at full capacity with 132 elite young hockey players and their families coming to learn from BCHL coaches and find out more about the Junior A – NCAA development path.
Finally, the league named two individuals for excellence in the administrative and promotional aspects for the league. Wenatchee Wild governor David White was named Executive of the Year while Chilliwack Chiefs director of marketing Barry Douglas was named Marketer of the Year.
The 2017-18 season will be the 56th for the BCHL. Details are still be finalized for the regular season schedule and it should be announced by the end of June.